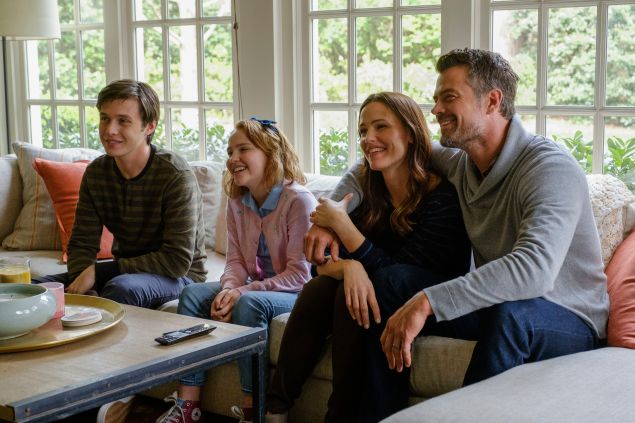 Played by the excellent young actor Nick Robinson (Jurassic World), a 17-year-old high-school senior named Simon Spier seems to have it all. He's handsome, smart, popular, with loving parents (Josh Duhamel and Jennifer Garner), a role in the school musical (Cabaret, of all things), and a great support group of friends who hang out with him at the Waffle House—guys who dig his companionship, girls who can't figure out why they can't get to first base.
Simon is like all normal teenage kids who watch bad movies, live on their cell phones, and listen to second-rate pop tunes—except for one thing. Simon is gay, a deep dark secret he can't share with anyone. Love, Simon is a film of sweetness and charm about how he learns to cope, come out of the closet, address the things that are holding him back in life, face the truth, find himself, and fall in love at last.
Movies about coming of age and out of the closet are nothing new, but Love, Simon is so honest, funny and real it never fails to capture your imagination and lift your spirit. Directed by Greg Berlanti with a refreshing absence of pretension and teeth-gnashing melodrama, and co-written with such clarity and directness by Elizabeth Berger and Isaac Aptaker, it gives shape and substance to the story of what it's like to be a teenager experiencing the emptiness and deprivation of sexual identity confusion and not knowing how to stand up for your own pride. Simon does a pretty solid job of living a stress-free double life until the day an anonymous online post by a classmate who signs his name "Blue" reveals he's also gay, and there might be room in Simon's closet for two.
The movie is about Simon's search for Blue's true identity. An obnoxious student named Martin (Logan Miller) threatens to expose his secret and let the cat out of the bag for the whole school to know unless Simon agrees to fix him up on a date with his beautiful friend Abby (Alexandra Shipp). Now Simon's placid life faces double jeopardy—blackmail, a disgraced reputation, and the possibility of losing his friends before graduation. The movie is told in such a sensitive, straightforward way that it's not necessary to share Simon's problems to empathize. Meanwhile, there's the central question that must be answered if Simon is to ever find peace: who is Blue?
---

LOVE, SIMON ★★★
(3/4 stars)
Directed by: Greg Berlanti
Written by: Elizabeth Berger, Isaac Aptaker (screenplay) and Becky Albertalli (book)
Starring: Nick Robinson, Jennifer Garner, Josh Duhamel, Logan Miller and Alexandra Shipp
Running time: 110 mins.

---
Identifying himself as "Jacques," Simon begins a clandestine correspondence that leads to many possible avenues of exploration. Could it be the awful Martin, who is playing the decadent emcee in Cabaret and getting too much into the role for his own good? Or the handsome Bram? No, can't be him, because at a Halloween party, Simon catches Bram kissing a girl. How about the sexy waiter at the Waffle House who is much too flirtatious with Simon between orders?
Blue's identity is eventually a revelation of monumental unimportance because he's good and true and humane in every way. Unfortunately, when Simon's friends find out what he's been hiding from them, there are life-changing consequences to face. It all ties together too neatly when Simon finally pours his heart out on the Internet and everyone forgives him. There's even an "understanding and compassionate parent" scene similar to—but less affecting than—the one in Call Me By Your Name.
A hokey crowd pleaser, Love, Simon seems a bit too tame to be entirely plausible from start to finish, but it's hard for find fault with any film that addresses a changing teenage world with such compassion and decency. An unexpected delight in more ways than one.