Fashion designer Riccardo Tisci is listing his entire New York townhouse for rent. Click through to see inside.
Brown Harris Stevens
Tisci originally bought the home with his friend Marina Abramović.
Brown Harris Stevens
It's actually composed of two separate units.
Brown Harris Stevens
There are multiple wood-burning fireplaces throughout.
Brown Harris Stevens
Tisci maintains an apartment in Paris, too.
Brown Harris Stevens
The private patio.
Brown Harris Stevens
There is also a roof deck.
Brown Harris Stevens
Riccardo Tisci, was officially appointed as chief creative officer of Burberry this past Thursday, but he's been preparing for a move to London for quite some time. The Italian designer listed his entire New York townhouse as a rental, mere days before the announcement of his new position at the British fashion house was released.
The former Givenchy creative director purchased the two-unit townhome in Hudson Square as a joint venture with his pal Marina Abramović in 2011, reports WWD, and the original plan was that the two would renovate the brownstone together. Upon completion, Tisci would occupy the upper three-story apartment and Abramović would move into the lower duplex. Alas, Tisci, who left Givenchy in January 2017 after 12 years with the brand, found himself too busy to actually move into his unit. Abramović subsequently sold her own portion of the home to the designer in 2013—apparently, she was "lonely" in the house all by herself.
While buying a home with a friend might seem out of the ordinary, Tisci and Abramovic have maintained a close friendship for years—they first met around 2007, when Italian artist Paolo Canevari invited Tisci to his home in New York, as Tisci told Dazed Digital. "I met the most extraordinary creature—his wife," Tisci said, as Abramovic was married to Canevari at the time. "She was full of energy; she was beautiful; she was super sexy. When I left, I couldn't get her out of my head. It was only later that I discovered that she was Marina Abramovic. I'd been obsessed with her at Central Saint Martins," Tisci explained.
The pair remained friends after Abramovic and Canevari divorced in 2009, and the duo even collaborated on Tisci's Givenchy show in September 2015, when Abramovic curated a performance piece that preceded the actual runway show.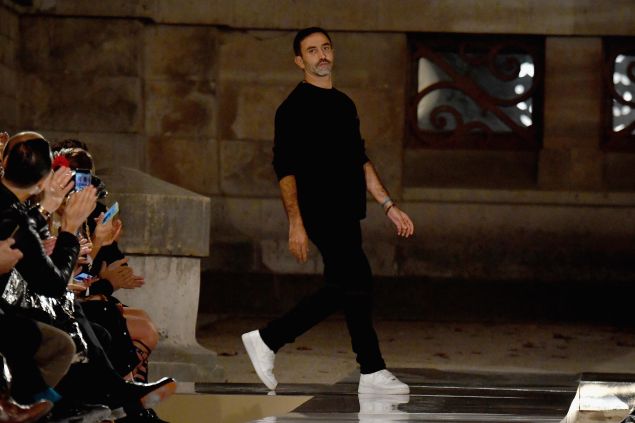 Tisci has rented out Abramović's former duplex in the townhouse in the past for $12,500 a month, but has never offered his own triplex. That is, until now—the two units are both available, with the possibility to either rent the separate apartments or to rent the entirety of the townhouse.
The lower two-bedroom, two-bathroom duplex is individually listed for $13,o00 a month, while the upper two-bedroom, 2.5-bathroom unit is asking $15,000. The grand total for the whole two-unit home is $24,500 per month.
The garden duplex has high ceilings and a loft-like aesthetic, per the listing shared by Brown Harris Stevens brokers Juliana Frei, Drew Glick and Sophie Joseph, and there's even a soothing Zen garden. The space features floor-to-ceiling windows and two decorative fireplaces, while the kitchen is a bit more modern than the rest of the space.
The top apartment, with walnut hardwood floors and similar loft-like exposed beam ceilings, contains an open living, dining and kitchen area on the first level, plus access to a terrace overlooking the garden below. There are three wood-burning fireplaces in this unit, bringing the grand total in the townhouse to five.
The bedrooms are situated on the floor above, including the master suite, which has a private terrace, and all the closet amenities one would expect of the designer, like a full dressing room and custom built-in closets, plus a marble bathroom.
While at Givenchy, Tisci maintained this New York residence as well as a Paris apartment. It seems safe to assume Tisci is now on the hunt for a stylish London abode.