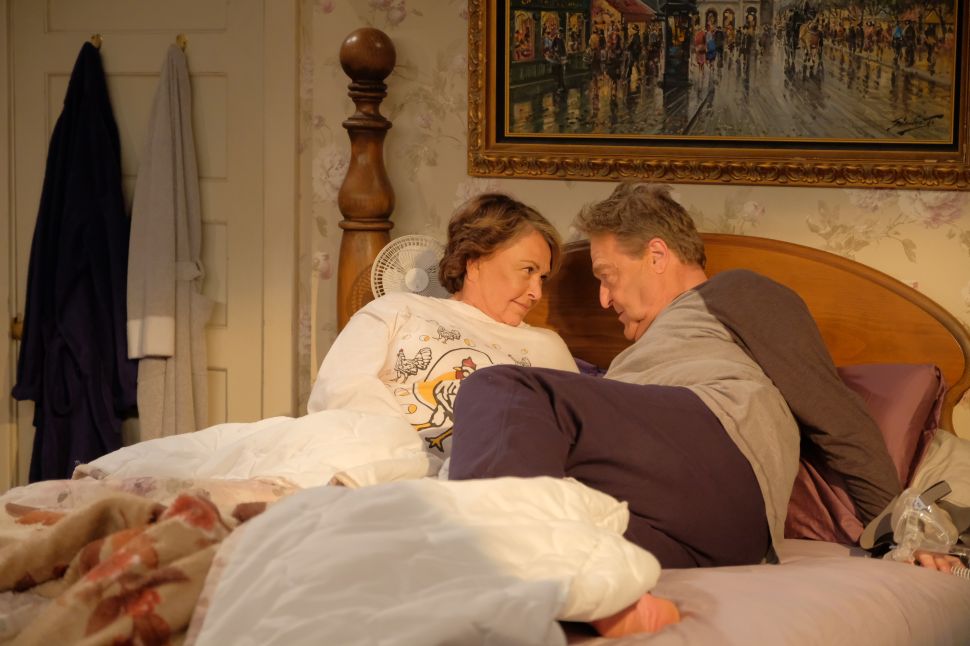 Tonight at 8 p.m. Roseanne Conner and her blue-collar family are back on ABC.
The hour-long premiere of Roseanne, titled "Twenty Years to Life," is the first of nine episodes that will make up the hit show's revival. After over two decades of re-runs, the majority of original characters have returned for something new, though Johnny Galecki, Big Bang Theory star, will only appear in one episode.
Still, Roseanne Barr (Roseanne), Sara Gilbert (Darlene), Laurie Metcalf (Jackie), Michael Fishman (DJ) and Alicia Goranson (Becky) have all reunited for the show. John Goodman (Dan) will also return, although they have some explaining to do after his character was killed off in the final season back in 1997.
New characters include Shameless actress, Emma Kenney, and Ames McNamera who will be playing Darlene and David's children.
The anticipated hour is said to explore political disagreements within the family. Unsurprisingly, Roseanne is a Donald Trump supporter, while Jackie is a diehard Hillary Clinton fan. The episode has drummed up conversation and thought pieces about the potential impact the lovable Illinois family could have on a divided America.
A recent review of the show by The Daily Beast was headlined "The Trumped-Up 'Roseanne' Revival Shows There Are Fine (Funny) People on Both Sides." Possibly, the conversation was ignited by co-showrunner Whitney Cummings' piece in Vulture magazine from January.
Cummings wrote of the show, "Turns out, fictional characters saying pre-written lines in bespoke costumes on a soundstage can actually make a dent in social change."
Sara Gilbert shared a similar idea to Cummings, saying,"this felt like the kind of family that could, in some small way, try and help unite people."
It is true that if any family can yell, fight, call each other names and still find a way to love each other at the end of the day… it is the Conner family and maybe there is something we can learn from them.
Barr, Gilbert, Tom Werner and Bruce Helford also serve as executive producers on the show.
Barr is more than delighted to be back with her fictional family. She recently said: "You know how people say you can't go home again? I was thinking, 'That's a lie.' You can, and it was a blast."
Hopefully fans will also feel at home again in The Conners' humble Lanford, Illinois house.
The easiest way you can tune into Roseanne online is through ABC's website via their Watch Live feature. But you will need a login and password for a cable or satellite provider to watch anything.
Let's say you don't have access to cable or satellite login information, DirecTV has you covered. DirecTV Now offers a free seven-day trial where you can watch content for up to a week before a paid membership begins.