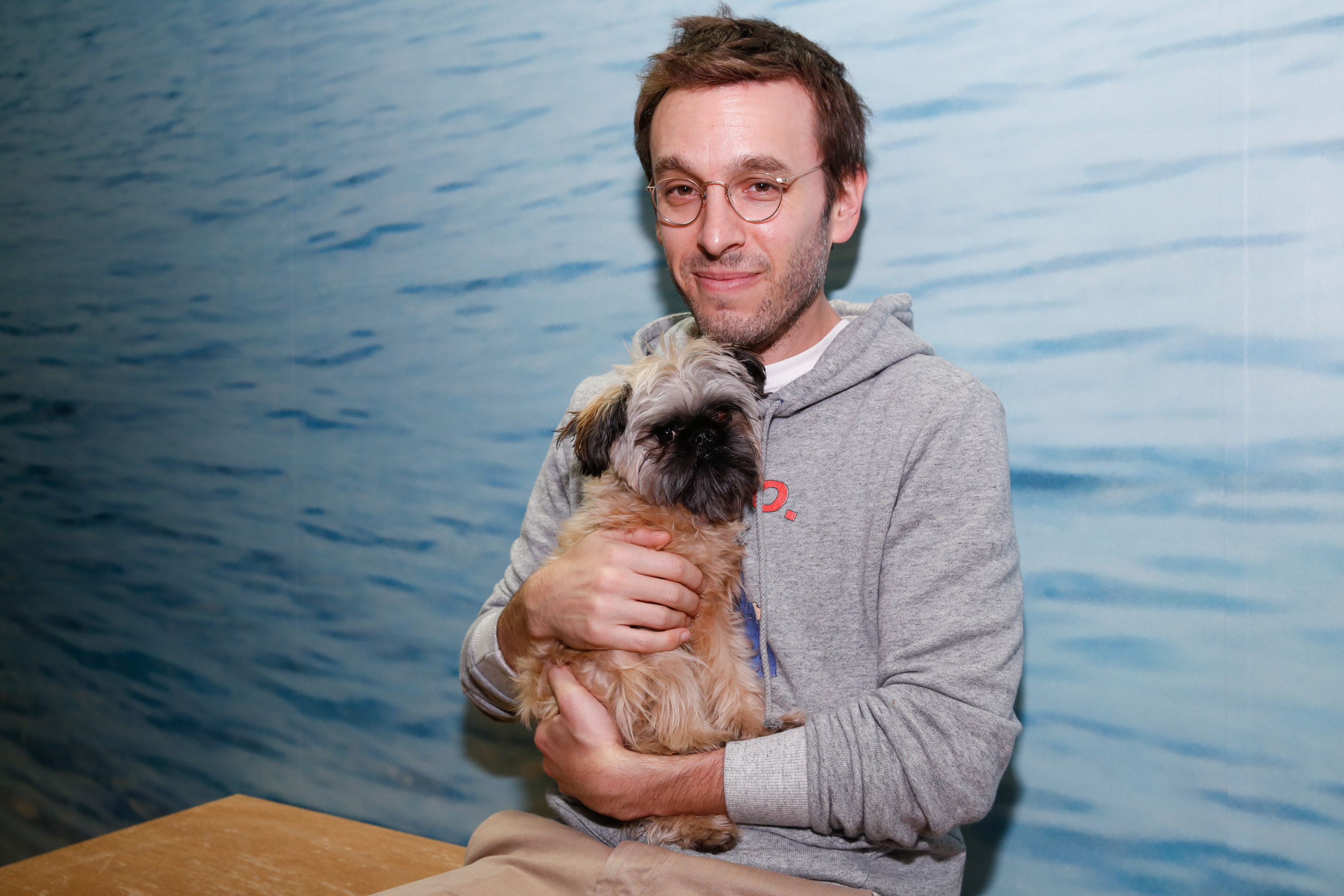 In 2015, Band of Outsiders, a clothing line beloved by Aziz Ansari, worn by Michelle Obama and modeled by Michelle Williams and Jason Schwartzman, folded in a very public way.
With a report that 11-year-old company had laid off almost their entire staff, canceled all orders and the issuance of a quizzical statement from founder Scott Sternberg to WWD ("Nobody knows anything at this point but me"), there was only one thing left to do: post about it on Instagram. So, Sternberg uploaded a video of "New World Coming," crooned by Mama Cass Elliot.
While that 'gram has since been deleted—and Band of Outsiders has been relaunched, without its founder, by Belgian fashion fund CLCC—Sternberg has finally provided a look into what that "New World" would be. Last night, he sent out an email with the subject line "My new brand…" at 2:59 a.m.
That's how he introduced the concept of Entireworld to, well, the entire world. The email included a grainy video, that seemed to be shot via laptop cam, in which Sternberg explained his intentions.
"I guess the question is: why would I even want to start a clothing brand right now? I mean, aren't there enough brands out there? Enough clothes? Didn't I do this already and didn't that, like, not end so well? Well, yes," he says.
Sternberg went on to explain why he loves clothing and what he thinks about branding, supported by retro images of ads from Ralph Lauren and Coca-Cola, plus clips from Dirty Dancing, Clueless and The Big Lebowski. He even threw out a mention of his dog, Zod, and references to utopia.
All of that led to Entireworld, which will launch on April 2 as a direct-to-consumer enterprise. With monthly drops dependent on consumer demand, the lineup appears to include ringer t-shirts in retro color schemes, classic tube socks in purple and black, a sweatshirt in a bold punch of color and even bralettes. There's a distinct '70s vibe to each of the designs, but they are decidedly no-frills. They're the kind of pieces you'd want to build a wardrobe and they certainly have much more personality than Everlane's very basic offering of basics.
As such, the Entireworld pieces will cost quite a lot less than Band of Outsiders' did. Business of Fashion notes that the average price will hover around $55; at the highest end is $165 for a fisherman's sweater and at the lowest is $15 for cotton women's underwear. Entireworld will serve up a button-down for just $95, whereas a Band of Outsiders version usually went for over $200.
"To me, there is absolutely no reason to just make more stuff. There is plenty of stuff out there," Sternberg told BoF about his mission. "Where can we ultimately offer a product that can replace something that's just not as good?"
If the clothes are infused with Sternberg's contagiously fun personality and clear adoration for creating things that people want, Entireworld will be producing more than just stuff—it will be shaping an entirely new way to get dressed every morning. And one that won't require going broke, in order to love your wardrobe.