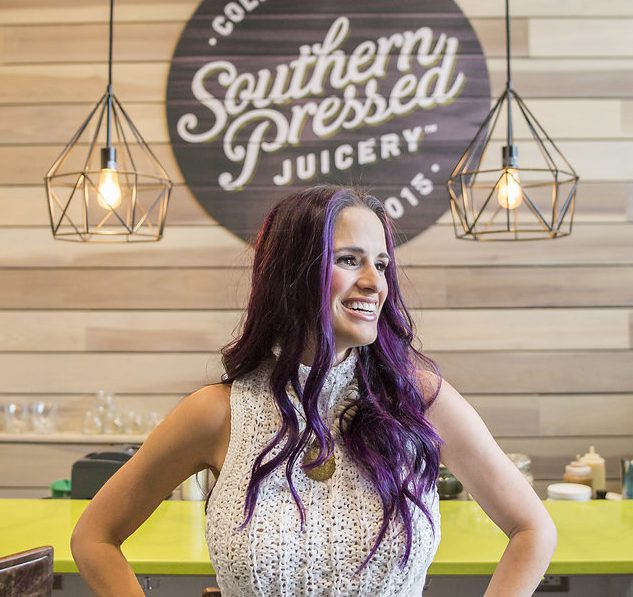 Southern Pressed Juicery's owner, Olivia Esquivel, is devoted to bringing a plant-based diet—most often associated with New York or Los Angeles—to the citizens of Greenville, South Carolina.
"We've nailed down how to make it work in what's traditionally been an unhealthy region," Esquivel explained to Observer over colorful Açaí bowls. With her purple mermaid hair and boho blouses, Esquivel is the South's answer to Amanda Chantal Bacon, the creator of Gwyneth Paltrow's favorite brand, Moon Juice.
The South Florida-native moved to South Carolina for college and ended up staying in town, but on the way, she ventured to every major juice shop in the country. Now, she's passionate about introducing Southerners to a healthier diet through her inventive smoothies and powders.
During a recent visit, Esquivel discussed her approach to healthy eating, the serendipitous twist that led to her opening a second location and her quest to create a wild community.
Are Southerners really ready for healthier restaurants? 
They're listening to podcasts, watching documentaries and are more educated about where their food is coming from. For us, it's great that there are more eyes on mindful eating, but it creates a faux sensation of "I can buy a juice at a huge grocery store." What do you think happens when you're looking at a five-day shelf life, like ours, versus a 50-day shelf life? That should tell you something about what's happening in that bottle.
Before launching, where did you find plant-based meals? 
I was driving 40 minutes to Whole Foods to buy all my fruits and veggies to juice. At that point in my life, I was traveling a lot and could hit up the best juice bar in Miami, New York and LA. Once I was back in Greenville and started building a family, it became more difficult.
Southern Pressed Juicery opened in Austin, just in time for SXSW. How did you choose that as your second location?
We're partnering in Austin with Wanderlust Yoga, which is like the mecca of yoga all over the world. Wanderlust was started by Ashley Spence and we're partnering with her and her business partner Krish Patel. He's a friend of ours who owns a yoga studio here in town.
How did the expansion plans come about? 
Krish and I were looking for a place to do something together. He was in Austin when I called and said, 'In downtown Austin, there's this place Wanderlust that exists with another food concept. It's the only way I could work with a yoga studio because it's not an afterthought.' He was actually standing in Wanderlust. When he came back he said, 'I'm actually intimately involved in Wanderlust as a partner.'
It sounds serendipitous. 
That's Southern Pressed Juicery, from my conversation with Krish to finding our chef. When I was at the South Beach Food & Wine Festival, he had this long line. I asked him for a business card and it had a Greenville area code on it.
Where else are you looking to expand?
We continue to look—Charleston, Raleigh-Durham, Charlotte, Savannah, Nashville and Birmingham are all still on my list. This isn't a concept where I just want to do one and be satisfied with that. I think there's a need all over the Southeast.
What are your customers looking for? 
If you're an avid juicer at all the best juice bars in New York and you know you want activated charcoal, you can come in and find a very sophisticated juice. Or you can have never juiced before and I can show you our line of introductory juices. Within the store, we talk about the process and we make sure that we're screaming that we're organic because that's so important.
It's not just, what do people want? It's what are people longing for? Because they're really suffering from all of these things. There are answers in the ground, we just have to trust that those things were put on this earth for a reason—to heal.
What's next, after the launch? 
A line of adaptogens. Adaptogens are organic mushrooms and herbs that have been used for centuries in Chinese medicine. It's back to the concept of listening to the consumer base, what they're suffering from and dealing with in their physical bodies, emotional and mental as a whole and then trying to heal that with plants.
Are you going to be selling them?
Yes, we've created our own collection called Wildcrafted, so we're blending them in-house. It's not something we made up. Chillhouse does it, you're definitely seeing it in the bigger cities. It's an opportunity to get Southern Pressed Juicery in the hands of masses. I plan to do that with juice bars but that's going to take some time.
Where did the name Wildcrafted come from?
I live a pretty normal life. I have my business and family but the one thing that makes me, me, is purple hair. I had this revelation when I had my first son. I've done everything by the books my whole life. I went to the school where I was supposed to go to school, did the business I was supposed to, had the beautiful kids I'm supposed to have, married the guy I'm supposed to have. I love it all but there was nothing that was just me. So I colored my hair purple. For me, that's my wild. I want to encourage everyone to find their wild.
Let's stop comparing, searching and let's just look from within, whatever your body and your system needs, just like the adaptogens. The ultimate goal is to create a community of wild people.