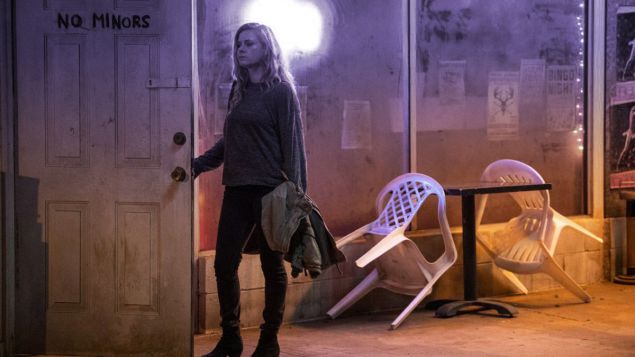 The weather may be getting warmer as we barrel into the offical start of spring, but who would ever want to go outside and risk actual human contact? No, we very much prefer the warm familarity of our couches, basking in the blueish glow of our television screens.
If you want to follow suit, you're going to need a firm understanding of the cluttered TV landscape. It's a war zone out there these days, as the arms race for talent ratchets up higher and higher. Lucky for you, we're here to plot your course as you embark on your spring TV joruney.
Here are 10 shows to watch out for.
Barry, March 25, HBO
Bill Hader emerged as a breakout star of Saturday Night Live, but has struggled to nail down a quality fit since leaving sketch comedy. Enter HBO.
Hader will play a disillusioned hitman who finds his true path in Los Angeles—he wants to be an actor, obviously—while on a mission. Henry Winkler plays his acting coach, while his boss, played by Stephen Root, isn't taken with the idea of Hader leaving the hitman life.
We presume hilarity ensues and Hader's star continues to shine. Someone of his talent should not be going long without must-see offerings.
The Americans, March 28, FX
Having seen the first couple episodes, we can tell you that The Americans is as sharp and well-defined as its hammer and sickle ever was. The criminally under-watched Soviet spy drama has limped along for five seasons with low ratings, only kept alive by the kind heart and keen eye of FX CEO John Landgraf.
But entering its final run, The Americans has been turned loose like escaping POWs and the early episodes have set the stage for a climactic conclusion. A three-year time jump primes the entire Jennings family, especially Paige, for action and drama. Fans of quality TV should tune in this year to give this underrated series the send off it deserves.
The Last O.G., April 3, TBS
Produced by Jordan Peele, this Tracy Morgan-led comedy follows main character Tray as he returns from prison to his rough Brooklyn neighborhood… only to find the place gentrified with gluten-free restaurants and hipsters galore (we all know that bag). As he tries to reconnect with his children, Tray will also attempt to win back his ex, played by rising star Tiffany Haddish.
This marks Morgan's first main role since his near-fatal car accident of 2014. It's a socially conscious comedy that could very well headline TBS's original lineup.
https://www.youtube.com/watch?v=oLOtiuqzEuE
Legion, April 3, FX
We've had the pleasure of taking a sneak peek at the first four episodes of Legion's second season, and we can assure you that it's as visually and narratively ambitious, not to mention batshit crazy, as season one.
Writer/showrunner Noah Hawley (Fargo) has proven again that he's one of the most unique creative forces in the business as Legion is most decidedly not your average superhero show (if we have to sit through one more Agents of SHIELD style betrayal/hookup, we're going to throw our remotes through the TV).
We understand if this mind-bending psuedo X-Men spin-off is not your cup of tea. But for those of you that enjoyed season one, you won't be disappointed by the sophomore effort.
Westworld, April 22, HBO
All of the production issues that plagued the first season of Westworld and all of the resources ($100 million) HBO poured into the series wound up paying off as the sci-fi western drama was an immediate sensation. Across all platforms, season one averaged a robust 12 million viewers per episode.
But with hype and success comes expectations. Can Medieval and Roman World additions meet the high demand? The trailers have done a good job of positioning Dolores and Maeve as crusading liberators, but is the path to consciousness dotted with anything other than violence? We hope so and we're excited to find out.
https://www.youtube.com/watch?v=qUmfriZoMw0
The Handmaid's Tale, April 25, Hulu
The ground-breaking, Emmy-winning streaming success will not have the highly-regarded source material of Margaret Atwood's novel to rely on in season two as the story continues well past the page. That alone is an intriguing sub-plot heading into these new episodes, let alone the gripping story that has already enthralled millions.
Season two will pick up with a pregnant Offred, sorry, June facing blowback for her rebellious behavior last year and delve further into the dark secrets of Gilead. This is one of the few stories out there that could actually benfit from more world-building, so we're intrigued to learn more about the newly formed totalitarian theocracy.
Fauda, May 24, Netflix
Fauda is one of the most entertaining international series out there. It follows a retired Israeli operative, Doron, as he returns to action to catch a terrorist with whom he shares a long-running rivalry. Season one built a strong geo-political action drama that taps into Arab-Israeli relations and the intentional and unintentional bloodshed that results.
The early word on season two is that it fails to live up to the exciting rookie run, but Fauda is still worth watching if you're looking for your next binge.
The First, 2018, Hulu
Here's the part of our Spring TV Preview where we start to cheat, because the following three shows have not yet received an official premiere date. Oh well.
The First marks the return of House of Cards creator Beau Willimon. Hulu is trying to capitalize on the momentum built by The Handmaid's Tale by building out its roster of originals, and The First is a smart genre bet from an established showrunner. The show, which received a straight-to-series order, is set in the near future and follows the first human mission to Mars, led by two-time Oscar-winner Sean Penn. It will explore the initial obstacles that stand in man's way of colonizing the solar system.
To us, it sounds like a more pensive version of The Martian, which is worth watching.
Sharp Objects, June 2018, HBO
First of all, it's HBO. The premium cable destination has earned the benefit of the doubt. Second of all, Sharp Objects boasts a prestigious pedigree with five-time Oscar-nominee Amy Adams headlining an adaptation of author Gillian Flynn's (Gone Girl) bestseller of the same name. It's also directed by Big Little Lies helmer Jean-Marc Vallee, whose attractive visual flare should carry over nicely to this similarly dark suburban tale.
Sharp Objects revolves around a reporter who must confront her own past emotional and psychological traumas when she returns to her hometown to investigate a grisly murder. We don't know when exactly the eight-episode miniseries will arrive, but we're ready for it.
Castle Rock, 2018, Hulu
Last year was something of a comeback for Stephen King, whose works directly inspired the record-breaking It, two well-received Netflix offerings and more. This year is looking pretty damn good for the famed author as well.
Castle Rock will combine "the mythological scale and intimate character storytelling of King's best-loved works, weaving an epic saga of darkness and light, played out on a few square miles of Maine woodland." It is produced by J.J. Abrams and stars Andre Holland (Moonlight), Bill Skarsgard (It) and other familiar faces.
Hulu is leaning heavily into more broad-appeal genre fare, and despite its treacherous territory, Castle Rock could be a big winner for the streamer.
https://www.youtube.com/watch?v=K3U7Z94NHgg
Honorable Mentions: Krypton (March 21, Syfy), Lost in Space (April 13, Netflix) Yellowstone (June 20, Paramount Network), Maniac (2018, Netflix), and The Ballad of Buster Scruggs (2018, Netflix)