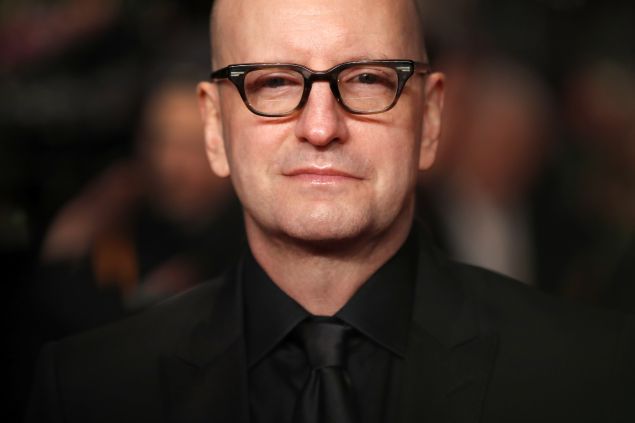 The way his collaborators talk about him, you might think Steven Soderbergh is the Duracell Bunny incarnate. "He has so much energy," screenwriter James Greer told Observer. "And he does that without artificial stimulation. He doesn't even drink coffee. He hates coffee!"
The indefatigable director of Traffic, Erin Brokovich, the Ocean's Trilogy and Magic Mike is apparently now out to win speed records. His latest film, Unsane, about an emotionally vulnerable young professional (Claire Foy) who unwittingly checks herself into a mental institution, was scripted in 10 days and filmed in 10 more. "It takes lawyers longer to get contracts done for most movies than it did for this to be written and shot," said Greer, who co-authored it with Jonathan Bernstein. And Bernstein concurs. "I hadn't even finished pitching Jim [Greer] the idea yet!" he laughed. Both scribes were almost at a loss for words.
After more than two dozen movies and a self-declared retirement from the film industry in 2013, during which he detoured into TV, first with The Knick and then with Mosaic, Soderbergh reneged on his vow with last summer's release, Logan Lucky. This February, he debuted Unsane at the Berlin Film Festival—and then immediately made another feature, the sports drama High Flying Bird, which just wrapped last week. (Editing was locked two hours after shooting finished.) And there's more to come.
His secret: integrity. Against all odds, Soderbergh has created a new paradigm for making and putting out films with reasonable budgets on his own terms in his own way. He even improbably shot the $1.2 million Unsane entirely on an iPhone 7 Plus, and he's overseeing distribution with his company Fingerprint Releasing. As Greer explained, "It's his marketing campaign. It's his movie. It's his everything."
Soderbergh carved out time to talk to the Observer about strapping cameras to Claire Foy and why he's embracing a tactic of dragging his own name through the dirt.
Why is an Oscar-winning veteran like you making a low-budget genre movie with iPhones?
I wanted to liberate myself from all ideas about myself. The choices that I often made on Unsane were consciously in opposition to what I would normally do. And that was by design. For the first few days, there was a constant dueling commentary going on in my head in which part of me would go, "I would never do it like this. So screw it, let's do it like this." I just imagined myself as an amateur who likes these kinds of movies and through technology has been given the opportunity to create something totally unhinged without anybody getting hurt. It was really fun to just take my name and throw it on the floor and jump on it and dirty it up. As part of my experiment of annihilating everything I'd ever done, I really wanted to throw my name away.
It's impressive what you can do with a phone camera.
Yeah, if you can employ it in the right way. All cameras have their strengths and weaknesses, the strengths in this case being the ability to get the lens into places that it would be very difficult to get a normal-sized camera into quickly. That was a big plus.
I hear you even mounted an iPhone on Claire Foy.
Oh, yeah. In the scene where she has this psychotic episode, we built this tiny rig where the camera was mounted behind her head and in front of her face. She had total mobility because there was this super-light frame and the camera weighs nothing, and she was able to quite comfortably lose her mind.
You've been your own cinematographer on every film since Traffic (credited pseudonymously as Peter Andrews). Since then, have you ever been tempted to give this job back to someone else?
I think that would be difficult—not because I'm a world-class cinematographer, but to now re-insert somebody into a process that has become very efficient for me would just be really difficult. As the director, camera operator, director of photography, and editor, it would be a speed bump for me to have somebody else now in that internal conversation.
Do you miss shooting on film at all, and would you ever return to it?
No, and very unlikely. There would have to be a very, very specific effect that literally could only be accomplished by shooting film. But given the variety and quality of the various filters and plug-ins that are available, I just can't imagine there being an effect that I couldn't re-create. It's amazing what you can do now in terms of manipulating the image.
So you're definitely not in the Christopher Nolan camp? There won't be an epic IMAX film from Steven Soderbergh?
No, no.
But do you still respect the film evangelists?
Of course! I get it. It's just not the headspace I'm in, and the advantages, for me, of all this new technology far outweigh any theoretical or literal aesthetic quality. I can do everything that I want to do, and everything that's important to me, faster, and can see the result more quickly and can iterate more rapidly. And that, to me, is the most important thing. It trumps every other consideration.
Did you give input to Jim and Jonathan as they wrote the script?
They would send me big chunks as they were going. And I would basically say, "Don't stop." Or "Add this one thing." But I didn't want to "note" them to death, I wanted them to just get to the end of it. Which they did. And I said, "It's great. Here we go!" I'm a big believer in that kind of momentum. It translates.
Jim says that you come up with your own titles, including Unsane as well as Planet Kill, the upcoming film that Jim is writing and you're producing.
Titles are fun. And they're also really important. Look, when we took sex, lies, and videotape to Sundance, I came up with the title purely out of desperation. I thought, "Well, I'll just call it exactly what it is, in that generic product way." And the only thing that was agreed-upon among the creative group was that I would absolutely change the title after the festival. We had four screenings, and at each one I would canvas the audience and say, "Do you think I should change the title of this movie?" At the first screening, it was about half, and by the end of the festival nobody's hand went up.
In that cultural moment in time, it was sticky. It was different. It was intriguing. It was so overtly descriptive and literal, that it kind of made you smile. So we got lucky. But I always have a great time coming up with fun, weird titles. The production entity on Unsane was Hyman Roth Industries. And the copyright holder for the film itself is Cuddle Party. It's fun.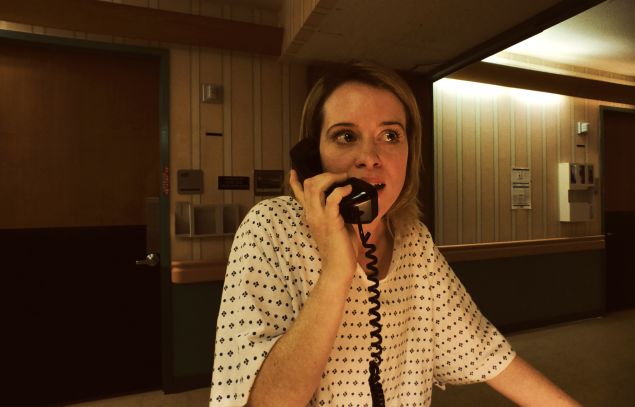 You famously retired from the movie business in 2013 and pivoted to TV projects like The Knick. Then you surprised everyone and made Logan Lucky in 2017. Now you're releasing Unsane, and you just finished shooting High Flying Bird. What brought you back to filmmaking with such a vengeance?
I had stepped away from the movie business because I couldn't figure out a way to eliminate the things about it that were frustrating, mostly on the creative and distribution end. And I followed up with friends of mine who worked on the distributor side and the exhibitor side, and realized that there might be the possibility of constructing a version of the movie business that eliminated everything that frustrated me.
I decided to use Logan Lucky essentially as a test case to set up this new model in which I would have complete control. Then I got re-engaged with what movies do as opposed to what a 10-hour television season can do—or, in the case of Mosaic, a 7-hour branching narrative can do. I now have a rekindled appreciation for all of those formats. What Logan Lucky did, and what I've enjoyed about Unsane and High Flying Bird, is the pleasure of a story that's really best told in that two-hour movie format. Some ideas are legitimately best served by being movies. it's been fun to re-connect with that. And as we speak now, it looks like the Panama Papers project that Scott Burns wrote for me is starting to take on critical mass, and that may be something that I do in the fall.
It seems like the floodgates are open. And you're innovating the nature of a wide-release film, since you're putting Unsane in more than 2,000 theaters with a marketing budget that's a fraction of what the studios pay.
We'll see. There's an open question whether or not the trajectory of marketing costs is reversible—or, at least, can it be contained? Unsane will be another step in trying to figure this out. If the studios are right, then a wide-release film that opens in thousands of theaters does not have a hope of success without starting at $30 million in U.S. marketing costs. But I'm essentially banking on the idea that you can do that for less money and use a paradigm that is more beneficial to the filmmaker both creatively and financially. I'm keeping notes and archiving all of the data so that when it's over, I can open the kimono and say, "O.K., look, here was the premise, this is everything that we did, all the numbers." Part of the experiment is this complete transparency.
Filmmakers seem generally not as attuned to the business aspects you just described.
You'd be stupid not to study the business part of the art form. It affects every decision that's going to be made by someone other than you—and, frankly, maybe even some decisions that you make. I look back at a couple of the movies I made and realize that my calculus was flawed. Solaris lost money because it cost $44 million and it probably should have cost $14 million. But at a third of its cost, it's a successful endeavor. And it would have been a different ballgame.
Do young filmmakers today lack business savvy?
This generation of filmmakers that's coming up behind me is more savvy about how the business works than any generation ever. If I made a movie in 1989 and it didn't get picked up by a distributor, I couldn't post it somewhere and have people see it and create a one-man social media campaign to get people to talk about it. You were just screwed. If the official channels and gatekeepers said no to you, you were done. But if you manage to get a movie made now, there are ways to get it out there. So that's a good thing.
But don't you think that creates a firehose of content where films can get lost?
Absolutely. But at the end of the day, talent drives everything. And that's on you.