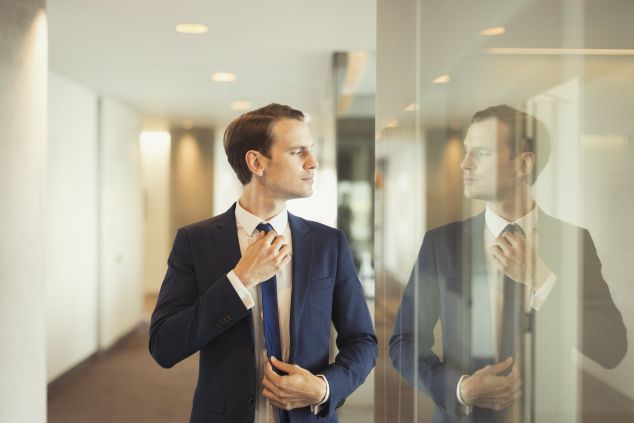 We all know the type: the guy who dominates conversations by turning every subject to somehow be about him. He's like the driver who does a hard turn in the middle of the road making all the other cars swerve out of his way. He's the friend who never seems able to give anyone else his full attention—the  one you feel is out to get more from you than he gives, and yet often the first to take offense. He's the narcissist.
All narcissists should come with a label: handle with care.
It's worth noting that men with this personality trait are often likely to become leaders because of the self-belief they hold, coupled with their wish to control: two of the defining characteristics of narcissism. And don't they make powerful bedmates…it's this that makes the narcissist seem dynamic and successful which, of course, the world applauds. And so it goes on, the narcissist receives praise and garners success and sees no reason to change. The show just keeps going.
The University at Buffalo condensed 31 years of research on narcissism, involving over 475,000 participants, into a report concluding that even taking on board differences of age and background, men are more likely to be narcissistic than women.
So what? you might say. Haven't bosses and leaders always been brash show-offs? And surely these character traits make them better at what they do? There is some truth here, but the real picture is more complicated.
According to the researcher Emily Grijalva, assistant professor of organization and human resources at the University at Buffalo School of Management, "Narcissism is associated with various interpersonal dysfunctions, including an inability to maintain healthy long-term relationships, unethical behavior and aggression." In other words, our narcissism could be a sign that something is deeply wrong both in our relationship with ourselves and therefore our relationship with the world.
In fact, it's not hard to explain why men more than women are more likely to be narcissistic. Just look at how we are socialized. So many boys grow up in families where both their assertiveness and desire for power are praised, meanwhile the same traits discouraged for girls.
This starts practically at birth. Note how adults interact with a baby. 'Is it a boy or a girl?' is often the first question out of our mouths. Then we play and act with that child accordingly. We affirm so-called "masculine" traits for boys over those seen as "feminine," such as all the different ways that a person can display sensitivity. How many of us heard "real boys don't cry" from our parents as we grew up, not just once but many times over? It's like an instruction to cut that part of ourselves off.
For some of us who grew up in this kind of culture, we found that our fear, sadness and vulnerable feelings were not acknowledged…or even allowed. This may have led to the development of what psychologists call a "false self." The false self is a mask to protect us from hard-to-admit feelings that are shameful, unmanly and difficult to process. In fact, we may be so cut off from our feelings we don't even know that they're there at all and we feel ill-at-ease without ever know exactly knowing why.
So we mask this discomfort by becoming the captain of the football team, dominating others, being bullish, loud and perhaps even cruel. But deep down we feel fraudulent and empty inside because we are disconnected from the person who we really are: that part of us that contains all of our feelings including our fear and vulnerability.
We all have levels of narcissism. It's part of being human. But if you're worried yours is a little outsized, here are some ways to get it in check (and the good news is, just being conscious of it means you've already made great strides in balancing things out).
Stop talking and listen
It's this simple: nurturing your ability to listen attentively to other people diminishes your narcissism. Show you are engaged with your body language; seek and sustain eye contact with those you talk to, nod and be curious about the stories and lives of those you engage with. Appreciate that you don't have all the answers and others have important and valuable things to say too. The more you able to listen with empathy your fear-ridden need to dominate and control will lessen.
Cultivate a commitment to others
Be reliable and keep your promises to others, such as by being on time and doing the things you say you will. These are ways to show others you respect them. Having to make excuses for yourself when you anger, upset or are simply inconsiderate to another person only feeds the false self, continuing a cycle where you mask your true feelings. It's also important, if you are involved in the life of a younger male, to communicate that he can be honest about his feelings, and so helping to reduce the cultural messaging that men have to create a false reality about their emotions.
Ask for help
Our narcissistic self tells us we're totally fine, but when another friend walks away from us or yet another relationship crashes about our ears this is a wake up called telling us, time to change. Seek help from a therapist to find the support you need in making positive strides.
David Waters is a U.K.-qualified psychotherapist and New York City-based coach.