Government workers, airline pilots or suburban parents—no matter the cover story, D.C.-stationed Russian spies Elizabeth and Philip Jennings always seem to have the right outfit to make them blend in on FX's The Americans. Costumes often reveal a lot about a character, but the clothes here are meant to conceal, even in a decade as bold as the 1980s. As Elizabeth, Keri Russell gets most of the fun spy disguises in this year's sixth and final season, as husband Philip (Matthew Rhys) has quit the covert life.
What does taking on the bulk of the spy work mean for Elizabeth's style? More wigs, apparently. If The Americans is to be believed, the Cold War must have been responsible for biggest wig business boom in history. This season, Elizabeth has more hair styles and new disguises than ever.
And with all these costume changes comes, well, more clothes. Elizabeth herself may not go for statement pieces, but some of her alter egos do. Picking up in 1987, this season features the best of the best in winged statement shoulders, including a brown Yves Saint Laurent reptile jacquard pattern top and a fuchsia Gucci windowpane blouse.
Fashion during this decade changed rapidly, so staying true to yearly adjustments when costuming an '80s-set show is hard enough. Navigating the job of crafting multiple looks for the same person—concealing them enough to be believable, but not so much that the audience gets confused—is even harder. Costume designer Katie Irish spoke to Observer about balancing this tricky task on the event of the show's sixth and final season premiere.
There's a three-year jump in time between the end of the last season and the start of this one. What's happening in style and culture?
In going from 1984 to 1987 the fashion's just become more of the '80s that everyone associates with the '80s, especially here in the United States. The shoulder pads are bigger, the earrings are huge, the hair is huge; everything is blowing up into the excess of the '80s that everyone thinks about. When we were initially talking '80s, [at the start of the show] I was like "We're not quite there yet." Now we're actually there.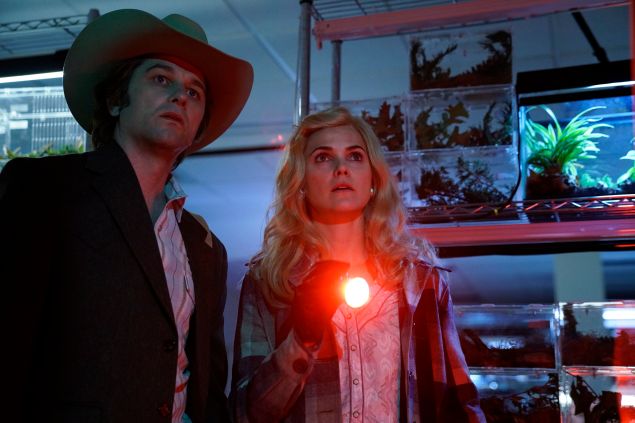 Paige has gone from a sweet religious teen with a closet full of cutesy sweaters to spy-in-training. What can you tell me about her costuming this season?
I think all of us, growing up, emulate the women in our lives. So I definitely looked to Elizabeth's closet, trying to figure out where things that were very Elizabeth would fall into Paige's closet, but also trying to figure who she is as her own woman and what styles work on her. It was a fun challenge this season.
Philip is now out of the spy business. How did you use costume to show the gulf in the Jennings relationship at the start of the season?
At the end of season five Elizabeth tells him "You should quit. I don't want to see you like this." In those three intervening years we believe he has just been focusing on the travel agency and making it bigger and better. Philip has always been more of the one buying into the 'Pull yourself up by the bootstraps American Dream,' than anyone else in the family.
I really focused on that and him being happy, being freed from the emotional and physical weight of the spy trade. It was really exciting to be able to do things on Matthew [Rhys] that both reflect 1987, but also show him in a happier place. We were always like "You're unhappy, so you're a little messy; your shirts don't fit quite well, you don't need to pull yourself together in that way." It's nice to be able to come back to a much slicker, pulled together, happier Philip.
If Philip is feeling a lot lighter, Elizabeth has this huge burden as the sole spy. What can you tell me about her costuming both at home and in disguise?
One thing we kept hearing is how weary Elizabeth is. As you point out, she's picking up the slack, she's handling almost all of the Philip responsibilities since he left the spy trade. The first episode seeks to establish that she is going from managing one source to the next source to the next source and constantly changing who she is. So in the brief minutes we actually see of "Elizabeth," we see a woman who still strongly believes in her cause, but is just so tired.
I used denim more than I ever have with Elizabeth. This season, if we are seeing her at home she's in jeans and a sweater, or something that is more relaxed. She doesn't have the energy to put something together like she had previously.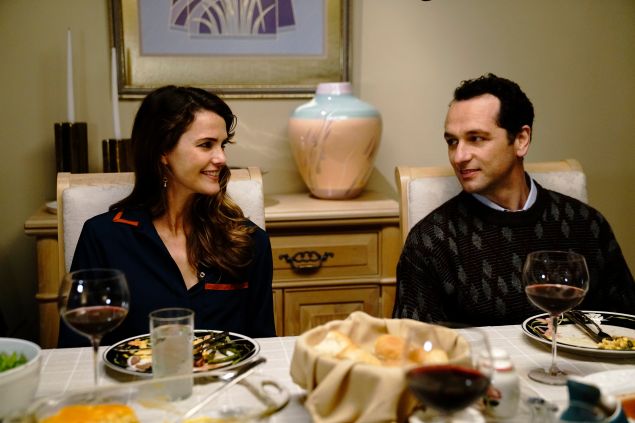 How did you plan these multiple changes around the wigs?
We get the scripts and we get little bios and we figure out how long these disguises play for, what the actual needs are; does she need to run? Does she need to talk? As the season has gone on we would say "If she's blonde in this one, she has to be brunette in this one. If it is short here, it needs to be long here." Toward the middle of the season we asked "What's left? What else can we do that won't also limit her action or ability to speak?"
Everyone loves the false teeth, but she can't talk with them in. [So we thought] what else can we do? What other changes can we make to have this disguise still be a realistic person that doesn't draw attention to herself, but also is clear enough in the audience's mind that they're not getting confused she's someone else.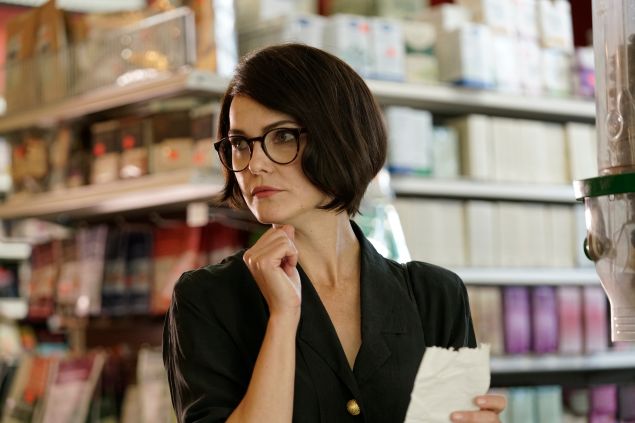 Have Elizabeth and Philip ever worn each other's disguises?
Yes. There has been a wig I believe was shared between the two of them, which was very funny.
It is the late '80s and fashion excess is on trend. Does Elizabeth wear any high-end brands?
Yes, but to make a point of wearing high-end. Elizabeth would never be conspicuously wearing a brand, but her purse is a classic Brahmin style. There's some vintage Gucci, some vintage Valentino, Harve Benard—especially with pants.
I love that scene last season where she is standing looking at her closet after Philip has said "You like nice things." Again it's not necessarily about a label or a brand, but it's about how it feels against your skin, what does it look like. It is that kind of thing for her. It's the juxtaposition between a nice silk blouse you can have in America as opposed to the wool, scratchy Soviet clothing.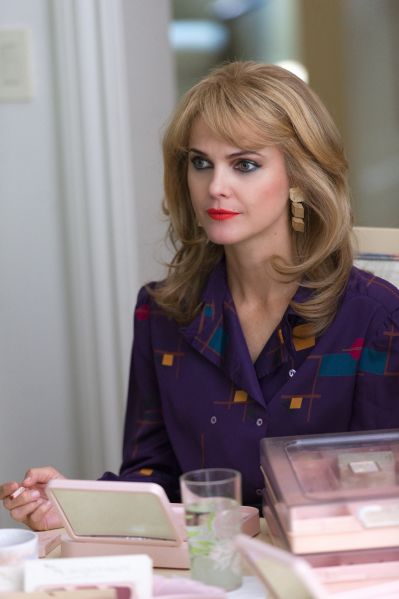 Do you have a favorite costume from your six years on the show?
I think the one that was most meaningful for me was from the first season where I was the head designer—which was season four—and it was also the season Keri [Russell] was pregnant. I had dual challenges there stepping up to the plate and trying to not give it away that she was pregnant. The Patty disguise was a big favorite, because of the creative license. This character was everything Elizabeth Jennings wasn't: fashiony.
This interview has been edited and condensed for clarity.