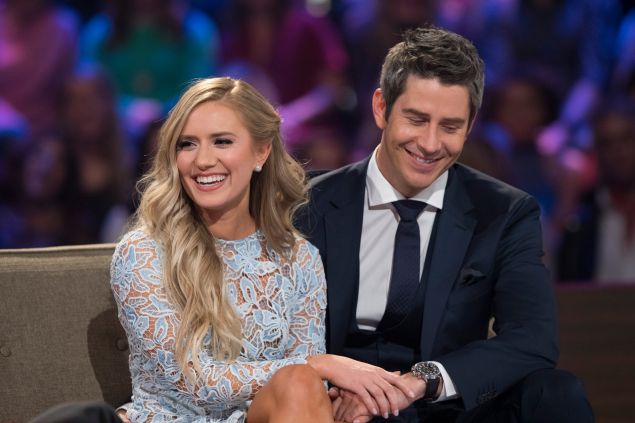 Potentially the most-hated Bachelor ever, Arie Luyendyk Jr. (sorry, Juan Pablo), is the subject of a bill that could ban him from an entire state. Sure, the bill likely won't pass, but Luyendyk should probably avoid Minnesota, the home state of spurned contestant Becca Kufrin, just to be safe. She was his original choice on the reality television show, but he proceeded to break up with her in "unedited" footage that was obviously worthy of a Saturday Night Live-parody.
Luyendyk is staying far away from Kufrin and Minnesota, as well as the United States in general, for the time being, as the former race car driver is attempting to live his self-described best life in Europe.
Luyendyk is currently traipsing around Spain with the original runner-up and now-winner, Lauren Burnham. The newly engaged pair are eagerly photographing every single minute of their trip; they're currently in Barcelona, where they are reportedly staying at the recently opened 119-room Iberostar Paseo de Gracia.
The couple made their way to Barcelona following a few days in Iceland, where they dutifully uploaded snaps from the Blue Lagoon and also shared an Instagram Boomerang/video/slideshow situation of what appears to be a likely #sponsored moment with WOW air, but without the hashtag. Or maybe they were just really, really excited to be on that plane, fleeing overzealous #BachelorNation fans.
It looks like they're staying in Iberostar Paseo de Gracia's two-floor penthouse suite, which Luyendyk kindly took his followers on a tour of, via Instagram Live. He also let everyone know that the two "Made it to Barcelona," and the hotel is "incredible." He even posed the very important question, "Can this get any better?"
Paseo de Gracia only opened its doors in January of this year so Luyendyk and Burnham might be the first celebrity (or at least reality star) guests. The building itself, located in the Plaza de Catalunya, dates back to 1942 and features sculptures by Frederic Marés, a gym, rooftop pool and two restaurants.
Their penthouse suite has 360-degree views of Barcelona (as evidenced in the aforementioned Instagram video), one bedroom, two bathrooms and a lounge, plus a bar and a private balcony. No word yet on the hot tub situation.
According to People, they told hotel staff that it's "our first time in Barcelona and we're excited to go out and visit the city…we're glad it's not cold, like it was in Iceland." Very astute observations! Luyendyk and Burnham have also been fastidiously documenting their exploits of bike riding, pastry eating and a favorite Bachelor pastime, champagne drinking, as well as scootering in Montserrat, posing in front of La Sagrada Família.
It's not clear who exactly is footing the bill for Luyendyk and Burnham's pricey European adventures; the New York Post reports that the couple's entire trip to Spain comes to about $25,000. Perhaps Luyendyk and Burnham already signed their #ad contracts for DIFF Eyewear and Sugarbearhair, though Luyendyk has been quite vocal about his ability to function sans any sponsored content in the past—he'd like everyone to know he does not need to sell Fit Tea on Instagram. But maybe he's making an exception for a hotel in Spain?