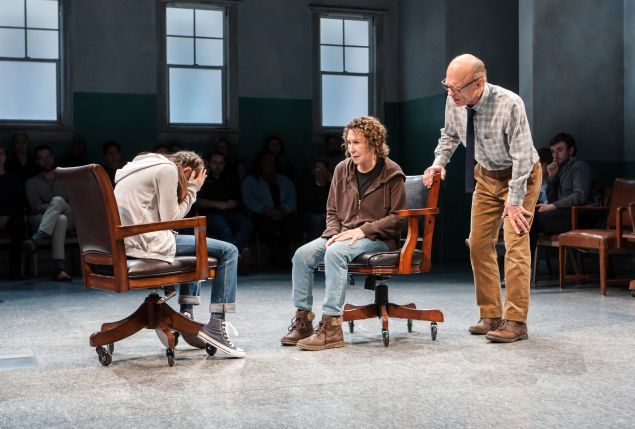 David Rabe, acclaimed author of plays (Streamers, Hurlyburly, Sticks and Bones, among others), movies (The Firm) and novels, the father of excellent actress Lily Rabe, and widowed husband of the late, lovely Jill Clayburgh, has written a new work for the theater about the trials, triumphs and failures of two doctors with an army of patients in a state mental hospital in Massachusetts. This is good news. The play, called Good For Otto, is densely populated with dull case histories, frustratingly slow, and entirely too long (three hours of tedium). This is bad news.
Directed without much energy by the usually reliable Scott Elliott at off-Broadway's Pershing Square Signature Center on 42nd Street, this is one of the gifted playwright's weakest efforts. One by one, the psychiatric studies Rabe chronicles here all appear, dead and alive, to tell stories that don't seem important enough to listen to for three hours. Otto is not one of them. Otto is a hamster. More about that later.
Fourteen speaking parts are shuffled by a winning cast seated around the stage with members of the audience. A very big cast, by off-Broadway standards. The actors are very good. Too bad Rabe has given them so little to do of any real theatrical consequence. At the center are Ed Harris, as Dr. Robert Michaels, and his real-life wife Amy Madigan, as fellow therapist Dr. Evangeline Ryder.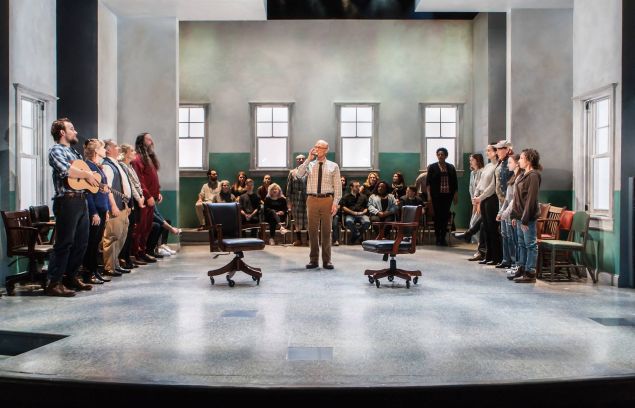 Among their patients are some familiar faces, including F. Murray Abraham as Barnard, a retired man in his 70s who refuses to get out of bed and Mark Linn-Baker as Timothy, an oddball with a persecution complex who sinks into an incurable state of manic depression because his pet hamster, Otto, is terminally ill. There's also Maulik Pancholy (a standout in the hilarious comedy It's Only a Play) as Alex, a colorful, agitated and thoroughly repressed homosexual who lives in a world of fantasy relationships; Rileigh McDonald (one of the singing children who played the title role in the hit Broadway musical Matilda) as Frannie, a schizophrenic who self-mutilates with paper clips; and Rhea Perlman as Nora, the woman who has been driven close to madness trying to be a surrogate mother to Frannie.
Even the doctors have problems. Dr. Michaels's own mother, who committed suicide when he was nine, materializes from the audience from time to time with terrible headaches, and Dr. Ryder is overcome by government red tape that prevents her from spending enough time with her patients to make them well. The messy, meandering structure is restricted by a series of interviews, between which the two analysts discuss their patients with each other and, for no good reason, lead the entire company in sing-alongs of "Let Me Call You Sweetheart" and "Row, Row, Row Your Boat", accompanied by a man who killed himself with a shotgun.
At one point, Ed Harris plays the tuba while the patients sing "Carolina in the Morning." How I wish I could tell you it all adds up to three hours of fascinating psychodrama, but in truth none of it is riveting or unique enough to hold interest for three hours. In the bigger picture, what this means is that none of roles are important enough to support the talents who play them. In short, they don't pay off. You leave with the wearying impression that Rabe hasn't quite finished his job. This is a work in progress, still struggling to come alive in its unpolished infancy.
In the end, the cases fail and so do the cures. Ed Harris stands in the center of the stage singing "On Moonlight Bay" as snow falls on his head from the ceiling. The only one who seems to come through with flying colors is Otto, who survives cancer surgery with a new lease on life in a cage. Good for him. Good For Otto. As for the humans, the only people dying to get out of the loony bin are not the loonies. At the end of three hours, when the lights went out, I couldn't wait to join them.