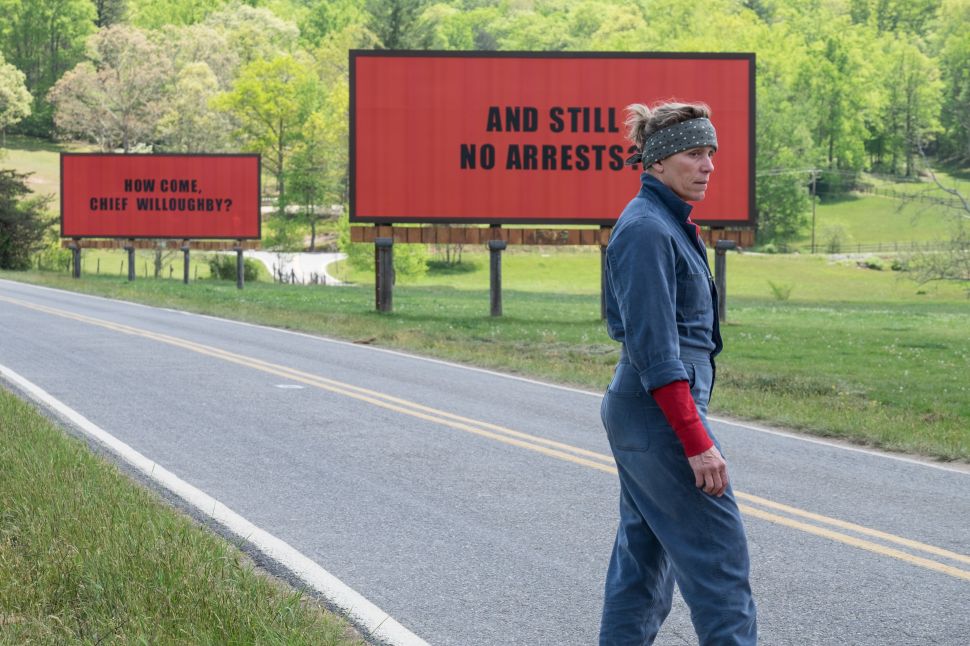 Paging Frances McDormand!
In the film Three Billboards Outside Ebbing, Missouri, the acclaimed actress plays Mildred Hayes, a woman who pays for the title objects to be displayed on a country road to shame the local police department into investigating her daughter's murder.
Both McDormand and the movie are heavy favorites to win Oscars this weekend. And some people have been so inspired by Mildred Hayes' crusade that they have recreated the billboards in real life.
In the latest example, yesterday, Los Angeles street artist Sabo hijacked a trio of billboards on Wilshire Boulevard in Hollywood to send a message shaming the movie industry's sexual predators.
The three-billboard-long missive reads: "And the Oscar for biggest pedophile goes to. We all knew and still no arrests. Name names on stage or shut the hell up!"
This isn't Sabo's first billboard-related stunt. In November, he pasted a photo of Al Franken on a poster for The Greatest Showman to make it look like the ex-senator was fondling Zendaya's foot.
While Sabo hijacked the billboards for his own use, his exploits got us thinking: What would it actually cost to rent three billboards in major American cities?
Whether you want to shame Hollywood predators or send less benign message, here's how much you'll have to spend.
Los Angeles
Sabo avoided a hefty bill by co-opting billboards that were already in use. However, the average large billboard in highly trafficked areas of L.A. costs between $1,500 and $5,000 a month.
That's $4,500 to $15,000 for the trio.
San Francisco
If you'd rather advertise in a different part of California, be prepared to pay even more.
On average, the City by the Bay charges between $6,500 and $19,000 for a month of high-rise ads. Mildred Hayes would have to pay anywhere between $19,500 to $57,000 for her public shaming.
New York City
Everything's bigger in the Big Apple, and that definitely includes billboard costs.
The cheapest airborne real estate in the city is $14,000 a month (that's $42,000 for the trifecta), while billboards in Times Square cost between $91,000 and $333,000 per month. That means our friend Mildred would need up to one million dollars for her three-pronged attack.
Atlanta
Billboards in the ATL are relatively cheap compared to their Northeast  counterparts–only $3,000 a month, or $9,000 for the trio.
Phoenix
The Arizona metropolis has embraced digital billboards of late, but they don't come cheap. If you want your ad to flash every four minutes, it costs $1,375 a month.
But if you want it to show every minute (which Mildred most certainly would), you'll have to pay $5,500 a month. A digital rendering of Hayes' message would definitely be something to see, despite the $16,500 price tag.
Nashville
Music City is pretty open to outdoor advertisers—billboards only cost $1,350 a month, or $4,050 for the trifecta.
Columbia, Missouri
Ebbing isn't a real place, but other mid-size cities in Missouri have competitive billboard rates—this space only costs $1,250 a month. So if anyone wants to pay $3,750 to recreate Mildred's messages on her home turf, we would fully support that.
All prices are based on dimensions for a conventionally sized billboard—48-feet wide by 14-feet high. Price ranges are due to the varying amounts of car traffic in different areas of cities.