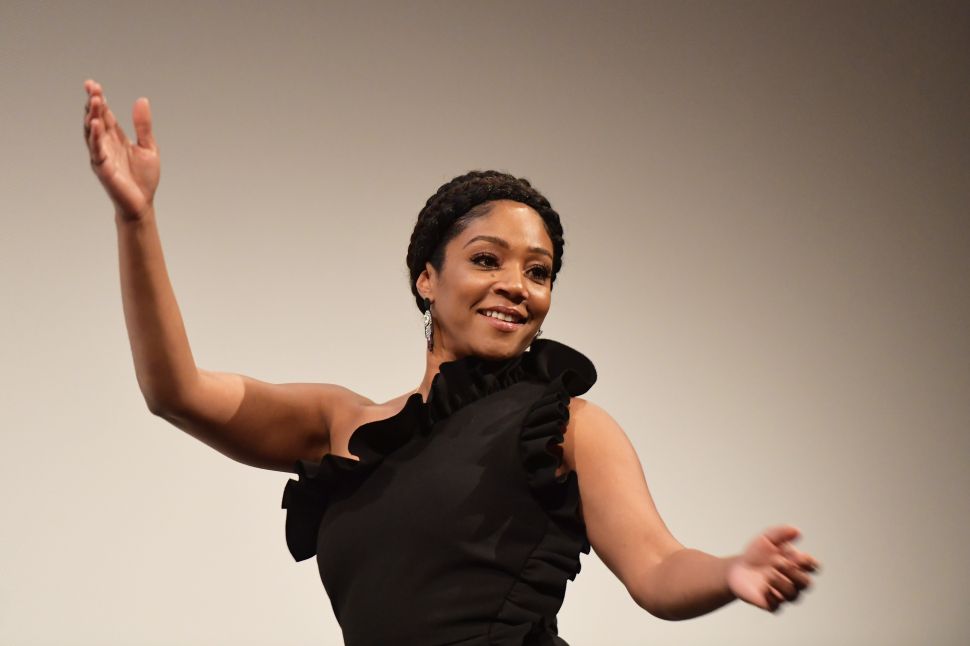 This year's Academy Awards were the least-watched in Oscars history with just 26.5 million viewers, the fourth-straight year of decline. While the ratings skid is due more towards the rise of cord-cutting and a move away from linear television, it's clear that a host shake-up wouldn't hurt.
Jimmy Kimmel has performed well in his back-to-back hosting stints, but last year's telecast was the third least-watched of this century, so it's not as if he's the second-coming of Billy Crystal or anything. One way to hook in audiences next year, especially younger viewers, is by tapping an out-of-the-box choice as his replacement.
What better option than Girls Trip breakout star Tiffany Haddish?
The comedian/actress has been on a whirlwind since last summer's meteoric rise, which saw Girls Trip earn an unexpected $140 million. Since then, Haddish has released a stand-up comedy special, signed an overall deal with HBO and will star in TBS' upcoming comedy The Last O.G. alongside Tracy Morgan. The comedienne is also hosting the 2018 MTV Movie and TV Awards, giving her a nice little practice run just in case she wants to move up to the big leagues.
On top of all that, her and Maya Rudolph's turn as presenters at this year's Oscars received the biggest laughs of the night (honorable mention: Lupita Nyong'o and Kumail Nanjiani).
So, is she interested?
"I would love to do something like that. I know my father would be extremely proud if I got to do that…  As long as I get a paycheck," she said at SXSW, according to Vulture. "In my mind, Maya and I, we were auditioning for the ultimate job—because I thought we were getting paid for that presentation."
"When I found out that we weren't getting paid, I was like, 'Well, I heard about gift bags,'" Haddish joked. "And then it was like 'We don't have no gift bags,' and I was like, 'Well what do I get?' They were like, 'We've got a bottle of wine that's like $13.' So I got the wine."
That's all we need to hear. We're in.
Your move, Academy.