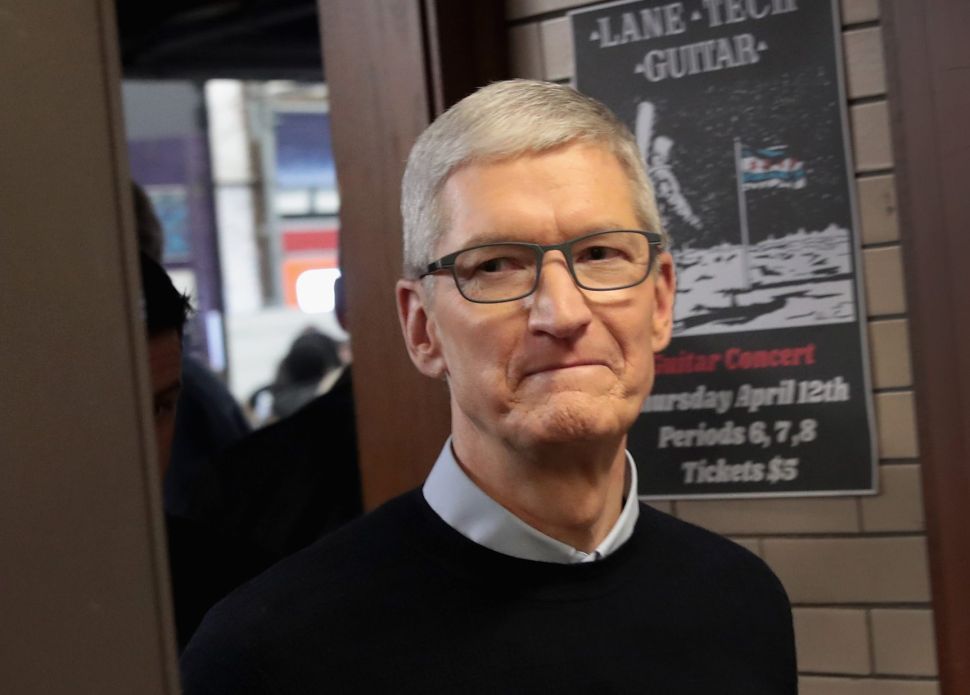 Tech companies have had a tough week. Thanks to the crisis at Facebook, shares of Google, Twitter, Amazon, Netflix and Tesla (for reasons all of its own) have all dropped in the past week.
Except Apple, which is going strong against the current.
On Wednesday, Apple CEO Tim Cook attended an event in Chicago hosted by MSNBC and Recode, and was inevitably asked about Facebook. 
Cook said it's time for regulators to step in, although he believes Facebook had a chance to avoid that.
"I think the best regulation is no regulation, is self-regulation. However, I think we're beyond that here," he said. "I do think that it is time for a set of people to think deeply about what can be done here."
Cook expressed the same view last week at the China Development Forum in Beijing, where he has built a good reputation for following regulations.
"I'm personally not a big fan of regulation, because sometimes regulation can have unexpected consequences to it; however, I think this certain situation is so dire, and has become so large, that probably some well-crafted regulation is necessary," Cook said at the government-sponsored event, which he was a co-chair of this year.
Apple and Facebook are often mentioned side-by-side in the context of technology or large companies in general, but they are very different companies at their respective cores.
Apple is still a hardware company that makes the bulk of its revenues from devices, while Facebook almost solely relies on advertising to make money, which requires extensive user data to fine-tune targeting.
That said, it's worth knowing that Apple knows a great deal about you, even though it rarely explicitly asks for your information like Facebook does.
Through its various devices and data service iCloud, Apple tracks everything in your life, ranging from travel history to messaging logs to even what you say to Siri.
"The truth is, we could make a ton of money if we monetized our customer, if our customer was our product. We've elected not to do that," Cook said.
That statement sounds slightly unsettling considering that Apple said recently it intends to put more effort into the streaming business (Apple Music, for example) in the future. That means advertisers will have more opportunities to target Apple users—just like they target Facebook users.
Finally, when asked what he would do if he was Mark Zuckerberg right now, Cook said unapologetically, "I wouldn't be in this situation."