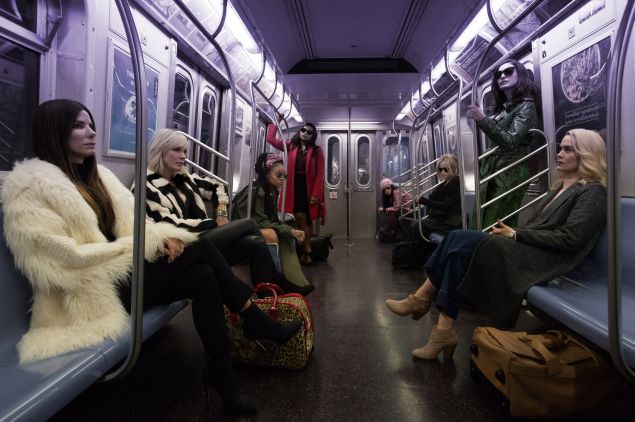 In the northern hemisphere, spring stretches from late March to late June, which just so happens to cover the first half of the "summer" blockbuster movie season. This year, more so than any in recent memory, the release schedule is absolutely overflowing with big-budget tentpoles, franchise entries, sequels and reboots that fit snugly into that window.
We love punching into hyperspace to a galaxy far, far away or fighting to save Wakanda in the Marvel Cinematic Universe, but we also acknowledge that those movies aren't for everyone. Audiences also need more grounded and realistic fare to keep them entertained.
So to that end, here is your Spring Movie Preview with a pretty even mix of big budget pictures and indie standouts.
Avengers: Infinity War (April 27)
Marvel Studios head Kevin Feige has discussed how Avengers: Infinity War will bring a sense of "finality" to the Marvel Cinematic Universe (MCU) as we know it. Earth's mightiest heroes have been building towards this big screen battle for 10 years, and the blockbuster promises to be the biggest superhero event in pop culture history.
Will our favorite heroes like Robert Downey Jr.'s Iron Man and Chris Evans' Captain America fall? Will Infinity War plant the seeds for the future of the MCU? The entire movie-going population is waiting with bated breath for arguably the most anticipated non-Star Wars blockbuster of all time.
No pressure though, Marvel.
Solo: A Star Wars Story (May 25)
As one of the most successful producers in cinematic history, Kathleen Kennedy knows how to shape a quality story that appeals to a wide audience. As president of Lucasfilm, she's three-for-three with the critical and commercial success of Star Wars: The Force Awakens, Rogue One and The Last Jedi. She and her creative team have more than earned the benefit of the doubt.
But we're human, so it's fair to be at least a little concerned about the behind-the-scenes drama of Solo, which saw Ron Howard replace Phil Lord and Chris Miller as director mid-production and re-shoot a rumored 80 percent of the movie. The so-so trailer Lucasfilm released after the Super Bowl didn't exactly unite the fanbase either.
Fortunately, all of our questions regarding Solo will be answered in less than 12 parsecs.
Deadpool 2 (June 1)
Word on the street is that the first test screenings for the Deadpool sequel didn't go so hot, but given the (once again) excellent promotional material, we're erring on the side of cautious optimism. True, original Deadpool director Tim Miller left the sequel over creative differences with Ryan Reynolds and the studio, but we're still holding out hope for the foul-mouthed Wade Wilson follow up.
Assuming Deadpool 2 lives up to the hype and we're on track for a threequel, you'll be happy to learn that Disney has no plans of clamping down on the character's more, ahem, adult-skewing comedy once its purchase of 21st Century Fox is approved. Until then, the studio has ambitious plans for the Deadpool series and its potential spinoffs.
Ocean's Eight (June 8)
Roll call.
Sandra Bullock? Here. Cate Blanchett? Here. Anne Hathaway? Present. Mindy Kaling? Here. Sarah Paulson? Here. Rihanna? You know it.
Ocean's Eight is teeming with talent and promises to be a very worthwhile continuation of the George Clooney-led Ocean's franchise (yes, this is a continuation connected to the previous series. It is not a politically motivated reboot). Ocean's Eight looks like the snappy comedy caper we need in a year devoid of plucky outsiders.
The Incredibles 2 (June 15)
With all due respect to the Toy Story franchise and Wall-E, 2004's The Incredibles may very well be Pixar's crowning achievement. In fact, Brad Bird's animated adventure flick may be one of the best superhero movies period.
Fans have been pining Romeo and Juliet-style for a sequel for more than a decade. Finally, our patience is being rewarded with a follow-up that picks up right after the original.
Opening day is nearly upon us, so make sure you know where your super suits are.
Isle of Dogs (March 23)
Director Wes Anderson has six Academy Award nominations under his belt, so yeah, you could say we're intrigued by his stop-motion animation that follows a boy in Japan on a quest to find his dog. Really, anything with dogs and we're in. But a filmmaker of Anderson's pedigree branching out and experimenting with new genres and formats is especially attention-grabbing.
The all-star voice cast he's put together helps also, as Isle of Dogs features Bryan Cranston, Edward Norton, Scarlett Johansson, Bill Murray, Tilda Swinton and other big names.
You Were Never Really Here (April 6)
Joaquin Phoenix doing his best Taken impression? Say no more.
Don't Worry, He Won't Get Far On Foot (May 11)
Amazon Studios, which took a nasty tumble in the film arena after a breakout 2016, is hoping to get back on track with Gus Van Sant's new dramedy, which received a warm welcome at Sundance this year. Also, hey there's Joaquin Phoenix again.
Starring alongside Phoenix is Jonah Hill, Rooney Mara and Jack Black in a story based on the memoir of cartoonist John Callahan. Don't Worry, He Won't Get Far on Foot is exactly the type of quirky and off-beat movie that major studios have squeezed out of existence and that streamers should be targeting as counter-programming to the multiplex releases. Sadly, Amazon and Netflix may still be eyeing more mainstream blockbusters along the same lines as Bright.
The Seagull (May 11)
A period drama with a stellar cast? Not a cape or cowl or lightsaber in sight? See, films for adults do still exist after all.
The Seagull, an adaptation of the famous Anton Chekhov play of the same name, tells the story of the young and innocent Nina, who falls in love with an older successful novelist. The resulting fallout from their relationship paints an ugly picture of morality and class divide in the 19th century.
The film stars Saoirse Ronan, who already has three Oscars nominations and is not yet 24, Annette Bening (four Oscar nominations), Corey Stoll (one Golden Globe nomination) and youngster Billy Howle.
Sorry to Bother You (July 6)
This surreal comedy was the biggest hit at Sundance this year, so much so that burgeoning studio Annapurna Pictures made a splashy seven-figure acquisition. Just watching the out-there trailer, it's easy to see why.
Sorry to Bother You stars Atlanta breakout Lakeith Stanfield along with Tessa Thompson (Thor: Ragnarok) and Armie Hammer (Call Me by Your Name). Patton Oscalt, Danny Glover, Terry Crews, David Cross and Steven Yeun also star.
It's been generating a lot of buzz along the festival circuit and would be a nice under-the-radar win for Annapurna, which failed to drum up much business for last year's Detroit but is set to roll out the new James Bond picture.