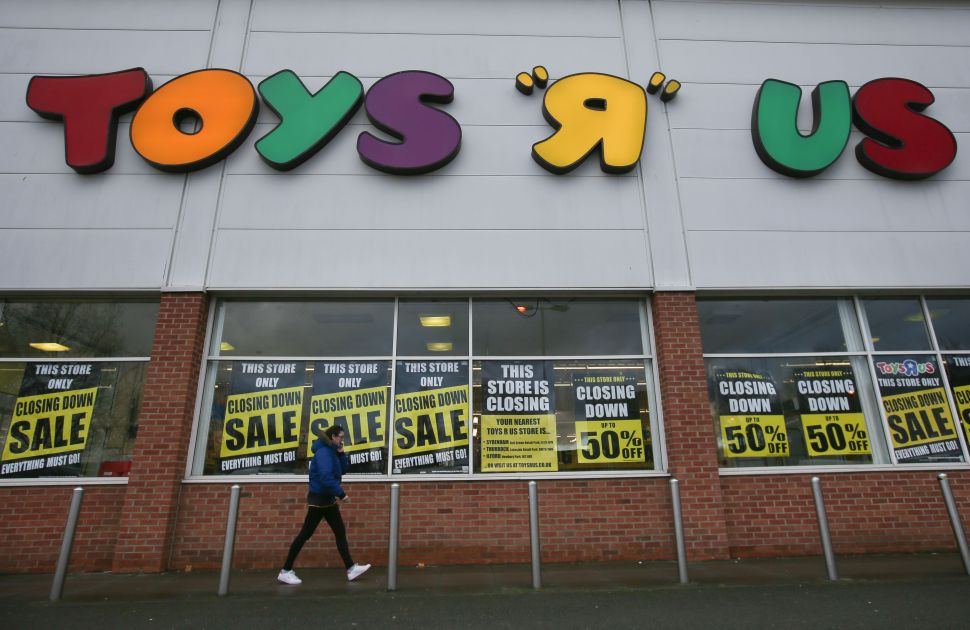 Toys "R" Us officially announced on Thursday that it will close all 735 of its stores in the U.S., six months after the troubled retailer filed for Chapter 11 bankruptcy protection, ending an era of toy shopping and browsing at big-box stores.
In a Wednesday internal brief to employees, CEO Dave Brandon said poor sales during the holiday season was the final straw that brought down the 70-year-old iconic brand.
"The hole that we dug in the holiday season put us in a position where our lender became justifiably nervous as the company was continuing to consume cash," he told employees.
"They had no choice but to go into chapter 11," said Charles Tatelbaum, director and chair of Creditors' Rights and Bankruptcy for the Tripp Scott law firm in Florida.
By the third quarter of 2017, Toys "R" Us had defaulted a colossal $5 billion of debt to its private equity lenders. As speculations around the company's collapse intensified and were made public by news outlets, shopper were hesitant to buy gift cards, fearing stores would no longer exist by the time they wanted to redeem them.
"The debt holders were pushing. People were afraid to buy gift cards. Everybody was scared," Tatelbaum told Observer. "By filing chapter 11, consumers wouldn't have to worry about their gift cards expiring or merchandise returns at least through the holiday season. So that was the right strategy to follow."
However, filing bankruptcy protection at the time created a larger problem on the other end of the supply chain.
Toys "R" Us' candid announcement prompted its shocked vendors to cut inventory shipments due to high insurance cost. Some suppliers demanded cash payment for full shipments, creating an impossible situation for the cash-strapped company.
Long story short: Toys "R" Us' series of decisions cost it the entire holiday season, which has historically made up for 40 percent of its annual sales.
Coupled with troubled financials, the company's accumulated business strategy missteps brought it down sooner than it could have.
It's true that the competition of Amazon (AMZN) and e-commerce faced by traditional retail chains is fierce, but, owning 40 percent of the U.S. toy market, Toys "R" Us could have actually had an edge in its own sector.
"You can't have a small toy store anymore, because there are so many toys, electronics and other things that kids want. So small store competitors are out," Tatelbaum explained. "You need to have a big inventory. Target and Walmart do have some toy inventory, but there's really nobody else that could pose a threat to Toys 'R' Us in the physical retail space."
In its latest financial filings, Toys "R" Us said one major challenge it had been struggling with was simply a declining customer base.
"Most of our end-customers are newborns and children and, as a result, our revenue is dependent on the birthrates in countries where we operate. In recent years, many countries' birthrates have dropped or stagnated as their population ages, and education and income levels increase," the company said.
Tatelbaum pointed out a common problem with retailers in times of changing market conditions.
"Kids want hot toys, and Toys 'R' Us was once there with them. But they waited too long to do anything within the retail sector," he said. "They could have entered chapter 11 earlier before the holiday season. And they could have closed down unprofitable stores earlier. As in a lot of retail bankruptcy cases, companies waited too long. Everybody has a hope that they won't have to do it. It's like a cancer patient who refuses to go into the surgery, and by the time his cancer has spread so much, the surgery isn't going to help. I know it's an unpleasant analogy, but that's really what happened."
"I am very disappointed with the result, but we no longer have the financial support to continue the company's U.S. operations," Brandon said in a statement on Thursday. "This is a profoundly sad day for us as well as the millions of kids and families who we have served for the past 70 years."