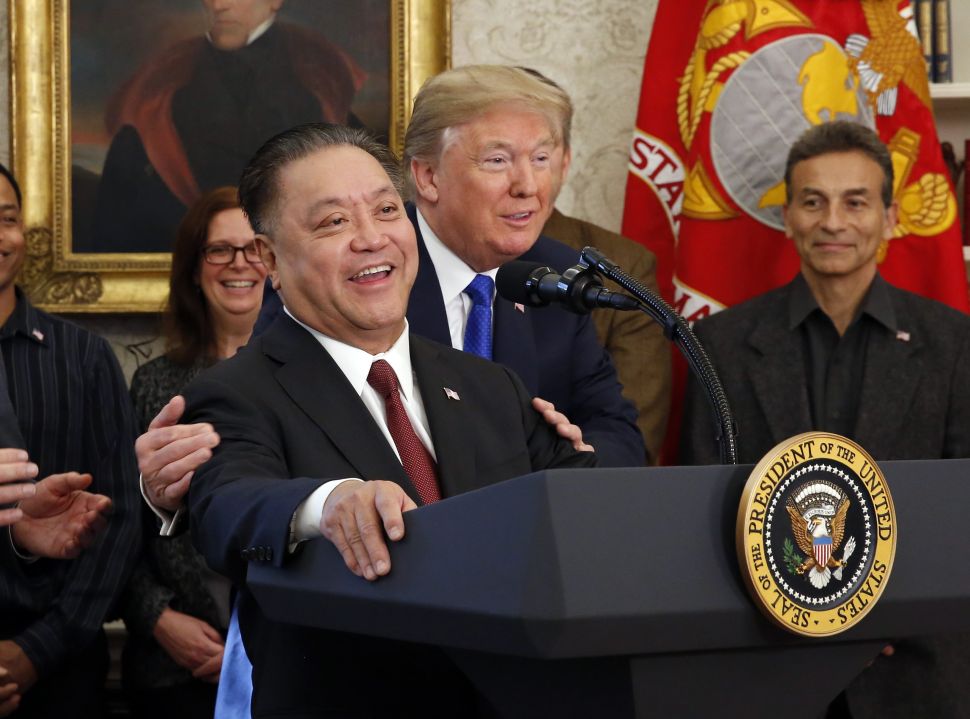 The months-long, back-and-forth merger talk between U.S. chipmaker Qualcomm and its Singapore-based peer Broadcom hit an unexpected wall when President Donald Trump issued an executive order to block the deal, saying it would pose threats to national security.
In the executive order, Trump said there is "credible evidence" that led him to believe that Broadcom might "take action that threatens to impair the national security," after reviewing an analysis by the Treasury Department's Committee on Foreign Investment in the U.S.
At face value, that argument doesn't hold water, given that Broadcom will very soon be a U.S. company.
In November 2017, a few days before Broadcom announced the $117 billion offer to acquire Qualcomm, the company's CEO Hock Tan announced during a White House visit that Broadcom's headquarters would be moved from Singapore to the U.S. The company is set to complete its headquarters relocation by April 3.
In a statement to Observer, Broadcom said it is reviewing the executive order and "strongly disagrees that its proposed acquisition of Qualcomm raises any national security concerns."
So, what does Trump mean by "national security," exactly?
Industry analysts formed a seemingly farfetched theory: The U.S. government fears that, if the merger is completed, Broadcom would slowdown Qualcomm's research spending in 5G and therefore give Chinese tech firms, particularly smartphone maker Huawei, an edge in the competition.
5G is the next generation of wireless technology that will enable faster and more reliable communication via smartphones and other mobile devices. The first 5G standard emerged in the wireless industry in late 2017. It is now a red hot area where AT&T, Verizon, T-Mobile, (of course) Qualcomm and their overseas rivals are competing closely to take the lead.
However, neither Huawei nor other Chinese tech companies have taken any active part in Broadcom's acquisition talk with Qualcomm.
The Treasury Department hasn't responded to a media request by Observer.
"A Chinese entity doesn't need to be anywhere near a transaction now in semiconductors for the deal to be nixed," Scott Kennedy, a China policy expert at the Center for Strategic & International Studies, a Washington think tank, told Bloomberg.
"This decision hangs a huge 'not-for-sale' sign on just about every American semiconductor firm," he added.
Huawei, China's largest homegrown smartphone maker and a leader in tech innovation  has been at the center of attacks by U.S. politicians.
Last month, top officials from the FBI, CIA, NSA and three other intelligence agencies publicly warned American consumers against using Huawei smartphones, citing concerns over the company's possible ties to the Chinese government. AT&T, reportedly under political pressure, dropped out from a deal with Huawei at the last minute to distribute Huawei's new Mate 10 Pro phones in the U.S.
"He [Trump] has an adversary list, and he will not work with the adversaries," Ron Napier, former chief Asian economist at Salomon Brothers who now runs his own advisory firm, told CNBC on Monday.
"You have to look at that as being a prelude into very strong U.S. actions against Chinese trade over the next several weeks," he added.