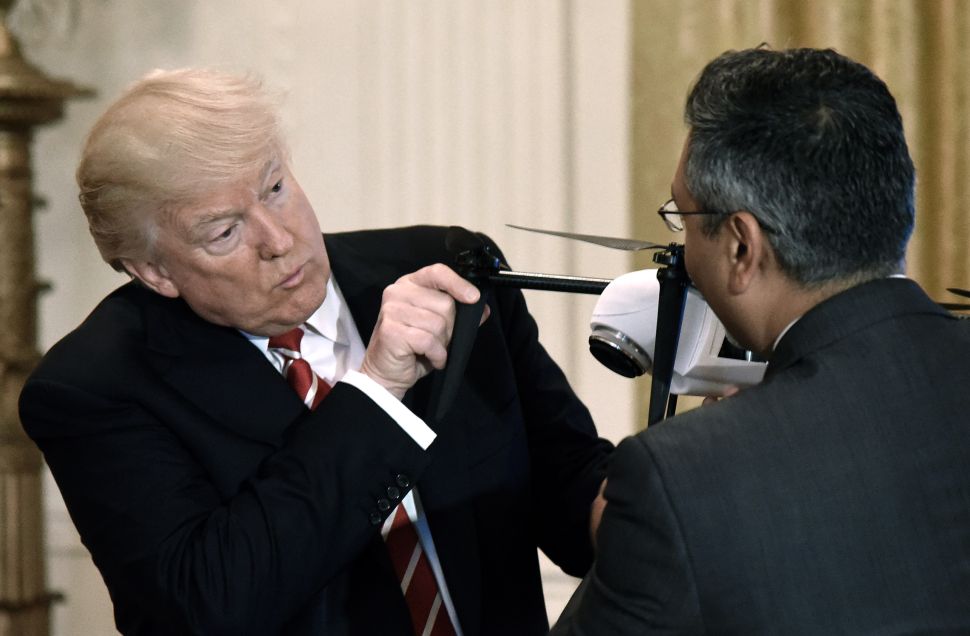 Foreign countries may soon benefit from American drones.
According to Reuters, President Donald Trump will soon make it easier to export some types of lethal U.S.-made drones to American allies overseas.
Trump's new policy on unmanned military aircraft, which is supported by Defense Secretary James Mattis and National Security Adviser H.R. McMaster, will likely be rolled out this month. It's the first step in a broader overhaul of export regulations.
The White House is framing the move as part of Trump's "Buy American, Hire American" initiative to create jobs and reduce America's trade deficit. The overall loosening of drone export rules would benefit military contractors like Boeing, Northrop Grumman and Lockheed Martin
Any sales of armed drones would be in accordance with U.S. law and require that buyers adhere to international standards. Both surveillance drones and smaller hunter-killer drones will be impacted by the plan.
The Drone Manufacturers Alliance, a lobbying group of influential companies like GoPro and Parrot, has advocated for updated export laws for several years. While President Barack Obama increased military drone exports during his tenure, many manufacturers thought his rules were still too restrictive.
Trump's policy would remove the so-called "presumption of denial" from drone deals.
In the past, manufacturers were automatically denied approval unless they provided a compelling security reason for the drones and an agreement to only use the weapons for legal purposes.
Saudi Arabia, Japan, South Korea, India, Singapore and Australia would be among the countries opened up to drone trade under the new rules.
Advocates have raised several human rights concerns about Trump's drone policy.
The crafts still aren't reliable in combat—32 percent of those killed in U.S. drone strikes have been innocent civilians, including children. Several hostages have also been collateral damage in drone strikes.
But drones pose plenty of security risks here at home—before they even get to foreign countries. The autonomous aircraft often collide with commercial airplanes and cause dual engine failure.
Indeed, according to the Federal Aviation Administration (FAA), drone strikes could be even more dangerous to planes than bird strikes, like the one that caused Captain "Sully" Sullenberger to land a plane in the Hudson River.
This isn't the first time the FAA has been caught unprepared. As the agency developed drone regulations, it realized it would need data on flights that hadn't happened yet.
Maryland company Intelligent Automation worked with NASA to create a vision of future drone traffic. It turned out scores of companies and agencies have drone operations planned, which came as a complete surprise to the feds.
Because of this, the Trump administration has largely taken it slow on drones until now.
In October, Trump and Transportation Secretary Elaine Chao announced a new initiative to help companies safely test drones in partnership with state and local governments.
The Unmanned Aircraft Systems Integration Pilot Program will be used to integrate drones into the national airspace and explore the economic benefits of unmanned technology. The program was supposed to develop a regulatory framework for drone owners and operators that would minimize safety and privacy risks.
That framework has not yet been released.
Given the many human rights issues, safety concerns and governmental questions that drones raise, it's ironic that Trump is giving foreign countries so much freedom to use the technology. American businesses will benefit, but they could leave a lot of collateral damage in their wake.