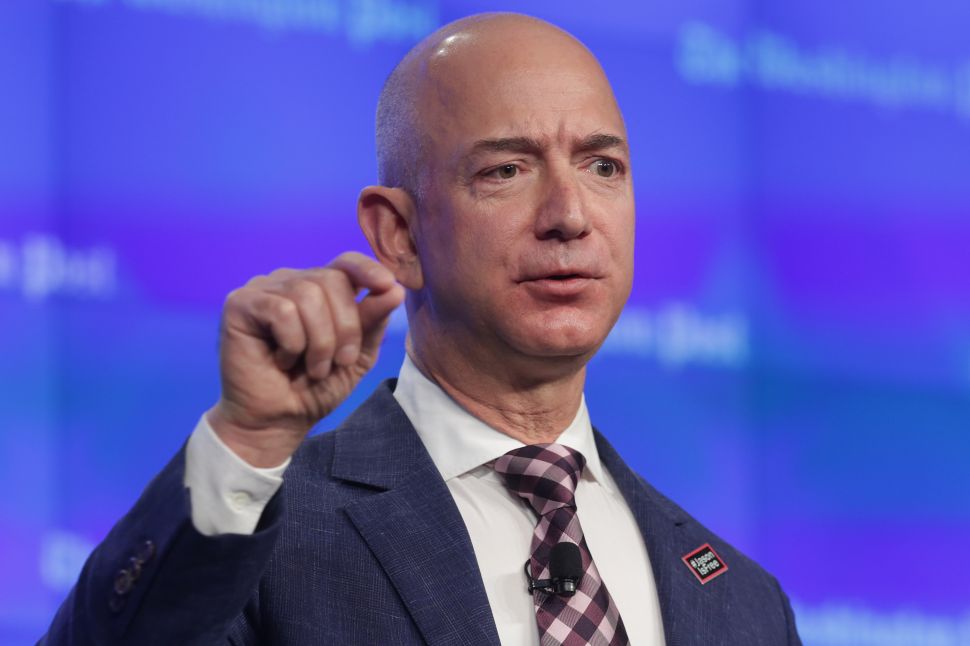 President Donald Trump expressed his serious concerns for Amazon (AMZN) (again) this morning on Twitter, scolding the e-commerce giant for not paying enough taxes, forcing retailers out of business and, most controversially, using the U.S. Postal Service as its "delivery boy"—thus causing the government-affiliated service "tremendous loss."
To be sure, the Postal Service has been a bleeding business for years, having posted losses every year since 2008. However, how much of its demise can be blamed on Amazon?
According to the U.S. Postal Service's latest quarterly financial statement (for the period from October 2017 to December 2017), every single line of its delivery business posted declines in both revenue and volume—except for package delivery, a large chunk of which was labeled "Amazon."
Notably, the Postal Service's revenue from USPS first class packages grew by 41 percent in the latest quarter. Priority mail, parcel select and package return services also posted growth.
"All other lines of service are dying. What the Postal Service sees in its future is [to] really continue growing its parcel shipment," said Kevin Kosar, a former researcher at the Congressional Research Service and now a policy lead at R Street Institute, a free market think tank based in Washington, D.C.
Over the post-2008 recession years, the Postal Service's mail volume has dropped by 25 percent, according to R Street's research, and shows no sign of recovering as communication increasingly moves to the digital arena.
Following that logic, large package clients like Amazon actually help the Postal Service stay afloat.
It's unclear how much profit the Postal Service makes from shipping Amazon packages (Amazon declined to disclose specific contract terms with the Postal Service), but, in any case, it's unlikely that the USPS trucks are running at a loss because every item on its price schedule—whether for retail customers or business clients—is reviewed by the Postal Regulatory Commission, an independent agency under the federal government.
More importantly, the Postal Service needs Amazon more than Amazon needs it.
"Amazon is building its own network for last mile logistics. Amazon also uses all major logistics companies in the U.S. Amazon does use USPS, but if an arrangement were to become uneconomic to Amazon, Amazon has plenty of options. What are the options for the USPS?" Scott Devitt, a managing director at equity analysis firm Stifel, commented on the president's tweet.
The Postal Service was set up in 1971 as an agency under the federal government, but it doesn't receive direct funding from Washington to operate. To help the agency navigate possible downtimes, the federal government granted it an option to take a loan of up to $15 billion throughout its business life. The Postal Service reached that borrowing limit in 2012.
Since then, it has chosen to defer employee benefits payments to have enough cash for normal business operation, but these unpaid benefits were still recorded as expenses on paper, which eventually contributed to losses.
"It's very difficult for the Postal Service to raise revenues," Kosar said of the agency's future. "Some people have suggested it should explore other services, such as banking. But it was never obvious how it could work, provided that there is so much competition in the private sector already."
"Also, for an agency that size, whatever new business it chooses to go in, it needs to generate at least $1 billion in profit to make a real difference, which is very hard," he added.
The only hope for the Postal Service at the moment, Kosar said, is cost reduction, especially labor cost, an area that actually could use some help from Congress.
"For example, Congress can be more flexible on their working schedules. Currently, they are delivering six days a week. It's not really necessary in low season, like August," Kosar said.
In the end, Trump might be the best person to save the "delivery boy…" not Jeff Bezos.