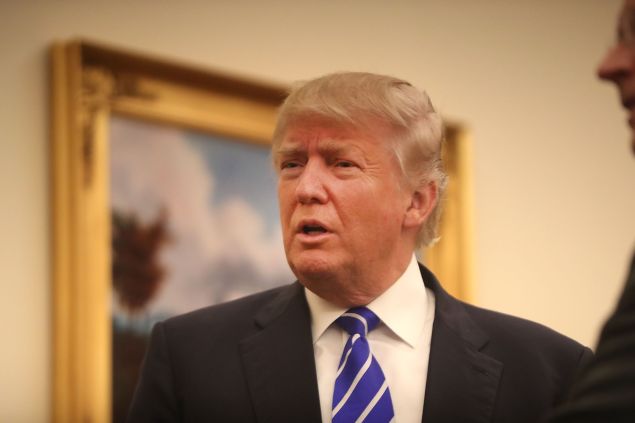 "For the benefit of all the people forever," announced the banners that the Cleveland Museum of Art unfurled outside their building last March. Two of them, in a somber blue, flanked the museum's neo-classical entrance. A permanent sculpture, one of Rodin's Thinkers, sat before it, caught in its classic pensive reverie—perhaps wondering what's to become of America's Museums. In the face of the Trump administration's proposed budget cuts and dismissive rhetoric, it's a question on many minds—artists, curators, dealers, arts administrators and historians alike.
The Cleveland Museum banners seems to be directed squarely at the Trump administration's attitude toward the arts: "We wish to reaffirm our commitment to all visitors: you are welcome here," ended the community notice that the institution posted on their website last year. Their unveiling came shortly after President Trump released his proposal to make huge cuts to arts funding, including completely eliminating the National Endowment of the Arts, the Institute of Museum and Library Services, the National Endowment for the Humanities and the Corporation for Public Broadcasting. Though rejected by congress, he resubmitted a similar proposal radically slashing the funding of these agencies again this year.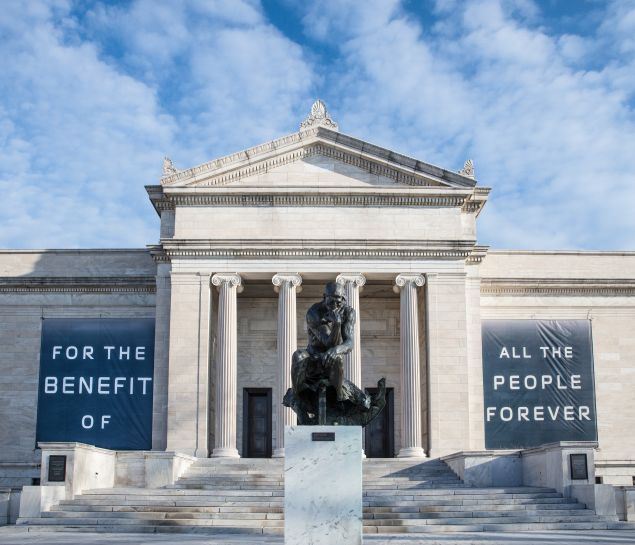 In short, the U.S. government is clearly saying it wants to pay as little towards the arts and museums as possible. Robert Redford pinpointed what many of us thought when he told The New York Times, "It's another example of our democracy being threatened. Arts are essential. They describe and critique our society."
But the arts are not some sort of luxury for elite coastal lefties, as the Cleveland Museum tried to emphasize with their affirmation, but which folks in the Trump government seem to assume. White House Budget Director, Mick Mulvaney encapsulated the administration's thinking on who the arts actually benefit when he told MSNBC last year: "When you start looking at the places that will reduce spending, one of the questions we asked was 'Can we really continue to ask a coal miner in West Virgina or a single mom in Detroit to pay for these programs? The answer was no. We can ask them to pay for defense, and we will, but we can't ask them to continue to pay for the Corporation for Public Broadcasting." The line is clear: Mulvaney was telling these people that they don't need the arts—that it's not for them. He's wrong.
I know a "single mom in Detroit." She happens to work for a museum there. Not only does this approach seek to undermine the value of art, but it also does a disservice the intellect of the citizens who Mulvaney argued should being protected from having to pay for the arts. It insinuates that they are not served by the arts—that they have no interest in it.
Even fiscally, the move to cut national arts funding is poorly thought-out. Americans for the Arts, a non-profit group, noted that the arts and culture industry is a $730 billion business, with an estimated 4.8 million jobs within it and a $26 billion trade surplus for the United States alone. Does that sound like something a business-oriented administration should try to undermine?
Trump's approach is more symbolic than practical. The proposed budget cuts to the arts, according to a Washington Post study, amount to just 0.02% of the total budget. They are a tiny drop in the ocean. At the same time, these cuts would have an extremely detrimental effect on arts businesses and, in fact, put billions of dollars at risk in jobs and tourism.
The arts are for the benefit of all people forever, because every human group of which we know has, in some way, been involved in creative pursuits. The arts are for anyone who is inspired by beauty, creativity: the stuff that makes a civilization civilized. Budget cuts won't kill the arts—nothing can do that, being creative is too much a part of being human. But they will make it a whole lot harder to be an artist or promote the arts, and cause economic devastation on a both a micro and macro scale.
Axing the arts is about proving a point. And it devalues history, fact and education. As Adrian Ellis noted in The Art Newspaper, the mission of museums includes "a commitment to fact-based research and the rules of logic, the application of facts and logic in good faith to the growth of human knowledge and understanding." Art can also offer lacerating commentary, a release for the repressed or silenced, and a place for freedom of speech. Museums are a venue for all these things, and yet our president does not feel these are pursuits we should fund.
Museums and the arts will survive this administration, but they will do so largely thanks to their bodyguard of generous private citizens. This isn't about economic realities. It's a punitive statement based on both a generalization of what type of people appreciate art, and what type of people didn't vote for Trump.