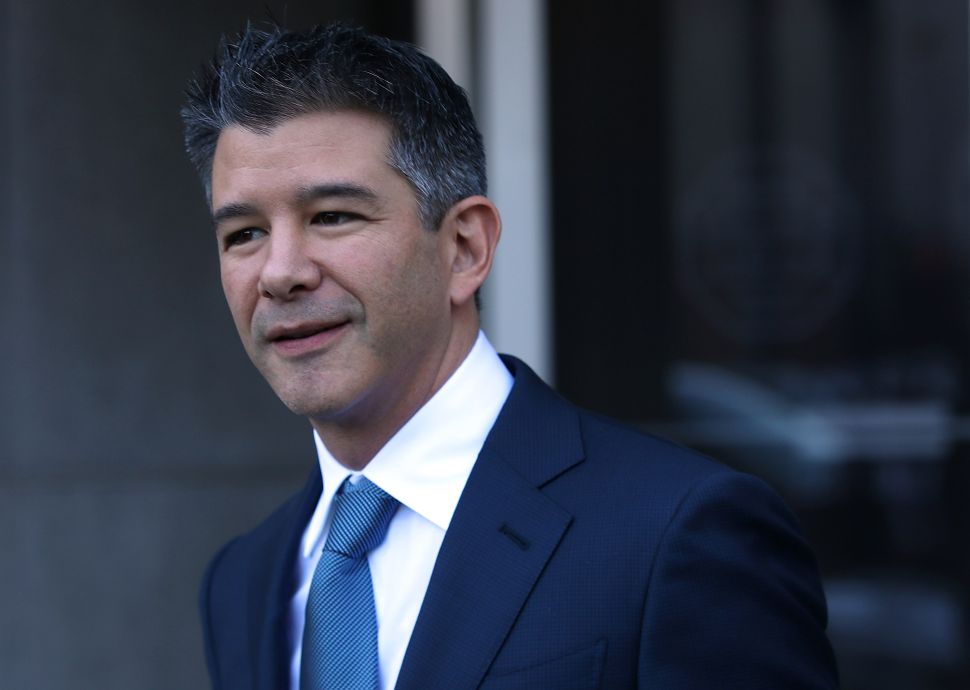 No company had a more headline-grabbing 2017 than Uber.
It seemed like every day brought a new controversy, from entanglements with President Donald Trump to CEO Travis Kalanick's resignation to a new leadership team and ownership structure.
Yesterday, Business Insider's Julie Bort published "The Takedown of Travis Kalanick," a detailed look at how exactly Uber's co-founder spent his final months on the job.
Here are some key takeaways from the post.
Uber Ended 2016 on a High Note…
By December 2016, the company was operating in 72 countries, with more than 30 million monthly users and $6.6 billion in the bank. It had also settled several lawsuits
…but Trump's Election Changed Everything
Kalanick was one of the first business leaders to join the president-elect's advisory board. He wanted Uber to have a "seat at the table."
But that seat became much more uncomfortable after Trump instituted his Muslim ban. Protesters stormed New York airports, and in response, Uber turned off surge pricing at those locations.
Many users, however, thought this gesture was just a way for Kalanick to look good in front of the president. So instead of using Uber, they deleted it.
Kalanick's Attempts to Save Face Failed
He called Trump's travel ban "unjust" and resigned from the president's advisory board within days.
But it was too late. That week, more than 200,000 people deleted Uber, and the company lost five percent of its market share. And for the first time ever, Lyft passed Uber on the App Store charts.
Several people told Business Insider that those seven days alone cost Uber millions of dollars in revenue.
Susan Fowler Tells All
Kalanick was spending the weekend in Malibu and about to lay down for a nap when his phone buzzed on Sunday, February 19, 2017.
Fowler, a former Uber engineer, had published a scorching blog post detailing blatant sexism, sexual harassment and illegal workplace retaliation at Uber.
Other women in tech backed up Fowler's claims, while celebrities shared her story (which has since been optioned for a book and movie deal).
Just like that, #DeleteUber was back in the news. Kalanick promised to investigate the allegations but later determined that an outside inquiry would be more appropriate. He picked former Attorney General Eric Holder to lead the effort.
Uber's Head of PR Quit After a Korean Karaoke Bar Scandal
In March 2017, The Information published a story alleging that Kalanick and five other Uber employees had visited a karaoke bar/escort service in Seoul in 2014.
The venue featured women sitting in a circle, identified by numbered tags. Male employees picked women out of the lineup and spent the night with them.
Kalanick's then-girlfriend Gabi Holzwarth warned Uber public relations head Rachel Whetstone about the piece. Whetstone then reported that information to Uber's legal team and Holder's investigation.
Learning about the incident deeply disturbed Whetstone, and she became worried that the company wouldn't "grow up" under Kalanick's leadership. So, she resigned.
Kalanick's Downfall Became Inevitable
Holder's full report was released in June, and it was bad news for Kalanick.
Twenty employees were fired over allegations of sexual harassment, bullying coworkers and retaliating against colleagues who complained to human resources.
With the investigation complete, Kalanick took some time off to grieve the recent death of his mother. But on the same day (June 21), a group of investors demanded Kalanick's resignation, claiming he was the source of the company's toxic culture.
By that evening, Kalanick had caved. His time leading Uber was over (though he was still on the company's board).
Uber's New Leader Reduces Kalanick's Role
New CEO Dara Khosrowshahi helped negotiate a deal for Japanese conglomerate SoftBank to buy a 15 percent stake in Uber (which Kalanick had negotiated for months).
The deal was good news and bad news for Uber's co-founder. His "super" voting rights on the board (which gave him four votes to everyone else's one) were revoked, and the company added four new board seats to further dilute his control.
But it also gave Kalanick a huge payday. He sold 29 percent of his Uber shares and netted about $1.4 billion.
Reactions From Uber's Inner Circle
Company insiders have differing views on the impact of the Business Insider story.
Uber investor Mitchell Green largely dodged questions about the exposé. He said in an email: "I think Dara is doing a great job!"
But venture capitalist Bradley Tusk, who's worked with Uber on several lobbying efforts, had a more detailed view.
"This is a thorough, well-reported version of the same thing we already know: Uber never would have gotten off the ground or become a global powerhouse without Travis and the founding team," he told Observer. "The last two years were painful in many ways, but it looks like we're getting to the right place."