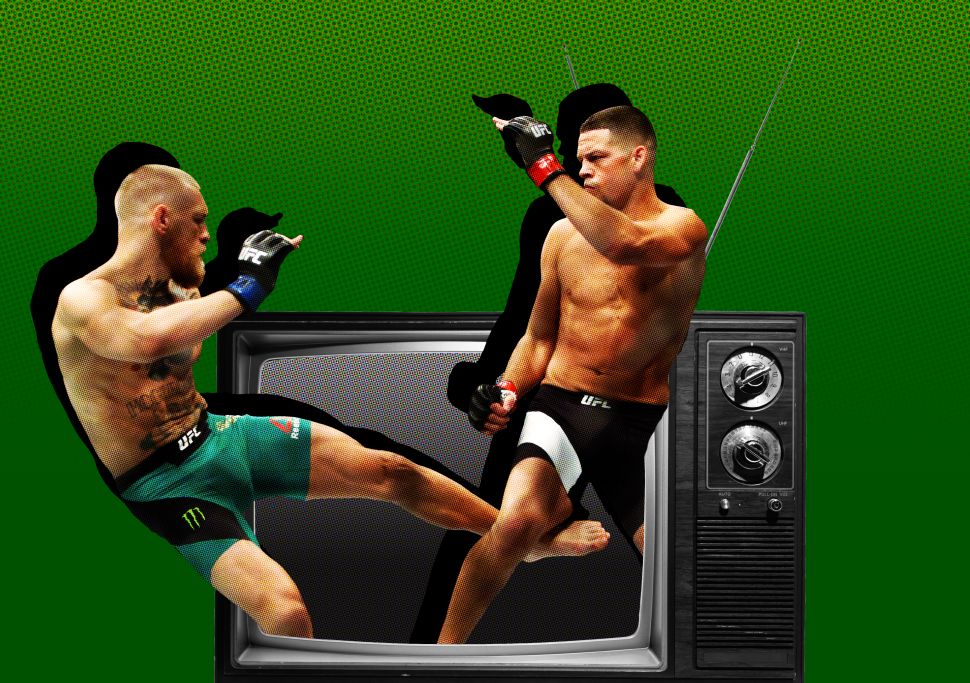 He circles his prey, spryly changing directions in an instant and covering the entire ring with fancy footwork. A battle is waging, but he looks calm and relaxed, completely secure in the knowledge that he'll wind up victorious against the entrenched champion.
A few light jabs shoot out to test the waters. One lands on the chin, momentarily halting the progress of his opponent. He feints another jab and tosses a devastating haymaker. It connects, down goes the incumbent. We have a new champ.
That description could cover really any one of Conor McGregor's three title fights in the UFC, all of which he won by brutal stoppage. But strangely enough, you could also apply it to the ongoing brawl between streaming and traditional television.
Linear TV is bleeding viewers as streaming platforms continue to attract more and more audiences. And now, with the UFC's television deal with Fox set to expire after this year, streaming has another opportunity to deliver a knock out blow. The major streamers have proven they can build audiences and keep viewers engaged with original content, now the next step is to start stealing away live events, the last remaining vestige of hope, from the old guard.
Take a look at how significantly television has changed in terms of raw numbers.
Back in 2002, Friends was dominating the weekly schedule with 24.5 million viewers, ER was pulling in 22.1 million sans George Clooney and The West Wing was averaging 17.2 million viewers. Today, television's most popular series are The Big Bang Theory (14.4 million), This Is Us (11.3 million) and Bull (10.5 million).
Subscription numbers tell the story more pointedly: Netflix (55 million U.S. subscribers), Amazon (an estimated 25 million Prime Video users) and Hulu (17 million subscribers worldwide) are all growing at astonishingly fast rates. Estimates peg U.S. cable customers at just under 50 million and shrinking. Fast.
Streaming has already begun the invasion of live events with Amazon's previous co-broadcasts of Thursday Night Football and last week's announcement that they will offer UFC pay-per-view events.
Now it's time to take the next step.
"High-quality live events draw huge audience potential," Jim Fosina, Founder and CEO of Fosina Marketing Group, told Observer. "Take a look at the big winners in the most recent Olympics. Brands that were adjacent to these live streaming events were the big winners."
He continued: "Streaming vendors are chomping at the bit to get access, preferably exclusive, to hot live events to generate an audience and build strong advertising opportunities."
Though live events such as the Super Bowl and presidential addresses have seen dips in ratings recently, they remain one of traditional TV's last chunk audience attractors. Much has been made about the NFL's drop in viewership, but Fox still shelled out north of $3 billion for the rights to TNF. Broadcast networks need live event programming to survive, which is exactly why streaming should make a move for the UFC's rights.
"It strikes a blow to traditional TV by grabbing one of the most attractive programming components available in the market today [live events]," Fosina explained. "Broadcasters are paying big bucks for access to this content… Advertisers will pay for audience engagement. Live content supplements already rich programming and will eventually be a big winner for the streaming services."
Scale is the name of the game in entertainment right now. It's why Disney is acquiring Fox for more than $52 billion, it's why Sony may be the next major studio to sell off and it's why Apple is sniffing around major assets as it has hundreds of billions of dollars in overseas money to offload.
Content platforms need valuable IP properties to attract viewers and the UFC, despite a recent ratings drop, fits the bill.
The first UFC event on Fox in 2012 drew 4.37 million viewers on average, but since then, viewership has settled right around two million per event. Numbers like that aren't going to drop traditional television overnight, but it will offer a nice boost to a new target audience. More importantly, it will plant the seed of major live events migrating to streaming while altering the perception of what online platforms can provide customers.
"As far as reaching the widest audience possible, traditional television is still the best means of doing so," SBNation's John Nash told Observer. "But I think the UFC is worried less about reaching as big an audience as possible as it is making as much money as it can off its next TV deal."
That's where streaming comes in. Deep-pocketed online content vendors like Netflix ($8 billion content budget in 2018), Amazon ($4.5 billion), Hulu ($2.5 billion) and Apple (a minimum of $1 billion) are willing to spend major dollars to create buzz and especially to steal an asset away from the original small screen. Simply put, they can afford what Fox and other mainstream networks can't.
"By most accounts, none of the networks have come close to offering what the UFC is asking for," Nash explained. "Fox supposedly went up to $200 million a year, less than half of the $450 million [parent company] Zuffa was reportedly asking for (although I suspect they'd be happy to settle for anything around $300 million), and none of the other channels have made any big moves. There definitely hasn't been a bidding war yet. Where there's more interest seems to be in the streaming companies that are probably willing to take it on as a loss leader just to get into live sports."
What a coincidence, Netflix is racking up considerable long-term debt in order to deliver prestige content right now and the company's stock prices just keep rising. They just gave mega-producer Ryan Murphy a deal worth up to $330 million and are releasing 700 originals this year. They're exactly the type of company that is willing to take a short-term loss in exchange for an immediate infusion of views. Swiping an asset away from traditional TV, as Netflix is known to do, is just an added bonus.
But is streaming even interested?
It's fair to argue that Netflix, Amazon, etc. may not be the best home for the UFC and other live programming at this current juncture. The three major streaming platforms are doing just fine without it and Apple has put together a fascinating lineup of original offerings. Content budgets are rising annually in conjunction with revenue (with the exception of Hulu, though they're about to receive a nice jolt thanks to Disney). There's still a large enough untapped market for subscription growth to continue at its frenzied pace, most notably in India. Everything is just peachy in streaming land.
But should the streamers hit a plateau in the near future, they'll know where to look.
"The Netflix model is the mass production of extremely creative and differentiated content that has long-term monetization value," Eric Schiffer, CEO of the Patriarch Organization and Chairman of Reputation Management Consultants, told Observer. "Anything 'Live' dies a merciless viewer death after the event. Fast forward five years and there could be a later play in the live arena for Netflix where data supports subscription growth in geographies that has an Amazon or other providers bundling live packages and it's a necessity to compete. It would need to be one of the necessary lanes left to grow subscribers for Netflix to 'flip the switch' and go live."
Whether streaming wants to circle its opponent in the ring for a few more rounds or go straight for the knockout, one thing is clear: the championship belt is up for grabs.