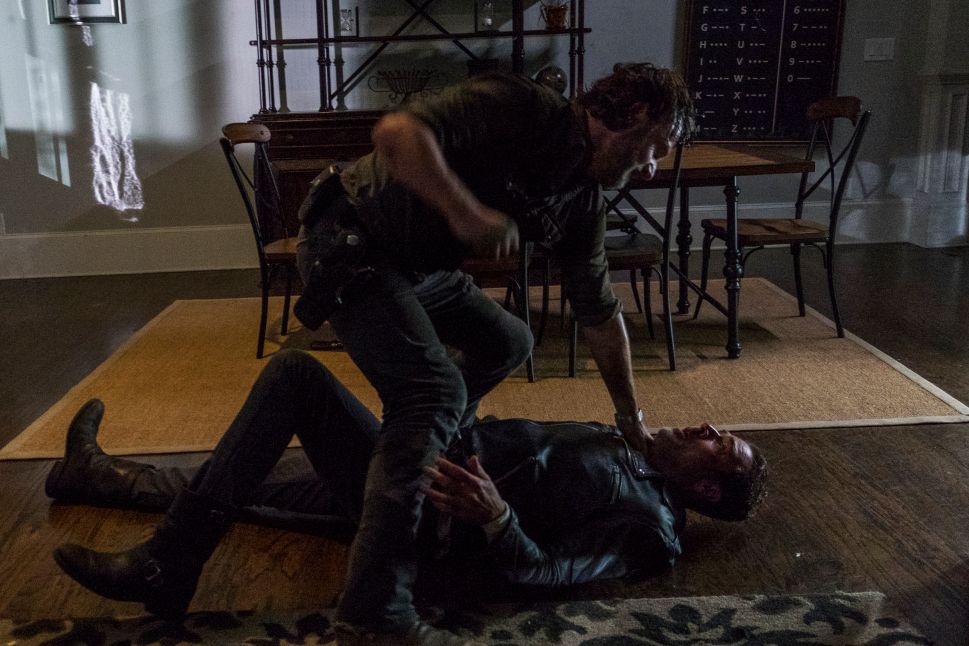 The Walking Dead plans to be alive and well for the foreseeable future.
Earlier today, Scott M. Gimple—who has served as showrunner since season four and will become chief content officer of The Walking Dead franchise following creator Robert Kirkman's departure to Amazon—revealed that the series will be further spun off in a variety of ways moving forward.
The Walking Dead already boasts one companion series, Fear The Walking Dead, which will cross over with the main show in its fourth season. But Gimple wants to move beyond just Fear.
"We're going to be doing traditional stuff, non-traditional stuff, stuff people don't expect," Gimple told The Hollywood Reporter. "But yes, definitely scripted. The odds of unscripted are very remote. But I'm not going to say no. We're going to have cool new Walking Dead stuff."
As of now, The Walking Dead franchise spans three live-action television series, including the post-game talk show Talking Dead, in addition to digital series such as Flight 462 and multiple mobile games, video games, toys and board games. There's also the beloved comic which serves as the source material.
The property has become a multibillion-dollar cash cow for AMC, as the No. 1 show in the advertiser-friendly 18 to 49 demographic and the network's most-watched series ever. It's understandable why they are exploring further diversification in an attempt to mine the title for continued success.
But there is strong reason to believe that The Walking Dead is going to rot from all of this overexposure.
The zombie drama fell a whopping 37 percent in its midseason return last Sunday compared to 2017.
The episode notched 8.3 million total live viewers, per Deadline. That marks the show's second-worst midseason premiere behind only season two's 8.1 million, though Sunday's episode did rise in key demo viewership.
It also continues a two-year ratings skid for The Walking Dead.
According to TV Series Finale, season eight is averaging 8.5 million live weekly viewers. That's down from season seven's 11.3 million and season six's 13.1 million. Yes, it's still one of the most-watched series on television, especially in the target audience, but viewership is on a steady decline. The same interest just isn't there.
And it's not as if Fear the Walking Dead is a ratings behemoth either, averaging a rock solid but unspectacular 2.3 million live viewers per week.
Saturating the market with further branded zombie content may help to raise interest in the short-term, but will it be sustainable?
Eight and a half seasons in, The Walking Dead is no longer the cultural phenomenon it once was, especially with other big-budget genre fares, such as HBO's Westworld and Hulu's The Handmaid's Tale, going after the same audience. The show's lack of prestige awards consideration also hurts its ability to attract new audiences. Emmys and Golden Globes aren't always the best marker of quality, but they do help to bring in viewers. Breaking Bad, Game of Thrones and other big name series in recent years have all seen viewership spikes after garnering nominations and wins in the biggest categories.
Combined, the Emmys and Golden Globes are watched by roughly 30 million-plus people. You don't think it would help if The Walking Dead was more of a competitor in those arenas? You don't think casual TV viewers notice that it isn't?
"We have a bunch of different things in mind," Gimple said. "Some things that are really complementary to the stuff we're doing now and some stuff that's far afield and very different."
It makes sense for AMC to try and milk its most valuable IP for everything it's worth, but it might be too late in the game for it to maximize The Walking Dead's returns.
Let's face it: viewers just aren't as hungry for the franchise as its brain-eating namesakes.