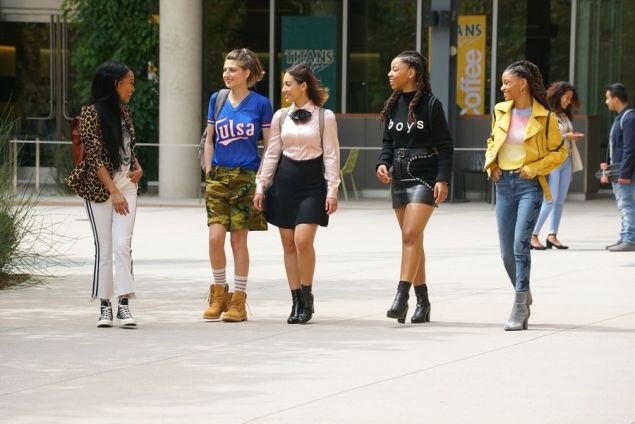 Zoey Johnson of Black-ish has been one of the best dressed teens of modern TV ever since the show premiered in 2014. Now, Zoey (played by Yara Shahidi) has left the family nest for college, moving to ABC's sister channel, Freeform, with her own spin-off show Grown-ish. While the scenery might have changed, her style hasn't. This is one enviable college wardrobe (even if there's no chance in hell Zoey's clothes would actually fit in an average sized dorm closet).
Music Tees
In the pilot, Zoey cycles through a variety of outfits switching out tops and jackets over a Michael Jackson T-Shirt as she tries to pick something suitable for her first class. Deciding on a bold yellow hoodie bearing the logo of the California University of Liberal Arts (the fictional college Zoey attends) over an Opening Ceremony silk bomber jacket shows Zoey's taste isn't all designer brands. The college apparel is very relatable, way more so than the Vetements hoodie Zoey pairs with Stella McCartney star print cropped jeans in a later episode, "If You're Reading This, It's Too Late." But for every top that costs more than a month's rent, there's one an an affordable price point from shops like Zara, Madewell and H&M.
Michael Jackson isn't the only musician Zoey wears on her chest. Music T-Shirts and tanks are a good (and often inexpensive way) of revealing who you are. So far Zoey has worn clothes featuring iconic performers including Sade, TLC, Whitney Houston and Tupac; building the start of a very good playlist.
Zoey isn't the only one mixing fashion and song. Zoey's new friend Nomi has sported a pricey David Bowie shirt, as well as a Run DMC tee for a daytime look paired with Free People ripped skinny jeans. This character is great at showing how a band tee can be glammed up. In "Un-Break My Heart" she sports a Beatles top from Target with a Topshop sequin stripe jacket, vinyl pants and red boots, also from Topshop for a house party.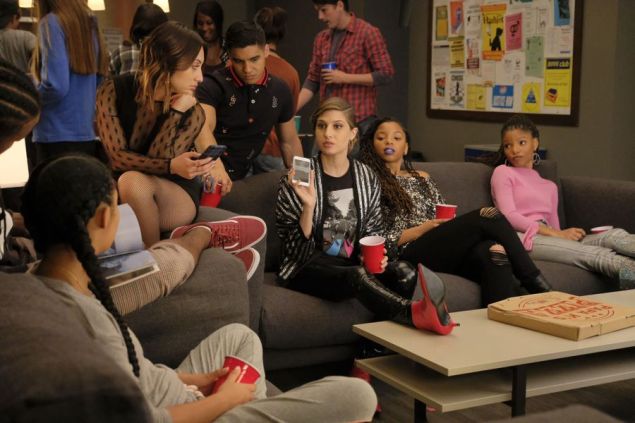 Athleisure + Animal Prints
Animal prints and athleisure are two trends you wouldn't necessarily pair together, but Zoey embraces both in a cheetah print blazer from Frame with white racing stripe cropped jeans by Mother as she hangs out on campus. A Sade tee from Zara and Comme des Garçon Play x Converse High-Top sneakers tie the look together. When she starts dating a basketball player, Zoe takes sports luxe to the next level. In "C.R.E.A.M (Cash Rules Everything Around Me) her ensemble of a ruffled MSGM track jacket and matching pants is clearly inspired by her new beau.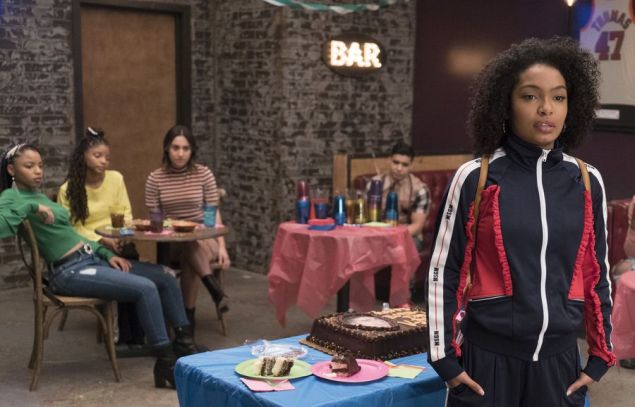 Bold Patterns
Black-ish costume designer Michelle Cole pulls double duty working on this show; she's also the costume mastermind behind Black-ish; which helps ensure sartorial continuity across both series. Yet Zoe's style has clearly shifted since her days living under Mom and Dad's roof. Gone are her preppy pieces, overshadowed by a casual cool. Bold prints, however, remain. Her Floral pants from Zara paired with a striped Madewell sweater in "Bitch, Don't Kill My Vibe" show that Zoey hasn't really changed.
Trend Pieces
Though she always puts her own spin on it, Zoey is definitely all about the trends. It's probably not surprising, considering the character's involvement in the fashion world. An intern for Teen Vogue during her Black-ish days, Zoe returns to the publication in Grown-ish as the recipient of a fellowship. College life may not be all smooth sailing for the teen, but she definitely looks the calm, cool part mixing texture and pattern like with this Alice + Olivia faux fur coat, Diane von Furstenberg floral blouse and Maje suede skirt in "Erase Your Social."
Clashing Classics
Certain style themes run throughout Zoey's new friendship group, so there is definitely room for clothes swapping between besties. Twins Jazz and Sky mix sports luxe with "Yas Queen" slogan tees, Maje leather skirts and Free People stripes. Ana, Zoey's roommate played by Francia Raisa, is more conservative wearing a mock turtleneck T by Alexander Wang Stripes and whimsical blouses from & Other Stories and Equipment. Meanwhile, Nomi has a casual tomboy aesthetic in classic American Apparel raglan shirts, camo shorts and Urban Outfitters striped hoodies, but with a feminine vibe in glittery jackets and jewelry from Madewell that won't break the bank. With this range of outfits, anyone can find style inspiration in Zoey and her friends.