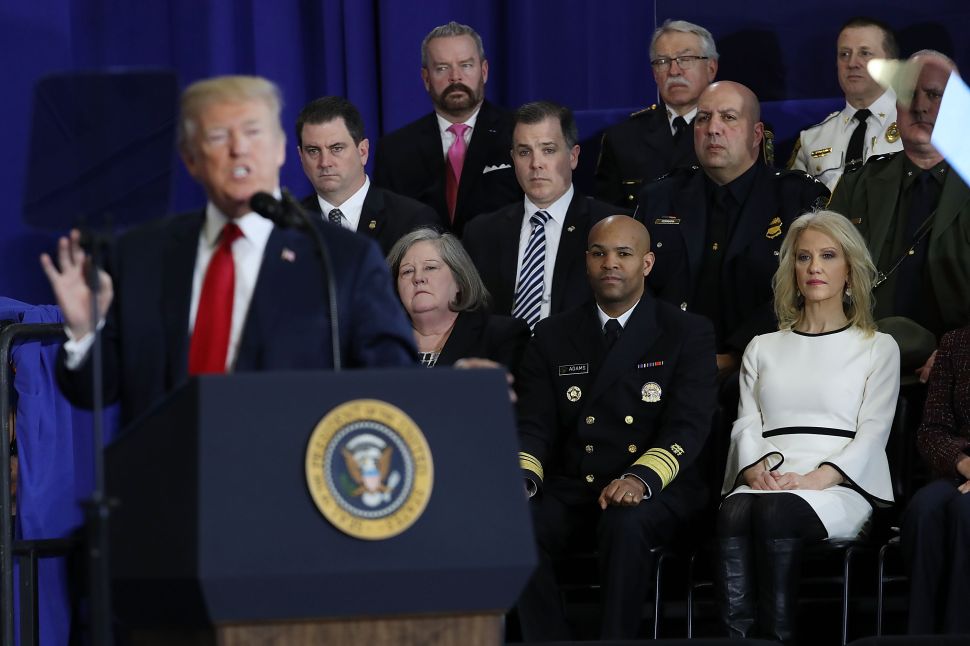 The Trump administration is adapting to a series of high-level shakeups.
As Hope Hicks leaves Washington's world of shady lobbyists for the intoxicating pull of Greenwich country clubs and Manhattan penthouses, her coworkers fear a divide within the White House's communications department.
"She's the glue to the entire place," a White House source confessed to CBS. "She helps keep the White House from fracturing. I don't think people realize what's about to happen once she leaves."
Among the shortlisted candidates rumored to fill Hicks' heels are Tony Sayegh, a Treasury Department spokesperson, and Mercedes "Mercy" Schlapp, the better half of CPAC chairman Matt Schlapp. While Mercedes was pushed heavily by the president's handler John Kelly, resentful staffers narced on Sayegh's office politics to the Washington Examiner, calling him "a terrible bully" who "pushes people around to get his way."
"The staff exodus, if it's him, would be shocking," one official warned.
Hicks has yet to give her blessing to either party—and is reported to harbor resentment toward Schlapp—further dramatizing an already volatile hiring.
Joining this self destructive team, one defined by squabbles between Christian fundamentalists and former Victoria's Secret models as-of-late, is a graduate of the Mickey Mouse Club.
After years of slaving away at unpaid internships for House Majority Leader Kevin McCarthy (R-Calif), the College Republican National Committee, the California Republican Party and the White House itself, former Disney star Caroline Sunshine has been hired as a press assistant.
Like Disney, the Trump administration is committed to manipulating media through ongoing disinformation campaigns, making Sunshine's past acting credentials (and crowning master performance in the canceled dance series Shake It Up) a powerful asset to a White House dominated by personality. In the lions den, she will answer to Press Secretary Sarah Huckabee Sanders as her team freewheels from one PR crisis to another.
The comms drama coincides with John Bolton's purge of Obama holdovers and National Security Council staffers loyal to outgoing advisor H.R. McMaster—a military hardliner whose greatest mistake was being second choice to a retired lieutenant general who lied to federal agents and now dances before the special counsel.
Bolton has threatened North Korea and Iran with nuclear annihilation, and his dream team is expected to reflect his nihilistic approach to grand strategy.
The shakeups mirror Trump's rage and paranoia. Unsure who to trust, our rocketman captain fires and hires in the only arena he can demonstrate complete authority and control.
We attempt to study the fallout, plugging our ears from the engine's roar.