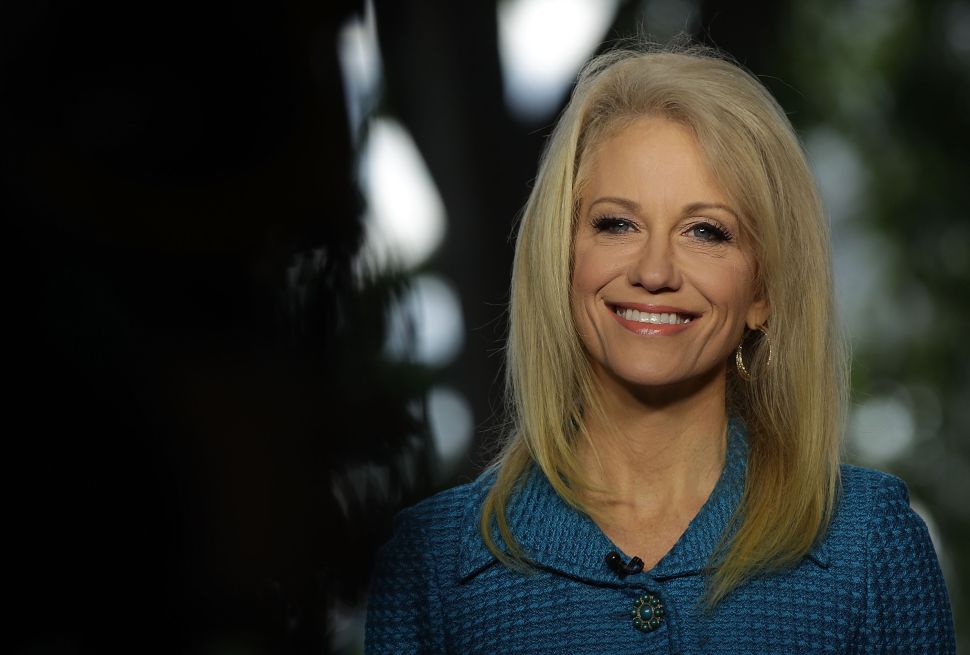 White House aide Kellyanne Conway reportedly violated federal ethics rules during two television appearances.
According to a statement released by the U.S. Office of Special Counsel (OSC) on Tuesday, Conway "impermissibly mixed official government business with political views about candidates in the Alabama special election."
During the Alabama election, the White House aide appeared on CNN and Fox News to castigate the political opponent of former GOP Senate candidate Roy Moore.
"Folks, don't be fooled. He'll be a vote against tax cuts. He's weak on crime, weak on borders. He's strong on raising your taxes. He's terrible for property owners," Conway said about then-Democratic Senate candidate Doug Jones (D-Ala.) during a November appearance on Fox and Friends televised from the White House lawn.
Although Conway violated the Hatch Act—a federal law enacted in 1939 barring federal employees from engaging in partisan politics while serving in government—nothing is likely to happen, as President Donald Trump resides over any ethics breaches within his administration.
Prior to Conway, the OSC issued a warning to United States Ambassador to the United Nations Nikki Haley for retweeting Trump's endorsement of Republican congressional candidate Ralph Norman in South Carolina—a state the ambassador presided over as governor.
After House Oversight Committee ranking member Rep. Elijah Cummings (D-Md.) demanded the president "take swift and serious disciplinary action against Ms. Conway," the White House responded to the OSC.
"Kellyanne Conway did not advocate for or against the election of any particular candidate. She simply expressed the president's obvious position that he have people in the House and Senate, who support his agenda," deputy White House press secretary Hogan Gidley said in a statement, noting that Conway "declined to respond to the [Fox and Friends] host's specific invitation to encourage Alabamans to vote for the Republican."