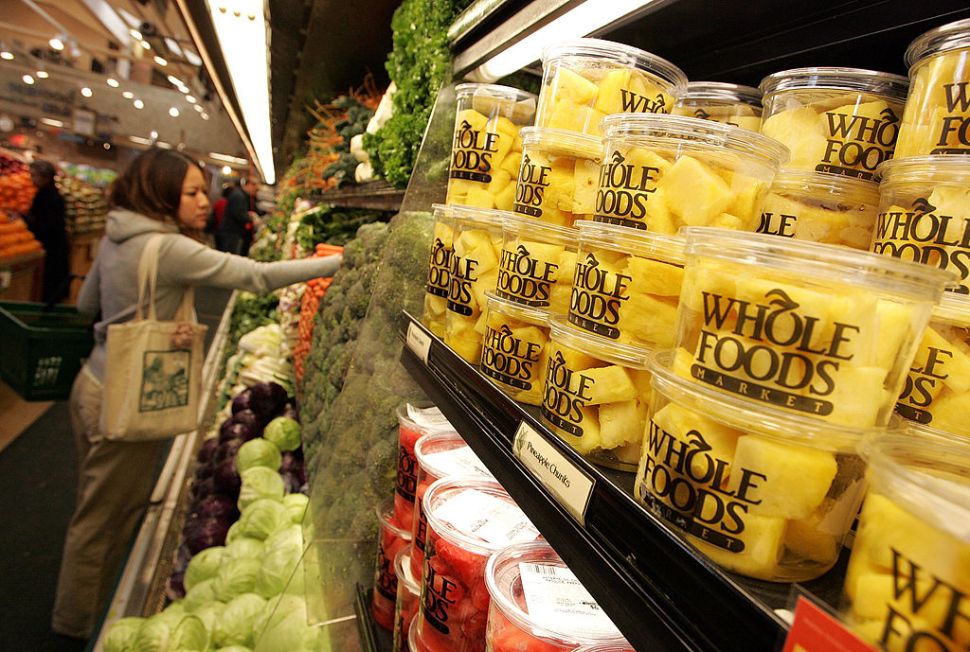 There's something rotten at Whole Foods.
According to The Wall Street Journal, executives have been fleeing the market in droves since it was acquired by Amazon for $13.7 billion in June.
More than a dozen executives and senior managers have left Whole Foods in the last year, including personnel in the bakery, produce, sustainability, procurement and local food divisions.
Executives for Amazon and Whole Foods say the two companies share a customer focus and are fitting together well. Indeed, sales for the chain are up 19 percent year-over-year.
"We are off to a great start, and look forward to many years of future success together," Steve Kessel, an Amazon senior vice president who oversees the grocer, told the Journal.
But employees aren't buying it.
Some grocery managers apparently don't like reporting to younger Amazon executives. Others say Amazon hasn't explained how exactly it will integrate the grocer into its business, aside from lowering prices and selling products like the Kindle and Echo in Whole Foods stores.
"Culturally it's been a rough start," a former grocery staffer told the Journal.
It's not just employees, however: some suppliers have balked at Amazon's changes. They now have to pay higher rates for prime shelf space at Whole Foods.
Suppliers used to pay about $25,000 for placement in high-traffic areas of  the store. But thanks to the Amazon name and some new marketing tactics, that price has now ballooned to $300,000.
Companies rarely make a profit from this increased visibility, because as part of these promotions, they have to cut the prices of their products by at least 25 percent.
As front-of-store space has become a bigger prize, other departments have suffered. Amazon implemented a new inventory management system that actually left Whole Foods short on some products.
And the inventory that remains leaves something to be desired. Customers have complained on social media that fruit was bruised, discolored, tasteless and rotten.
Twitter trolls aren't the only critics, however.
An analysis from Barclays investment bank last year found that boxes and other garbage were strewn around stores, the scanners at self-checkout kiosks didn't work and three days before Thanksgiving, there were no turkeys in sight.
Despite these issues, many employees said they have been forced to put on a brave face for Amazon executives during town hall meetings.
The executives who left are having an easier time: they're consulting with other natural food companies to give them a competitive edge against Whole Foods.
There's no doubt the grocery store's current performance doesn't cut the mustard. Amazon better fix its new division quickly, or it'll find itself in the middle of a real food fight.