Brigitte Bardot's response to #MeToo crushed me. Specifically, the comments she made against women like me in Paris Match in January. Specifically, because in her day, she was considered to be on the front lines of the feminist movement. Yet here she is, attacking those continuing the cause.
"The vast majority are being hypocritical and ridiculous," she said of the women coming forward in the entertainment industry with allegations of misconduct and assault. "Lots of actresses try to play the tease with producers to get a role. And then so we will talk about them, they say they were harassed…I was never the victim of sexual harassment. And I found it charming when men told me I was beautiful or I had a nice little backside."
Her ugly words were personal. In December, I wrote about how I was harassed by Harvey Weinstein and James Toback. I am one of the hypocritical, ridiculous, teases she refers to. I am one of the many women who alleged harassment because, like all little girls with big dreams, I figured the way to make a name for myself was by crying sexual assault.
In Brigitte Bardot, I see a woman who fears the #MeToo movement—fears it will invalidate her career, a career built upon sex appeal and countless trysts. Yet it was this that drew so many to her, not just her sex appeal, but her unapologetic embrace of it.
Voluminous blonde hair, pouting lips and jet black cat eyes, Brigitte Bardot was an icon. BB, the free-spirited coquette, was entirely feminine. Her effortless style—aspirational. I wanted to look like Brigitte Bardot. 
I first fell in love with her when I saw Godard's Contempt (le Mepris). I was in my early twenties and embarking upon an acting career. A movie about the movies, Bardot plays a typist married to a self-serving sycophant playwright. He turns a blind eye when a vulgar, archetypical American producer makes moves on her.
The breathtaking shots off the cliffs of Capri and her astonishing beauty only heighten the blaring disconnect of a loveless reality in this film. The movie ends with her death.
The opening scene is both intense and tragic. She lays in a bed gloriously nude beside her husband. The camera scans her lithe body. She asks: Does he like her ankles? Does he like her thighs and her behind? Should she kneel for him? And her breasts, does he like them too? Does he like her nipples better? Her face?
"Everything?" she asks, "My mouth, my eyes, my nose, my ears?"
"Everything," he tells her.
"So you love me totally?"
She never asked him if he loved her heart or her being. She was a collection of body parts.
I loved Brigitte Bardot for so brilliantly portraying a feeling I couldn't quite express. I felt lonely for her; I felt lonely for myself. I felt like we were in on that feeling together.
But I am like countless men. I fell in love with an image of a woman. I fell in love with what I projected upon her—I discovered I don't know her at all.
Simone de Beauvoir called Brigitte Bardot "the locomotive of women's history." In the fifties, her unapologetic sexuality was rebellious and shocking. She did as she pleased. She exposed her backside while American cinema still showed twin beds for married couples. She was a stark contrast to the stereotypical housewife of the time, and she was admittedly disinterested in motherhood. For all these stances, and more, she won my heart.
But after her comments against #MeToo, I fell down the Brigitte Bardot rabbit hole. I was trying to understand what motivated her statements that were so glaringly out of touch. But they were only the tip of the iceberg. My beloved Brigitte, an avid animal rights advocate, is anti-immigration, has been fined for provoking racial hatred amongst the Muslim community, has made homophobic comments and hates feminism. She declares herself a masculinist—an advocate of the right or needs of men.
I discover a woman who is flattered by her legacy but suspicious of humanity. And while she claims to have never experienced sexual harassment, this is not true: her home was broken into repeatedly by male fans. "[It was always] men," she said, "I was very vulnerable when I was alone."
I see a woman who pressed back against a machismo culture, which she knew would ultimately spit her out.
"Cinema is cruel," she once said, "I didn't want it to betray me so I left when I was young and beautiful."
I find a woman who wanted to be seen for more than her looks. "My current husband loves me for myself and not for my image."
I find a woman who is fanatically more empathetic to animals than she is to people. "Animals have never betrayed me. They are an easy prey, as I have been throughout my career. So we feel the same. I love them." And then she said, "[people] consider them objects of profitability or meat on legs."
I see a woman who relates to being an object of profitability or meat on legs.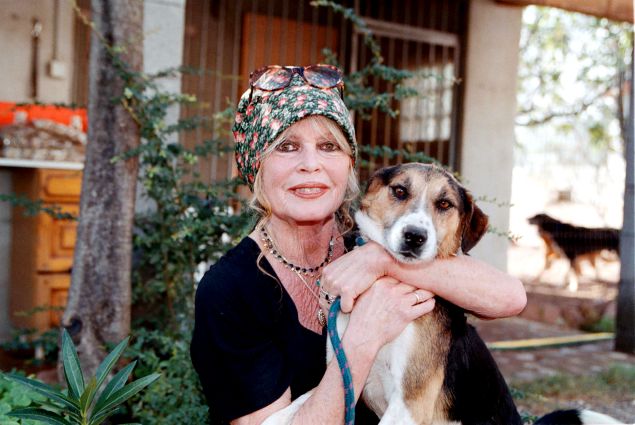 I see a woman whom I thought would have empathy for what I have been through.
I dress for dinner. I wear a short floral, red skirt, and knee-high black boots. I tease my hair for Bardot volume. I line my eyes Bardot jet black. She makes me feel nostalgic for the sixties, which is peculiar, because I was born in the eighties. I think of my mother, who at that time lived in Rome and had long blonde hair. She, too, always wanted to be recognized for more than an assemblage of body parts.
I have a postcard of Brigitte Bardot on my bookshelf. She nonchalantly leans back against a chair with what seems not a care in the world. A white skirt bellows around her exposed knees. Her hair is in a beehive and she wears a light blue shirt. She has soft red lips. So easy, so pretty.
Can a woman be feminine and sexy and be treated as a professional? What if a woman could audition for a role or apply for a job without having to placate men's egos—men who have been in charge for centuries? What if a woman wants to be able to visit a man's room without the fear of harassment? What if a woman wants more?
What was once shocking, the sexually liberated woman, is now part of history. It's no longer revolutionary to bare one's ass. But the swift societal shift doesn't have to invalidate or make the years before #MeToo wrong. It just makes it the past. We are evolving. We are expanding the definition of what it means to be liberated and building upon legacies like Bardot's.
#MeToo is not about being a victim but about respect, empathy and strength. When women come together, change happens.
Some people talk about getting tired of #MeToo. But it's necessary to keep coming forward, to keep breaking the silence and the hold of shame. And the movement will morph into new territory. The tide is already shifting to unravel toxic masculinity with an urgent insistence that men can be vulnerable without being seen as weak.
That night at dinner I ask a friend of mine, mid-twenties, his thoughts on Brigitte Bardot's comments.
"Now remind me," he asks, "who is she again?"
She represented beauty and femininity to me. And she still does. But now I want more.