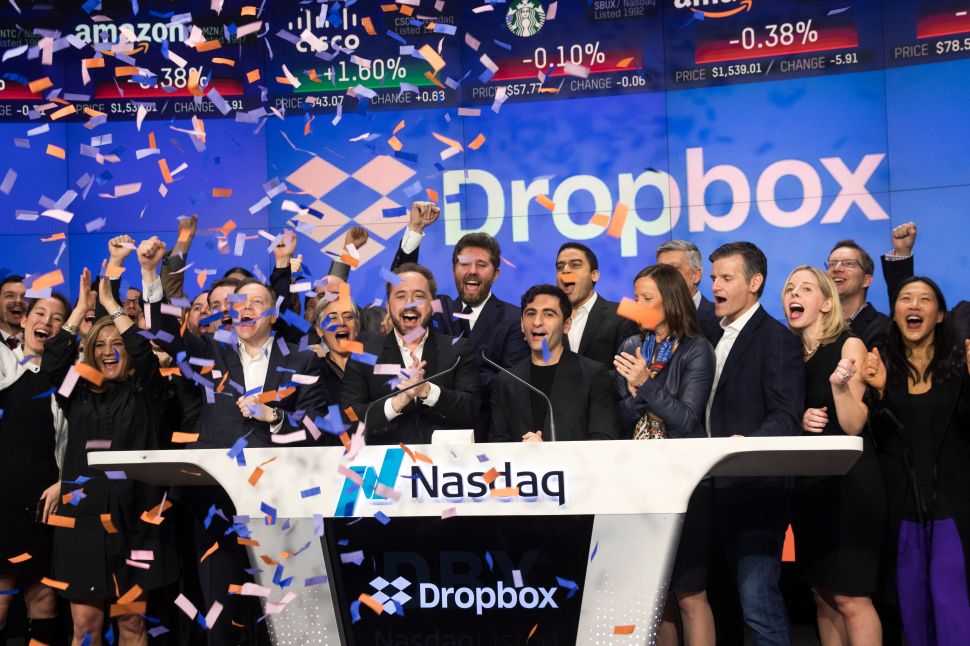 Cloud storage service Dropbox made its debut on Nasdaq on Friday, trading at an estimate-beating $21 per share under the symbol "DBX." The opening price put Dropbox's total valuation at $9 billion, making it the largest tech IPO since Snap Inc. last year.
Blockbuster tech IPOs are always exciting to investors, but what does Dropbox's IPO mean for its customers?
Dropbox claims it has 500 million users. However, only 2 percent of them are paying for the premium service (which starts $120 a year for 1 terabyte of storage). A vast majority are using free 2GB accounts. Now that the company has accumulated a large enough user base to pave its way through an "exit" (venture capitalists' term for an acquisition or an IPO) for its investors, will it abandon its users?
Some analysts believes so. Patrick Moorhead, a tech analyst at Moorinsight Strategy, called Dropbox's consumers "a loss leader" and said the company "expects to make money from enterprise."
Kathleen Smith, principal of Renaissance Capital, a provider of IPO ETFs and institutional research, disagrees. "They will focus on enterprise business, but they won't abandon the consumer business," she told Observer.
Dropbox still isn't a profitable company on paper. In 2017, despite a record high of $1 billion in sales, Dropbox recorded a $100 million loss. But, from a cash flow perspective, the company generated a positive $260 million in 2017, which is a good sign for future profitability.
"The 11 million paying users are where that cash came from," Smith added.
That said, Dropbox has a number of challenges ahead.
When Dropbox was founded in 2007, its service was revolutionary to people who relied on physical hard drives to store data. But in the past few years, tech titans have entered the cloud storage business: Apple and Google are establishing a dominant position in the consumer space with iCloud and various Google products, while Google, Amazon and Microsoft are saturating the enterprise market.
In addition, Dropbox faces competition from emerging startups that offer better prices. BackBlaze, for example, charges $50 annually for unlimited backup storage.
"It's a competitive market, but it's also a sticky market," Smith said. "Users who have signed up with Dropbox are likely to stay because they have so much information stored there already. It takes effort to switch."
Overall, Smith is optimistic about Dropbox's prospects, given the company's healthy cash situation and a favorable tech IPO market. According to Renaissance Capital data, 43 tech companies filed for IPOs in the past 12 months, and average fundraising was up by 44 percent from a year ago.