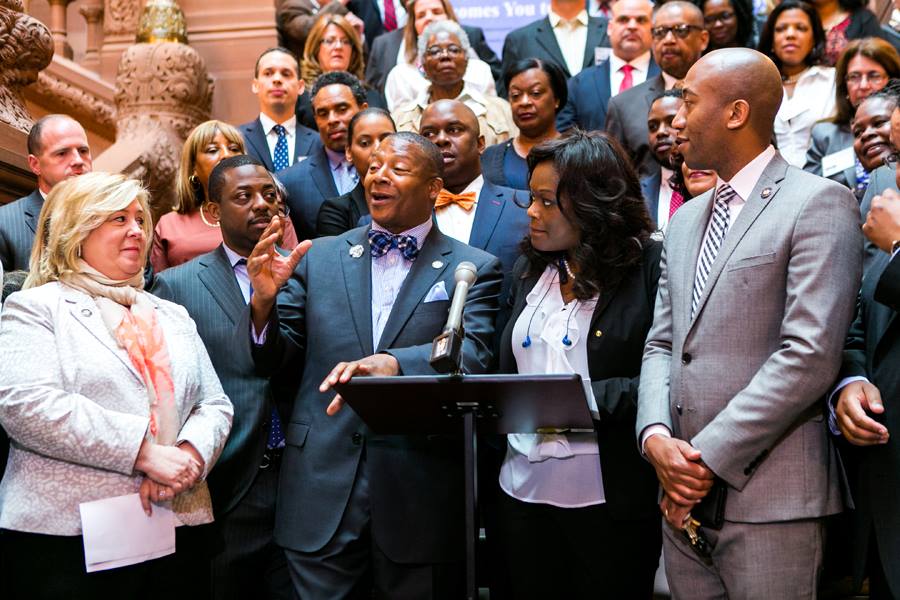 For the first time in New York City history, a woman-owned financial firm has been tapped to manage $100 million of the Deferred Compensation Plan (DCP), the city's voluntary retirement plan for more than 180,000 employees and retirees.
The firm, Longfellow Investment Management Co. LLC, is a city-certified firm that will be handling assets in the DCP's Stable Income Fund portfolio that mainly concentrates on government-fixed income securities, a debt instrument furnished by a government to fund and extend their operations.
The fixed income portfolios within the Stable Income Fund are managed by BlackRock, Fiduciary Capital Management, JPMorgan and others. The Stable Income Fund  is one of seven investment options offered by the Deferred Compensation Plan.
In a statement, de Blasio said that the time for women "to get a seat at the table has been long overdue."
"While the numbers of women in the workforce are growing every day, asset fund management is still an industry that lags behind," he said. "We've decided to do our part to help right this wrong. I always say that this city works best when everyone—regardless of race, gender or ethnicity—has a chance to participate in our economy."
The Office of Labor Relations (OLR), which represents the mayor in the handling of all labor relations between the city and labor unions representing city employees, administers the DCP.
The DCP provides eligible employees with a way to save for retirement via payroll deductions. It consists of two programs: a 457 plan and a 401(k) plan, which offer both pre-tax and after-tax options.
The city recently adopted a new policy for the DCP whereby OLR actively encourages minority- and women-owned businesses and enterprises (MWBEs), as well as the firms that partner with them, to partake in the hiring process. The de Blasio administration noted that the qualifications of any MWBEs that make proposals are assessed in the same way that all other firms are evaluated.
Longfellow is an independent investment advisory firm in Boston, Mass. and a 100 percent employee-owned LLC without any affiliates or affiliations. It has been registered with the U.S. Securities and Exchange Commission (SEC) since 1986. The firm is owned by eight principals and oversees $11.1 billion in assets.
The de Blasio administration said it selected Longfellow because the firm demonstrated quality investment performance and also had low-cost fees. The administration also said that over time, $9 billion of funds across the entire plan will be released.
"More asset owners are seeking out firms like Longfellow because they recognize the value of diversity and realize that they are missing out on talent if they limit their manager roster to only the largest firms," Barbara McKenna, Longfellow's managing principal, said.
The city also hired EARNEST Partners, an African-American led financial firm to manage assets in the Stable Income Fund. The firm will be responsible $100 million of the same portfolio as Longfellow.
Established in 1998, EARNEST Partners—whose headquarters is in Atlanta, Ga.—is an LLC and 100 percent employee-owned. The firm handles more than $20 billion in assets for clients in the United States and overseas.
J. Phillip Thompson, deputy mayor for strategic policy initiatives, said the hiring of the firm, as well as the city's policies seeking to increase the amount of contracts given to MWBEs, are part of an effort to create a more "inclusive and equitable economy."
"We are setting new standards across agencies by having them take a hard look at the diverse and talented businesses that are ready to work with us at every level of city government," Thompson said in a statement. "Our city knows that investing in our MWBEs means investing in our communities across the five boroughs."
In early February, the city announced that three of the city's designated banks are giving a combined $40 million to city programs that offer assistance to MWBEs, in addition to a $20 million investment from the city.
The city, which has faced criticism from some elected officials and advocates for not doing enough to provide more contracting opportunities for MWBEs, unveiled a new vision for the MWBE program that included a new 30 percent MWBE participation goal to be met by 2021.
In September 2017, the city announced that it awarded more than $1 billion in contracts to MWBEs for the first time.
"With the hiring of Longfellow Investment Management Co. and EARNEST Partners, we are reminding cities across America that women and minorities have the talent and expertise to do this work," Jonnel Doris, director of the city's MWBE office. "Not only that, but these businesses also offer diverse and unique perspectives to city programs and projects that impact the lives of countless New Yorkers."