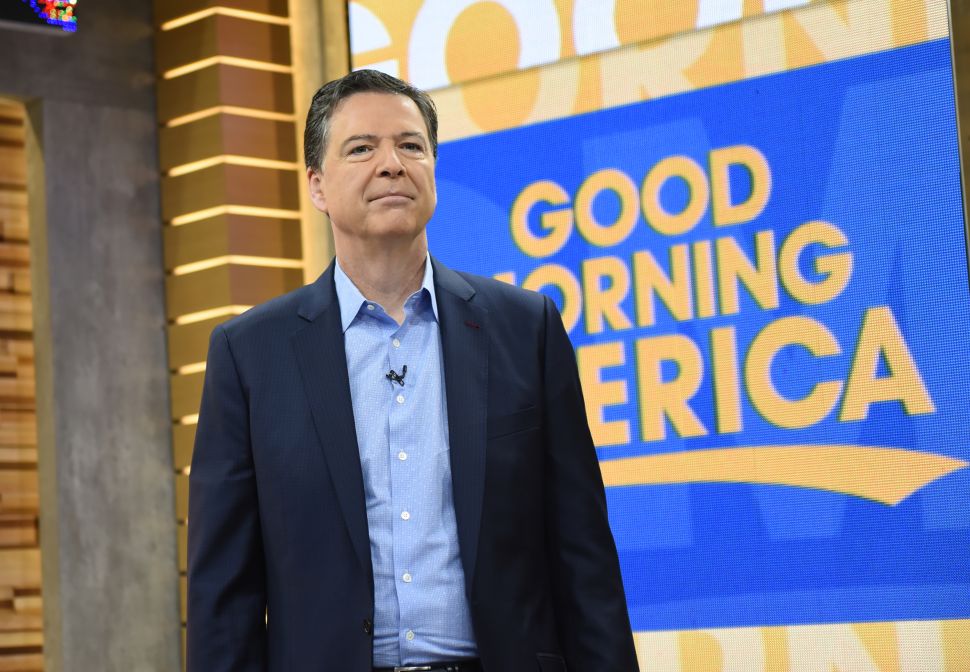 Former FBI Director James Comey is taking a media victory lap following his tumultuous ousting by President Donald Trump.
Upon Tuesday's publication of his blockbuster memoir, A Higher Loyalty, Comey emerged from isolation to become the newest D.C. celebrity freewheeling between television appearances. From courting rappers to standing aghast in Barnes & Noble when confronted by right-wing conspiracy theorists, here are the top four moments from Comey's recent swan dive into the media deep end.
Red Wine In Paper Cups
During a debut interview with ABC's George Stephanopoulos, Comey, like a true political virtuoso, reflected on losing his bureau post in a way relatable to the millions of Americans. Comey boarded a private jet after hearing of his firing, but stayed grounded with a paper cup of red wine.
"I took a bottle of red wine out of my suitcase that I was bringing back from California, a California pinot noir, and I drank red wine from a paper coffee cup and just looked out at the lights of the country I love so much as we flew home," Comey reflected.
To celebrate the hamminess, the National Press Club served red wine in paper cups called "Red Russians." The jet, however, remained a fantasy for the financially insolvent crew of reporters.
Comey Brandishes His Street Credentials With The Wu Tang Clan
While promoting A Higher Loyalty on Tuesday's taping of "The Late Show with Stephen Colbert," Comey posed backstage with Wu Tang Clan's Ghostface Killah and Method Man. Ghostface Instagrammed the encounter, joking about a collaboration to acquire a Wu Tang album previously flaunted by incarcerated Pharma Bro Martin Skhreli.
Comey: Cash. Owns. Media. and Entertainment. Yeah!
Internet Conspiracy Theorist Laura Loomer Embarrasses Herself During A Manhattan Book Signing
Laura Loomer—an alt-right Trump supporter who livestreamed her Upper East Side plastic surgery consultations, disrupted a Shakespeare in the Park performance of Julius Caesar and was barred from Uber over anti-Muslim tweets—heckled Comey during his book signing at Barnes and Noble. After yelling about the FBI's citation of an "unverified dossier," Loomer told Comey he was "going to get prosecuted" by members of Congress.
Security immediately escorted her out of the store. But right-wing titan Rush Limbaugh praised Loomer's questioning—castigating her dissidents on Twitter as "people who failed."
The View's Meghan McCain Confronts Comey and Backlash Over Relationship With The Federalist
Comey sparred with Meghan McCain on Wednesday's episode of The View.
"Director Comey, you're not naive to the criticism you have gotten from Republicans and Democrats," McCain said. "David Axelrod, a former chief strategist to President Obama, said: 'I have no doubt about its brilliance when it comes to book sales. Maybe he should have called it 'Higher Royalties.' What do you say to people like him and people like me that think you're just doing this for money and attention?"
After further debate, The Federalist published a favorable recap of the co-host without disclosing her marriage to the site's publisher, Ben Domench.
Former GOP strategist Cheri Jacobus noted the conflict-of-interest on Twitter, sparking a condescending response from McCain.
"Honey – our wedding was on the cover of @people magazine, everyone knows who I am married to," said McCain.
"Pumpkin- I don't read People Magazine. Tell us who funds The Federalist. Thx," shot back Jacobus.