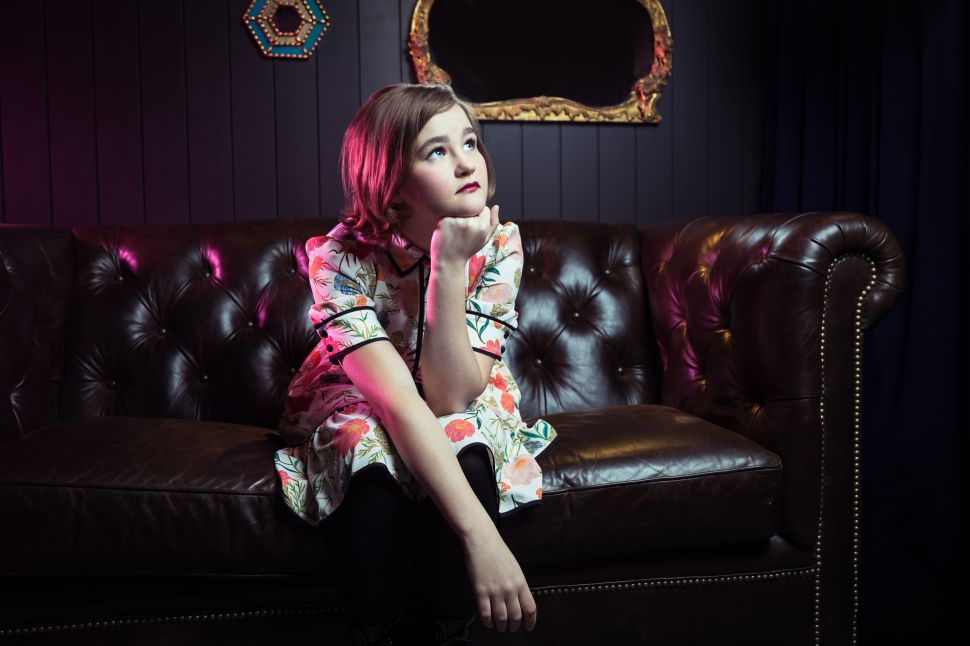 "A lot of people say the middle child is the most adventurous," said Millicent Simmonds the other day in Manhattan. "That's me!" With two siblings older than her and two younger, the 15-year-old actor, who lives with her family in Bountiful, Utah, is clearly itching for ever greater challenges to tackle—on screen and off. For the former, that includes scampering through a window in her debut movie, Wonderstruck, or jumping off a 70-foot silo in A Quiet Place, her new sci-fi thriller co-starring John Krasinski and Emily Blunt.
Her adventurousness is taking her places she never would have dreamed a few years ago. Only just into her teens, Simmonds has already worked with two of her idols, Julianne Moore, who she says treated her like a colleague, and Emily Blunt, who she credits with teaching her fearlessness. "They were so kind and generous and open-minded," Simmonds gushed. The last qualifier is particularly important to the young actress. She's more than used to encountering people who greet her with preconceived idea of what she can or can't accomplish. Simmonds has been deaf since infancy, when a medication overdose caused her to lose her hearing. Though a cochlear implant gives her some access to sound, she communicates, and acts, primarily through American Sign Language (ASL).
Simmonds started acting at school, joining the drama club at the Jean Massieu School of the Deaf, which she attended before switching to a public school after the 6th grade. It was not long after her first stage debut at the Utah Shakespeare Festival that she heard about the open call for Wonderstruck from a teacher, and, having been a fan of the book, was determined to audition. Simmonds won the role from a pool of over 250. It's been a whirlwind ever since.
Moving temporarily to New York to work on the project, Simmonds found a city to suit her energy. "I want to live here," she exclaimed, eyebrows dancing into her hairline. "I won't change my mind. I fly back to Utah tomorrow, and it's hard. I love the city culture, the food, and the foot massages." Rare experiences in Bountiful, she said.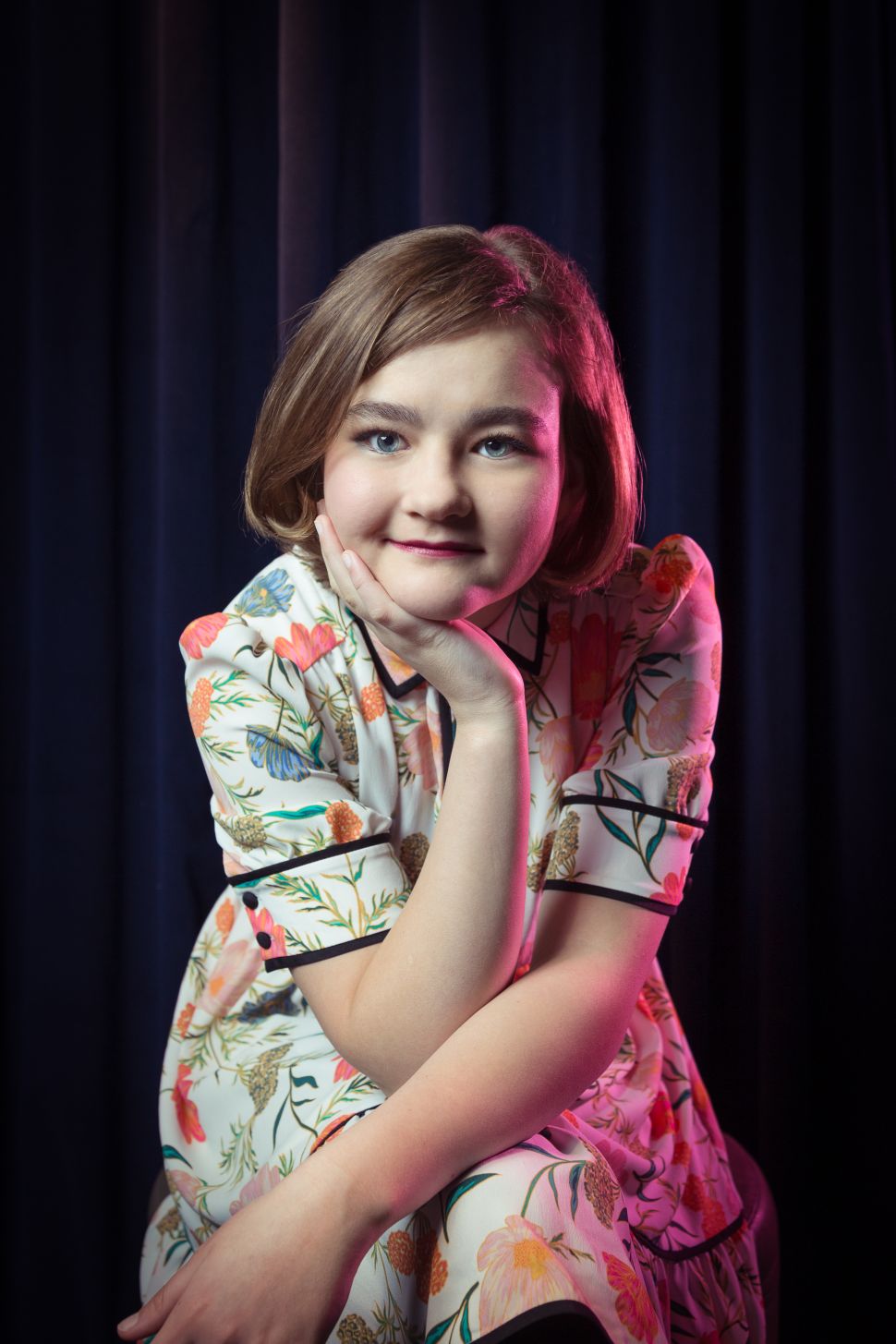 But it's not really the glamorous lifestyle, rather, the pace. "I don't really like fashion," she admitted. Back in her hometown, population 42,552, she prefers her uniform of black T-shirt and jeans. But as the camera clicked for this photo shoot, Simmonds tried a variety of looks without needing direction. With her cherubic face, dressed in collared white dress ablaze with orange flowers, the word "adorable," buzzed around amongst her small team of supporters: a publicist, makeup artist, hairstylist, an interpreter and her mom.
Then she stuck out her tongue.
A few minutes later, she tried out a pose with her feet hoisted up on the couch. "Sometimes I worry that I can be a bit bossy," she said later. But it's not bossiness, it's a confidence not often seen in someone of her age.
Like when she asked Observer, "did you pee your pants during the movie?" Though this reporter didn't lose bladder control, it must be admitted that popcorn went flying during one terrifying scene.
In A Quiet Place, Simmonds plays Regan, a rebellious deaf teenager who she describes as "less of a heroine and more of a survivor."
"Regan is far more independent than I am. She's very brave, I want to be like her," said the actress, insinuating she doesn't already possess the same daring as her alien-fighting character.
Set in a farming community after a global alien attack, the plot follows a family, the Abbotts, fleeing from the extraterrestrials who hunt humans through sound. They've already witnessed the demise of their neighbors and have adapted by going barefoot and not speaking, communicating through sign language. Krasinski and Blunt portray Regan's parents.
The scene that made this writer spill almost an entire carton of popcorn takes place on a bridge. The family is traveling by foot. In town, cars sit motionless. Old newspapers flutter, revealing headlines about the creatures. As long as they remain silent, the Abbotts can stay alive. As they walk out of town, their youngest son pulls out a toy rocket ship that Regan found for him in an abandoned pharmacy. As he holds the toy over his head, triggering fake rocket sounds, the parents panic. Regan, who can't hear, turns to see her sweet little brother, and a horrifying creature racing toward him.
The scene is bone chilling. But to Simmonds, filming this sequence was her favorite of the whole movie. "It was the first day of shooting," she recalled. "The environment was so calm. It was out in the woods. It was fall, and the leaves were changing."
It was a tranquil setting from which to summon the absolute terror she'd need to complete the scene, as well as tackle some difficult emotions, getting into character for the first time. "Regan's guilt-ridden," Simmonds explained. Like herself, Reagan is the only deaf member of her family. "She's feeling like she hates herself for being deaf. Deafness is a weakness that can kill her other family members. She might make noise and not be aware of it." The strained relationship with her father, who is afraid of this potential disaster, only contributes to her feelings of shame.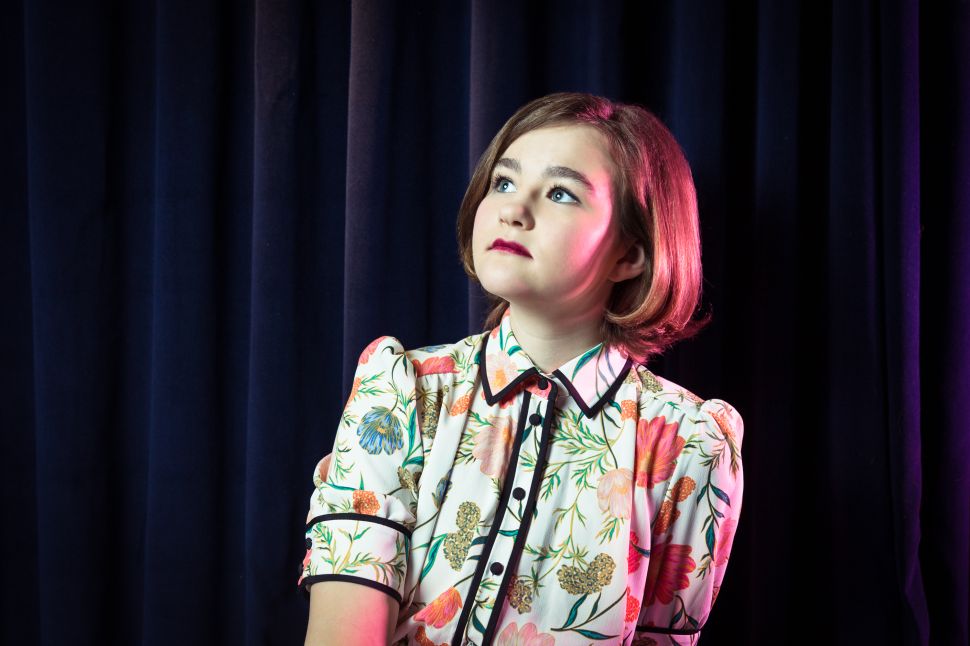 Krasinski, who directed the film, actively encouraged input on his vision from the cast and crew. In the basement, where the Abbotts monitor the monsters on video screens, they use a whiteboard to track what they know of the invaders. "John kept asking me about what should be on the whiteboard," Simmonds said. "We talked about weapons and strengths to fight the monsters."
Ultimately, characters use the whiteboard ask one simple question: What are the creatures' weaknesses?  
"When I saw that question on the board, it gave me chills," Simmonds recalled. "We have to understand weakness to understand strength." While Regan considers herself to be the black sheep, her perceived flaw ends up being her ammunition against the aliens.
It's their knowledge of sign language that makes the Abbotts powerful—allowing them to survive while others around them perish. While her own family signs, the main difference between her on-screen and real life families is stress. "My family feels comfortable," Simmonds mused. "The Abbotts never know if they're going to live another day. There's a lot of trauma and blame." Though they share a courageous spirit, there's a lot that separates Simmonds from her character. "I'm happy being deaf. I'm happy with my life and my family. There's nothing to feel guilty about."
At 15, she's already found the outlook that many spend decades searching for; and she's happy to be part of projects that don't fall prey to dealing in the generalizations that she is, by now, used to confronting.
"I think signing gave A Quiet Place a unique quality," Simmonds said. "I think sign language is represented as beautiful and helpful." Somehow, it manages to convey that nuanced message of positivity and strength all while being wrapped into a package of action and adventure. It's hard to think of a more perfect star than Simmonds.