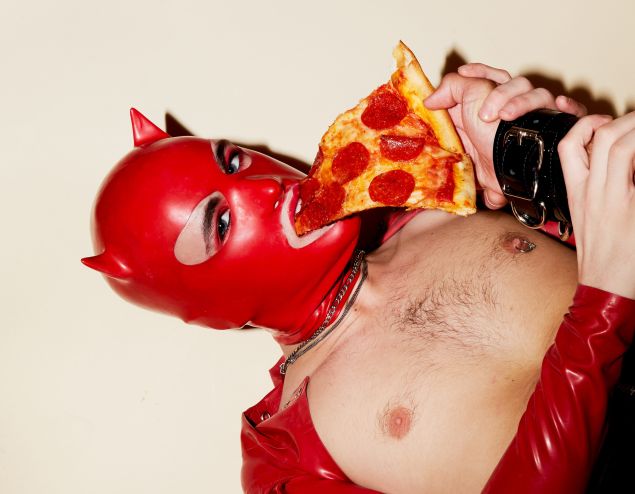 Pizza devotees rejoice! New York City, home to America's first pizzeria, and a place that apparently still makes pizza today, getting its very own Museum of Pizza, debuting this October at an undisclosed location.
$35 tickets to MoPi, as the website and press release strongly suggest you call it, and which may have been concocted by a real estate broker, are already up for grabs. As the institution only promises to be temporary (MoPi's a popup, you see), true pizza lovers might want to snag their tickets now, for fear of missing out on all the pizza museum-ing.
So what does the cost of admission get devotees of cheese and tomato-smothered bread? The specifics of that are pretty unclear. While one might expect to take a tour through the history of the NYC slice (are the old Lombardi pizza ovens lurking somewhere out of view?), MoPi so far makes no such promises, instead touting itself as "A place to capture timelessmemories [sic] and take in larger-than-life, immersive installations. A space to bask in multi-sensory, psychedelic pizza joy."
What is psychedelic pizza joy, you ask? The presenting organization, Nameless Network, which bills itself as a "the youth media company for Gen Z" tells us it will involve:
The Museum of Pizza artists "gallery"
Pizza cave
Pizza fun house
Pizza beach
The interactive history (and untold story) of Pizza
"Pizza Zen"
Pizza games
The official #MoPi Pizza Films screening room and media lab
and "more"
Still unsure about what the forthcoming Pizza Museum will offer? Observer breaks it down for you.
What do you do on the Pizza Beach?
Instagram.
What do you do in the Pizza Cave?
Instagram.
How do you make a "timeless Pizza Memory?"
Instagram.
What do you do during Pizza Games?
Instagram.
"Pizza Zen"?
¿Instagram?
How does pizza become "more than a tasty epiphany of cheese, dough and sauce," and turn into a "uniter, a universal language, a cultural exclamation point?"
Instagram.
What does the $35 entry fee get you?
Instagrams. Also, "one free slice of Pizza at or outside the venue," but there are "no representations, warranties or guarantees pizza will be available if we run out, a restaurant or food truck partners cancels last minute or anything else occurs that prevents us from serving it or making it available."
We'll bring you more very important answers about the Museum of Pizza as they are revealed. Stay tuned, pie-faces.