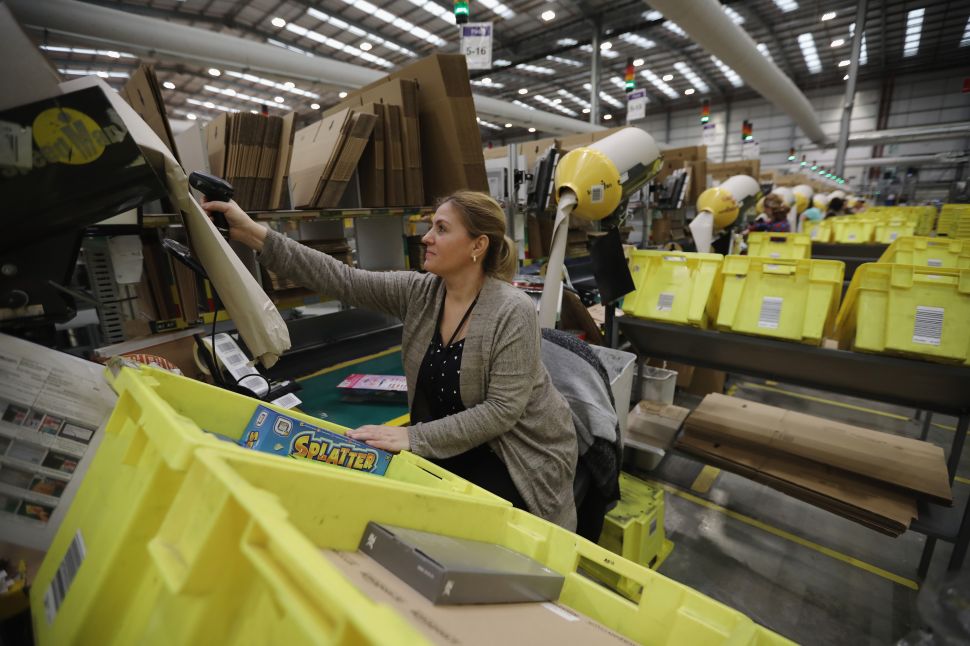 America isn't the only place where Amazon's workplace culture is suffering.
According to an investigation from Britain's Mirror and Sun newspapers, employees at Amazon fulfillment centers in the United Kingdom routinely fall asleep on the job because of the backbreaking workload.
Workers reportedly have to process a package every nine seconds from 7:30 a.m. to 6 p.m. Those who struggle to keep up with the 300-item-an-hour workload sometimes suffer panic attacks that require hospitalization.
Some staffers even pee into bottles to avoid taking time away from the job to use the restroom.
Undercover investigator James Bloodworth documented these conditions for the news outlets as part of research into a book on low-wage workers in Britain.
Workers "lived in fear of being ­disciplined over 'idle time' and ­losing their jobs just because they needed the loo," Bloodworth wrote.
Another report released this week by the British workers' rights group Organise surveyed over 500 Amazon employees. They claimed the company's targets are unreachable and compared the work to slavery.
Fifty-five percent of employees said they were criticized for taking sick days. Some female workers even claimed they were penalized for taking time off during pregnancies.
And 82 percent of employees said they wouldn't apply for another job at Amazon because of the working conditions.
Not surprisingly, Amazon disputes these claims.
"Amazon provides a safe and positive workplace for thousands of people across the U.K. with competitive pay and benefits from day one," the company said in a statement. "Amazon ensures all of its associates have easy access to toilet facilities which are just a short walk from where they are working. We have a focus on ensuring we provide a great environment for all our employees."
The company also said it provides on-site health services (including therapy), as well as legal, financial and workplace guidance.
And finally, Amazon pointed out that LinkedIn has ranked it as one of the top places to work in both the U.K. and the U.S.
But Amazon's treatment of American workers has also been under a microscope since a 2015 New York Times investigation.
The report found that workers were encouraged to bluntly criticize employees' ideas in meetings and that performance reviews included half-hour lectures about unfulfilled goals.
Employees were also forced to work 80 hours a week and stay online constantly–bosses often emailed workers past midnight, and then texted them if they didn't get a response right away.
Since the initial report, an increasing number of Amazon workers have come forward about unfair treatment.
For example, last year a transgender woman sued the company, claiming she experienced repeated discrimination and harassment while she worked there. She was allegedly called "he/she" and "chick with a dick," among other insults.
Here's hoping CEO Jeff Bezos uses some of his $112 billion fortune to improve conditions for Amazon workers worldwide.