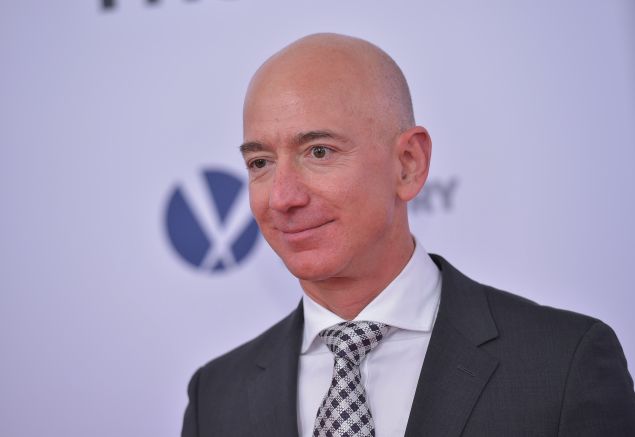 If Jeff Bezos ends up selecting Washington, D.C. as the winner of Amazon's HQ2 search, he seems to have his housing situation covered.
The billionaire Amazon founder doled out $23 million in an all-cash deal for the largest private house in D.C. back in October 2016, when he paid $1 million more than the asking price on the 26,900-square-foot property. This Kalorama estate is actually made of up two separate mansions, the Pope and the Wood, which are connected by a walkway.
Bezos is now putting $12 million worth of renovations into the estate, and it looks like he's interested in hosting some major parties there.
The Washingtonian obtained the blueprints for the renovations, which are being carried out by architecture firm Barnes Vanze, and the plans for the two homes combined include 11 bedrooms, 25 bathrooms, five staircases, two elevators (one for each house) and five living rooms.
Bezos, who purchased the Washington Post in 2013, currently visits D.C. at least 10 times a year, according to The New York Times. But with this lavish spread, we imagine he'll be making the trip to the nation's capital even more frequently.
The four-story Pope house will serve as the primary family residence for Bezos, his wife MacKenzie and their four children. There's the expected spread of bedrooms, spa bathrooms and dressing rooms, as well as a gym, media room and a family kitchenette on the upper level—but there's also a bigger kitchen on a lower floor.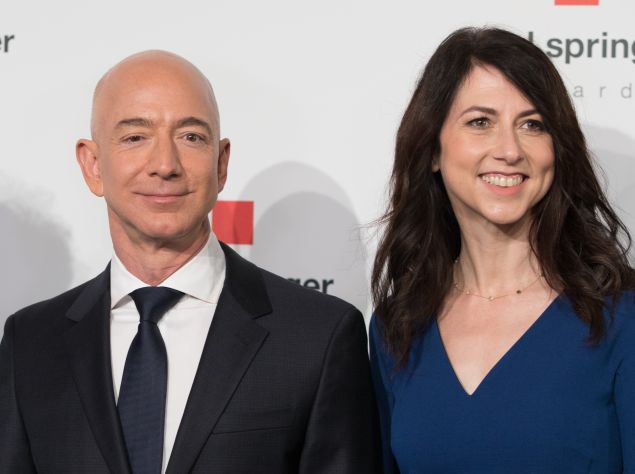 There will be no shortage of liquor, either—amenities include a full whiskey cellar, complete with drying racks, as well as a walk-in wine room and a lounge with a bar
Then there's the Wood house, which is even bigger than the Pope. As the Washingtonian points out, this is definitely where the galas will be thrown—just look at the 1,500-square-foot ballroom, which is fitted with a bar, limestone fireplace and Ionic columns.
Other highlights include the huge marble staircase, a solarium and two terraces. Should a visitor need to stay overnight, there are four guest rooms upstairs, in addition to staff rooms. There's also a catering kitchen, staff changing rooms and a coat room.
There's also a one-bedroom, 1.5-bathroom carriage house on the 0.78-acre property, plus a garden pavilion. We're not entirely sure what, exactly, that entails, but it will be made of stucco, brick and limestone, with a fireplace and gas lighting.
Per the New York Times, Bezos plans on hosting "salon-style dinners" at the home, inspired by former Washington Post publisher Katharine Graham's legendary suppers for the "city's movers and shakers" from both sides of the political spectrum. With the current state of affairs in the nation's capital, that sounds like quite the fête.
We do hope Bezos' neighbors make it on the invite list—other residents of the upscale Kalorama area include former president Barack Obama and Michelle Obama, who will perhaps reciprocate with an invitation to the pool parties we are convinced they'll be throwing this summer. Ivanka Trump and Jared Kushner are renting a home nearby, while erstwhile Secretary of State Rex Tillerson paid $5.6 million for a house in the vicinity—though he's likely regretting that housing decision right about now.