With an estimated 50,000 pieces of artwork produced over a life spanning 92 years, Pablo Picasso was an unwieldy subject to whittle into 10 succinct episodes for Nat Geo's new season of Genius. Though the artist has departed this world (in 1973) there are plenty of friends, family members and people who heard things from other people who were around at the time to offer commentary on his grandiose existence.
So much so, that there seem to be three, four and five sides to every story about the artist, making it considerably difficult to get a clear picture of the man who is alternately revered as an artistic idol, or condemned as a misogynistic monster. And it seems the stars of this newest biopic series found it equally difficult to paint a clear picture of Picasso—both during production and now in promoting the premiere.
Born in Malaga, Spain in 1881 as "Pablo Diego José Francisco de Paula Juan Nepomuceno María de los Remedios Crispiniano de la Santísima Trinidad Ruiz Picasso," the man was inarguably a genius—and probably the most influential creative mind of the 20th century. But choosing him as a subject for this series still raised some eyebrows given his reputation. Kids, wives, lovers, friends, political responsibilities: all these came a distant second to the artist's obsession with his work. And yet, he demanded the utter devotion of those close to him to it. As Marina Picasso, one of his granddaughters, famously wrote in her 2001 book, Picasso, My Grandfather, "No one in my family ever managed to escape from the stranglehold of this genius. He needed blood to sign each of his paintings: my father's blood, my brother's, my mother's, my grandmother's, and mine. He needed the blood of those who loved him."
Genius, which premieres April 24 (and is produced by the same creative team who brought us the Emmy and Golden Globe nominated Season 1 on Albert Einstein), neither puts Picasso's lothario lifestyle on a pedestal, nor shies away from examining his tumultuous marriages and multiple affairs. In order to understand Picasso's artwork, it's undoubtedly important to also understand these romances. But it seemed difficult even for the series' stars to get a handle on how to talk about the legend.
"Picasso is the first painter in history that is acclaimed like a rockstar," Antonio Banderas, who plays the titular lead, told the Observer. The 57-year-old Spaniard who was coincidentally born in the same city as Picasso (and is friendly with some of the famed painter's relatives) knows how even from a distance, the artist's enigmatic presence looms large.
"Olivier (one of Picasso's grandsons) wrote in Picasso: An Intimate Portrait, [set for release Sept. 2018] that 20 to 25 girls were at the doors of his house every day," Banderas said. "He had but two wives and three prominent lovers. The actors out there today, believe me, they have more in a weekend than Picasso his whole life."
Banderas, it seems, is firmly in the "idol" camp.
"You can judge it in many different ways in terms of morality, but I still save him," Banderas said. "I think he was absolutely sincere and did exactly what he felt in the moment that he felt in love. There's more myth out there than reality. He didn't push people to do what they didn't want to do."
Showrunner Ken Biller sees a little more gray in this palette. "[Picasso] was capable of extraordinary kindness, generosity, love and humor, but, like Albert Einstein, he could be very cruel and cold sometimes to the people he loved the most."
Actress Samantha Colley, who portrays Dora Maar, a successful artist in her own right and one of Picasso's most obsessed lovers said, cautioned people to try to get the full context of the picture. "I read the book, Picasso: Creator and Destroyer (written by Arianna Huffington in 1988), and yes, he devours women. But Dora also devoured men. It's an artist thing. They aren't brought in as victims or against their will. Dora engages Picasso in a union of creativity and mutual intellect. It was a consensual relationship."
After Picasso ended things with Dora, however, she tragically spun out suffering from a nervous breakdown (she was not alone in this fate among his ex-lovers). While speaking with T.R. Knight, who with prosthetics and a bald head is at times nearly unrecognizable portraying writer and friend to Picasso, Max Jacob, we asked if he thought the artist even made for a good friend, and again, the answer wasn't so cut and dry.
"They challenged each other," Knight said. "There was jealousy, and some complication because Max was gay and Picasso was not, so if we're looking at what we consider a good friend today, he was selfish. But it was a time that they were all selfish. In a small version of it, I imagine it being like a young guy moving to New York, meeting your actor friends, and going out. They all understood that their first love was art, and shared the esoteric idea that they were going to upset the status quo."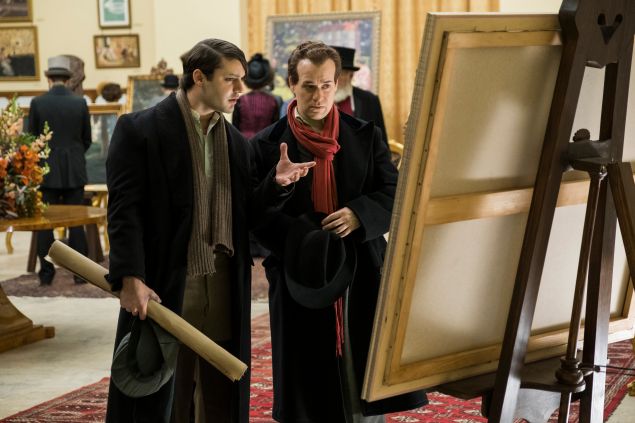 It's across the board difficult for anyone to pigeonhole Picasso, but for newcomer Alex Rich, who plays the artist from age 17 to 40 (a performance likely to be of note come awards season) he was more caught with how Genius explores Picasso's lovers. Typically only seen through a Picasso-centric prism, there's much more to these fascinating, brilliant women.
"Those voices [are] celebrated," Rich said. "You get to see how they interact with Picasso, which, hopefully, informs elements of what not to bring forward as we progress through society, and what elements are just part of interpersonal relationships. Like which experiences are just two people falling in and out of love and the emotional turmoil [of] that, and which experiences are now completely outdated. There are infinite iterations of this disgusting cycle we've been accustomed to for so long and I'm excited to see how it changes society."
With gorgeous cinematography, top-notch acting and spicy Flamenco music pulsating through the opening credits, Genius successfully brings Picasso's story to life, and does so without passing judgement. It's up to you to make up your own mind.