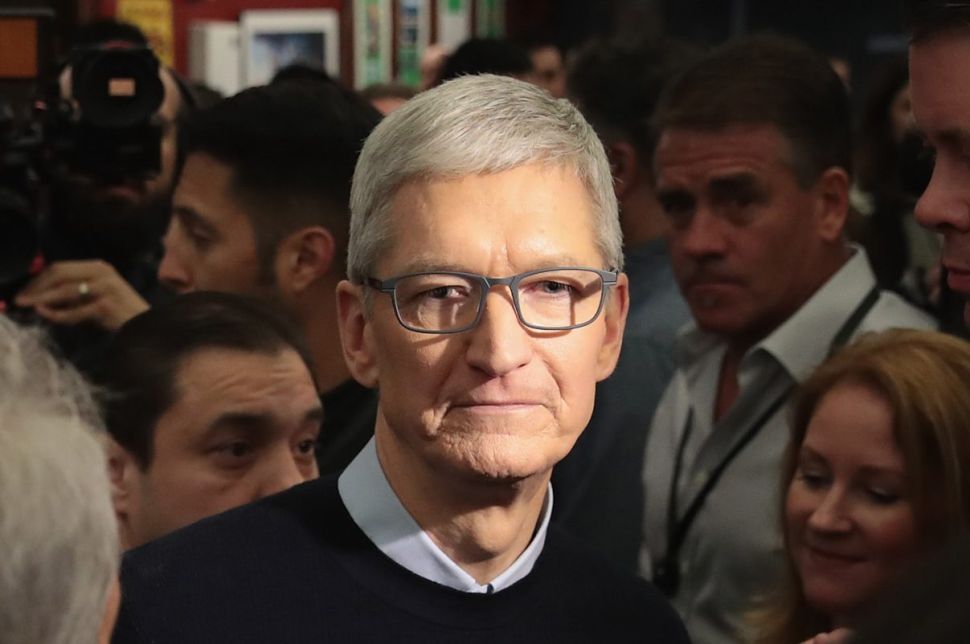 Apple (AAPL) is the largest company in the world with a total market value of $884 billion, but its CEO isn't paid as well as the leaders of other mega-companies.
Tim Cook, the company's CEO since 2011, ranked 71st on America's highest-paid CEOs in 2017, according to an annual list published on Wednesday by management consulting platform Equilar.
Cook was paid a total of $12 million in cash last year, including a base salary of $3 million, $9.3 million in performance bonuses and other types of compensation.
That put him behind many CEOs at much smaller companies, such as PepsiCo's Indra Nooyi (No. 7 on Equilar list) and Broadcom's Hock Tan (No. 1).
What's even more unnerving is that Cook's 2017 pay was already a big step (47 percent) up from his 2016 income, yet it's still below the median CEO pay of the 100 largest companies, which grossed at $15.7 million in 2017.
In fact, Cook, whose net worth is estimated at $600 million, is nowhere near entering Silicon Valley's billionaire founder-CEO club.
One obvious reason is Cook's lack of founding equity in Apple.
Most self-made billionaires in the tech industry gained most of their wealth through company stocks. Jeff Bezos, for example, owns 17 percent of Amazon stocks, which now is worth $119 billion; Mark Zuckerberg, despite claiming a $1 annual salary as Facebook's CEO, owns 10 percent of the company, which is worth around $50 billion.
Cook's package does include company stocks, but the terms are much stricter than younger tech companies, many of which choose to pay high-profile employees a lavish compensation up front.
In short, Apple's compensation package is structured like that of a traditional company, which includes a base salary, a cash bonus and a stock reward program, whereas tech startups generally value company equity over cash payout.
When Cook succeeded Steve Jobs as the company's CEO in 2011, he was granted a restricted equity package then worth $376 million, which was set up to be paid out over the term of 10 years, provided that Apple's growth consistently exceeds the S&P 500 Index.
In 2017, Cook was awarded $89 million worth of Apple stock as part of that agreement.
His tech peers are paid much better.
Google's CEO Sundar Pichai received nearly $200 million in company stocks, in addition to his base salary, in 2016 (the latest data available). Google doesn't offer its CEO a cash bonus.
Tim Cook is famously a workaholic. He reportedly sends regular work emails at 3:45 a.m., runs weekly office meetings for five hours and barely has a social life. Late Apple co-founder Steve Jobs was once so worried about Cook's work-life balance that he called up Cook's mother to ask about his private life and whether they should get him into a relationship, Jobs' 2015 biography Becoming Steve Jobs revealed.