In order to display her latest collection of hyperreal sketches, artist Cj Hendry needed to buy a house.
"The initial goal was to get a house that was pre-demolition or pre-renovation. We were looking in Camden [New Jersey], we were looking in Detroit and all over the U.S., for something really rundown," she explained. But, alas, her search was unfruitful. So Hendry, who hails from Australia, had to go with plan B: "Let's just build a fucking house!"
Made from 12,000 plastic blocks and spanning 22,000 square feet, Hendry finally had the house of her dreams, dropped in the middle of a barren Greenpoint artists' loft. The structure contains seven rooms, each of which is a total assault of color. There's the pink bedroom, decorated with a rack of Pepto-Bismol colored clothes, a potted plant in the same hue, a casual pile of dildos and a teddy bear pit in the place of a bed (according to Hendry this was the "porno pink" room). In the green kitchen, there's astroturf covering the countertops and a fridge filled to the brim with forest green cans of Fosters. The orange study is equipped with rows upon rows of painted books and a cartoon-esque Apple computer, circa 2005, also covered in a layer of paint.
Oh yeah, and Hendry's sketches hang on the walls, too.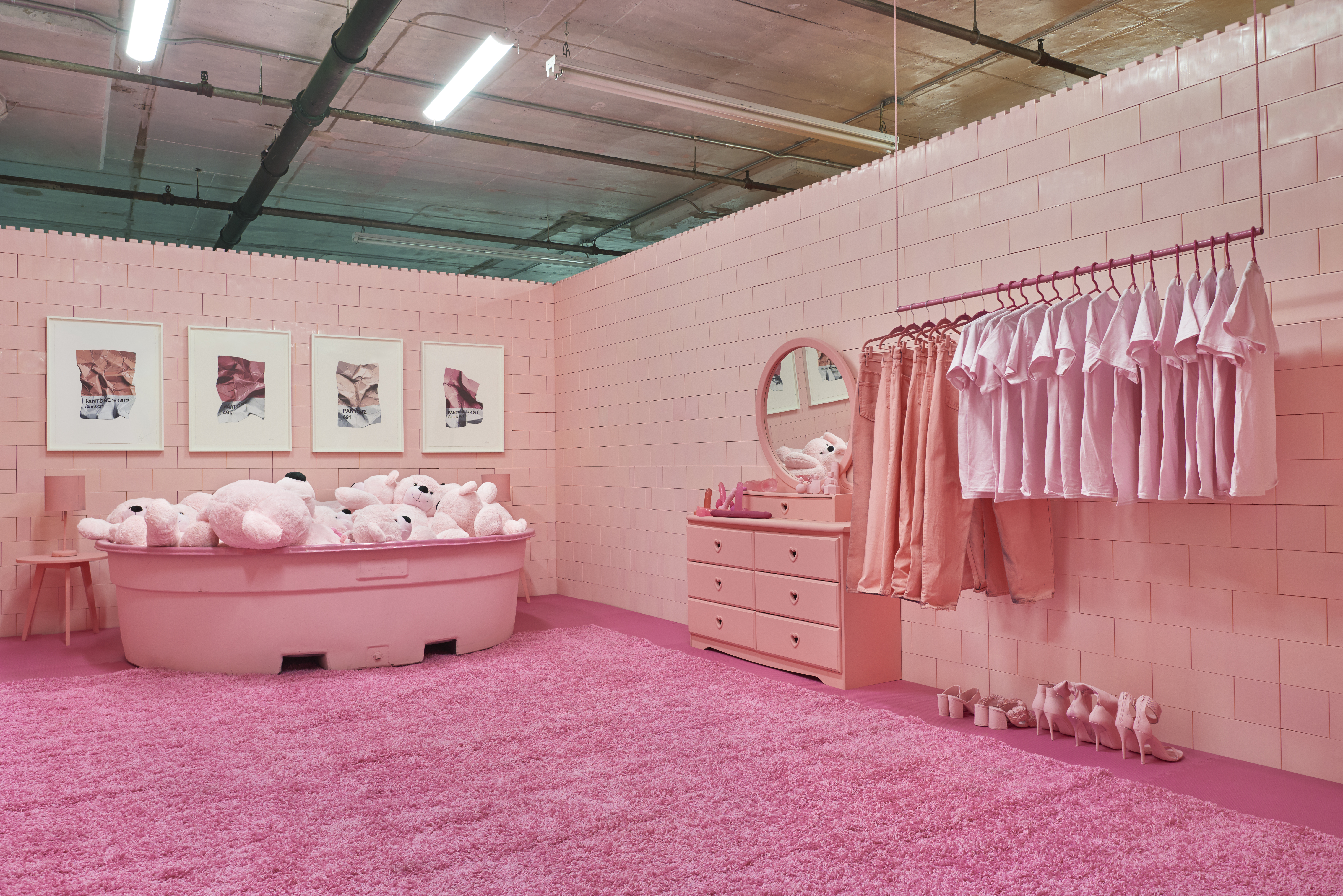 This immersive color experience is entitled MONOCHROME and could easily be compared to Yayoi Kusama's sticker smothered Obliteration Room or infamous Infinity Mirror experiences. However, this veritable Instagram wonderland is also reminiscent of the Museum of Ice Cream, where the only discernible takeaway is a dozen or so pretty iPhone pictures.
Looking for the perfect Instagram? Sit at the orange desk and pretend to type at the Mac computer of your childhood, or mime taking a leak in the all-purple toilet. And definitely don't forget to sprawl out in the teddy bear pit.
It's almost guaranteed, your followers will eat these posts right up. Hell, they might even post a comment asking "Where is that???" or offer an affirmation that you got the shot, with "10/10 content" and a thumbs up emoji.
But wait, what about the painstaking drawings of crumpled Pantone swatches that Hendry worked on for nearly a year? Oh right, those.
The true-to-life drawings are what Hendry is known for, including black ink drawings of wrinkled Chanel and Louis Vuitton shopping bags and Kanye West's mug on a $100 bill (which the rapper actually purchased for himself). Her first project in color was unveiled exactly a year ago at Art Basel Hong Kong, when she unveiled a series of oil paint swatches, in partnership with Christian Louboutin. The two also created a crayon modeled after Louboutin's So Kate heel and invited visitors to use them to draw on the walls of the gallery.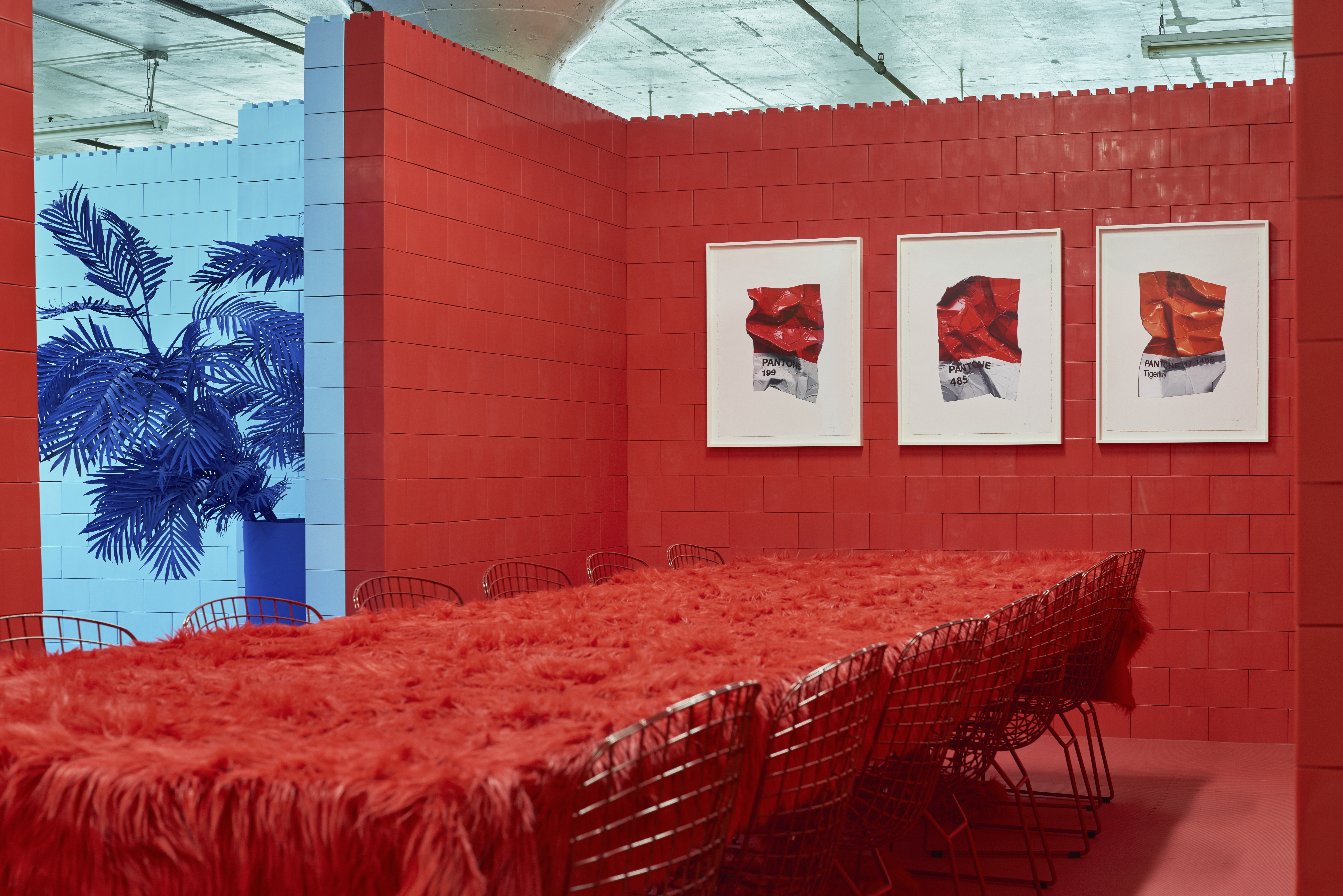 Antics like this have padded Hendry's impressive social media following (she has over 300K followers on the 'gram) but one can't help but wonder if this kitschy house—which is a marketing campaign of sorts to attract viewers to the artist's intricate drawings—has ultimately failed. From the moment the exhibition was open to the public this past Thursday, very few visitors even noticed the depictions of Pantone 493 or 14-0852, that Hendry meticulous created from "40 to 50 different shades." Even fewer seemed to know they were the reason their photo fun-land was made in the first place.
Which raises the chicken or the egg debate. Which came first: the MONOCHROME series or the mass appeal rainbow house? Surprisingly, it's the former.
"I've always said that we need to plan the show and the experience and the works will dictate how it all feels. But I kind of did it the opposite way," she tells Observer. Hendry finally came up with the idea for this installation six months after she started drawing the series.
But unlike the generations of pretentious artists that have preceded her, Hendry is okay with the fact that people aren't fawning over her sketches. In fact, she kind of considers there to be two categories of art in this show: the laborious drawings and a super kitsch space, which was still a lot of work to put together.
"I created and curated everything, so the house might have drawn away from drawings, but it's still my art," she points out.
Predicting an audience's reaction to any work is akin to, well, forecasting exactly how many likes you'll get on your next Instagram. Naturally, Hendry was also unable to discern just how the public would interact with the home itself—and it's a turned out to be a bit more physical than she expected. On Thursday evening, after MONOCHROME was only open for one day, she noted that the content of the rooms were still intact, but just barely. The playful nature of the space has attracted the masses, including plenty of young families with kids, all of whom have been making themselves feel right at home as they snap their perfect pictures.
The plastic brick walls need to only stay standing for a few more days; MONOCHROME is open to the public from 10 a.m. to 5 p.m. through Sunday.