On the website of online personal shopping service Stitch Fix, the company features a customer review that reads, "I love that my stylist listens to my feedback. The personal note included in my Fix shows how much pride she takes in serving each client."
Stitch Fix's personal stylist is the best of its kind. Indeed, few stylists in the industry has achieved the same level of success at outfit pairing and shopping recommendation. Measured by business terms, Stitch Fix's stylist has transformed a startup in an apartment into a public company in just seven years.
Except that the "stylist" is not a "she"—nor is it a "he." 
Stitch Fix picks clothes for each customer from a sea of inventory with the help of a set of algorithms coded by the company's 85-person data team. Although a human stylist would make final decisions on clothes selection, algorithms help recommend items within each customer's price, size and style preferences, a company spokesperson told Observer. 
For each customer, the algorithm-assisted "stylist" analyzes fashion preferences based on a customer's profile with the site (including information on size, general preference on color, price range and occasion, etc.), purchase and return history with Stitch Fix, and activities on social media such as fashion pictures saved on Pinterest. The more data the algorithm collects about the customer, the better it knows about that person's fashion tastes and the better it gets at recommending outfits.
The technology behind Stitch Fix's robot-assisted styling tool, which venture capitalist Mary Meeker called e-commerce's "aha" moment, is now being used in the field of original design.
The initiative, named "hybrid design," aims to ultimately create clothes from scratch just like a human designer does.  
"We noticed gaps in the market and an opportunity to produce something that doesn't exist, but should," Eric Colson, Stitch Fix's chief algorithm officer, told Co.Design when the initiative took off last year.  
The market gaps, Colson said, are a result of an unprecedented trove of user data thanks to the proliferation of social media and subscription sites like Stitch Fix.
"We're uniquely suited to do this. This didn't exist before because the necessary data didn't exist. A Nordstrom doesn't have this type of data because people try things on in the fitting room, and you don't know what they didn't buy or why. We have this access to great data, and we can do a lot with it," he said in a separate interview with Glossy.
To the "hybrid design" algorithm, fashion design is a puzzle work of 30 to 80 pieces—color, fabric type, collar shape, the number of buttons, just to name a few. As its name implies, however, "hybrid design" still relies on human designers to come up with the actual garments based on guidance provided by the algorithm's analysis.
"It's machine learning with expert human judgment," Colson said.
Currently, "hybrid design" produces about one percent of Stitch Fix's total inventory. The company said these items were well received among customers. And yet, perhaps unsurprisingly, the approach has drawn skepticism from industry insiders.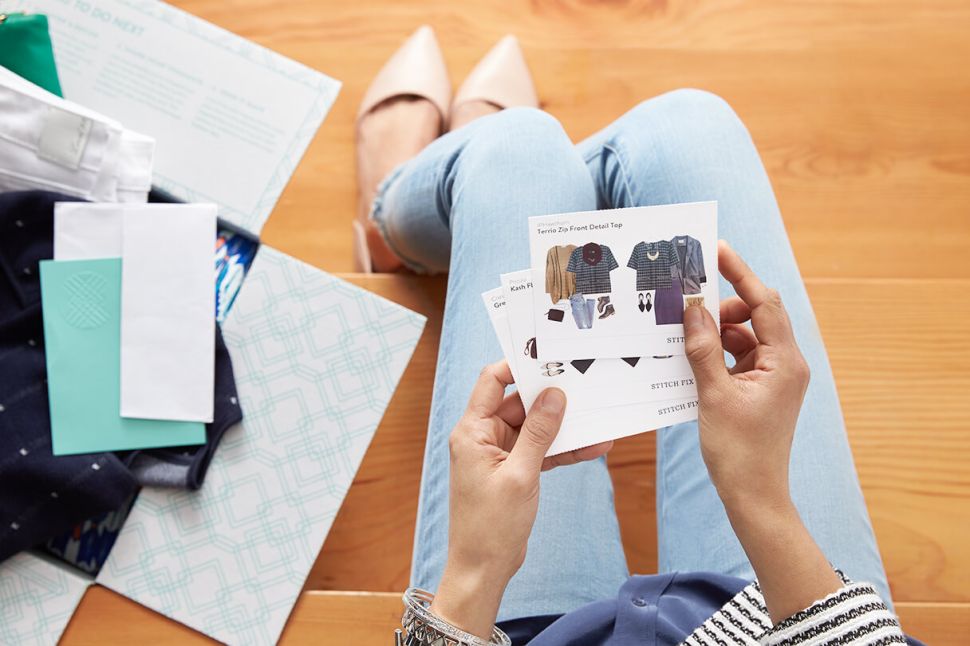 "I find it hard to imagine that AI algorithms can produce anything avant-garde or creative on purpose," Natalie Nudell, a fashion historian who teaches at the Fashion Institute of Technology in New York, told Observer.
"It's possible that they can make something truly creative by accident, though," she joked.
The possibility of A.I. robots taking over human jobs has been a hot topic among tech communities and social scientists for some time, but such discussion has so far largely focused on repetitive, low-skill jobs such as supermarket cashiers and, at best, tasks dealing with a finite pool of data, like basic stock analysis and language translation.
Having an algorithm perform creative tasks sounds overly ambitious, if not totally unconceivable.
The most obvious shortcoming is a lack of a cognizant consistency that only humans share.
The first company to experiment with this idea was Google (GOOGL). In 2015, a Google engineer released a project called DeepDream, where a neural network learned to fill in gaps in an incomplete images with graphic elements that it guessed would naturally fit.
The results, though, were hardly anything "natural."
Nevertheless, tech-native companies believe firmly in the potential of artificial intelligence, at least in fashion.
Last year, Amazon (AMZN) launched a "virtual fitting room" service called Prime Wardrobe that would allow buyers one week to try on three or more clothing items (shipping included in Prime membership) and return items they don't like. With these keep-and-return records, Amazon analyzes a customer's fashion preference to fine-tune its outfit recommendations. 
The fundamental technology behind automatic outfit selection or design isn't new.
Similar algorithms have been used in language translation (Google Translate) and speech recognition (Amazon's Alexa). A key challenge of making algorithms work for fashion is visual search, a still nascent area in machine learning research. As a leading A.I. scientist recently told Observer, discerning subtle differences in images takes a more complex "intelligence" process than recognizing text or sound.  
"Visual search is still a new and challenging field, yet it's one of the most exciting technologies for both retailers and consumers," Kavita Bala, a computer science professor at Cornell University, told Observer.
The most promising area, Bala said, is improving trend forecasting in the fashion industry. 
"Designers will continue to be the driving force for creativity, but they represent a top-down cycle of fashion, where new designs debut on the runway and then spread to a wider base. These aspirational designs are usually not accessible to the average person," Bala explained. "What machine learning can influence is 'bottom-up' fashion. For example, street style, where fashion trends emerge from average people on Instagram, Pinterest and other social media."
At Cornell, Bala co-leads a research project called "StreetStyle," where a deep learning algorithm aims to derive fashion trends in cities across the world through analyzing millions of photos posted on Instagram and other social media platforms. 
"As machine learning gets more sophisticated, it will be able to detect micro trends before they become widely popular. This will be the holy grail of retail. With this, retailers can respond a lot faster to changing preferences," she added. "If we can forecast trends fast, it will fundamentally change how designs spread and might open the doors for 'smaller' designers to reach larger audiences. A more democratic spread of design ideas can potentially be enabled."
To consumers, that means fast fashion will likely get faster. And whether it is a robot or not that's sketching out the dress for the next season, fashion still seems to need a human touch—at least for now.
"It's just interesting to me that Stitch Fix doesn't mention 'A.I.' or other tech terms on their website. They even refer to their stylist as 'she,'" Nudell said.