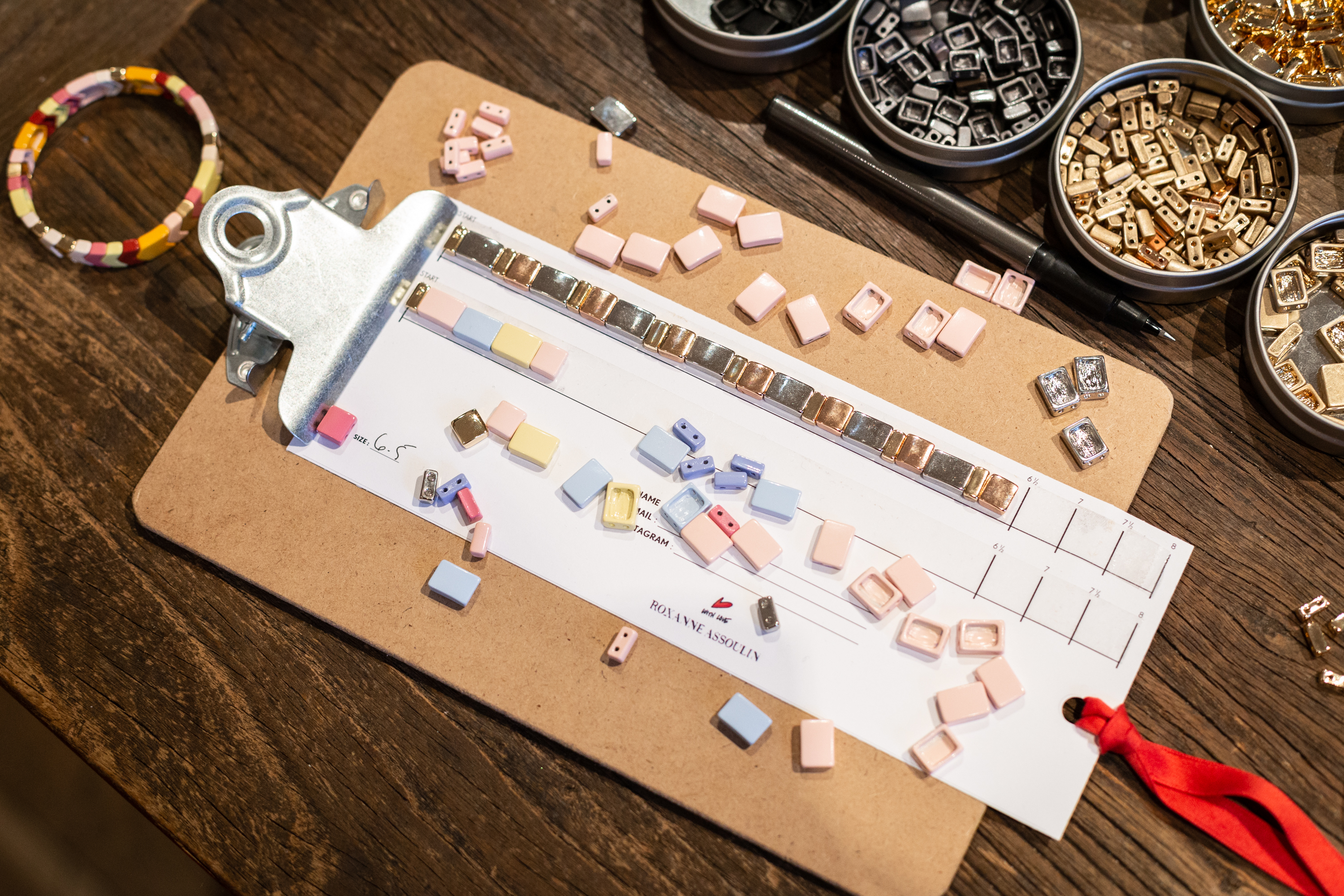 You know that saying, "everything old is new again"? Well, for the first time since you were in elementary school, friendship bracelets are, once more, a must-have accessory.
But in 2018, a stack of these colorful bracelets doesn't count how many BFFs you have. Instead, the new form of friendship bracelets let the world know that you're a Roxanne Assoulin fan. Her accouterments, made from pastel, metallic and monochrome enamel tiles that are strung on stretchy threads, are now the items fawned over by "it" girls, bloggers, Vogue editors and even lawyers and finance execs.
The most sought-after designs from Assoulin, however, happen to be custom—created by you at Play RA, the jewelry designer's exclusive bracelet parties. But more on that later.
It was Man Repeller's Leandra Medine who first got her hands on the bracelets in 2016, during a visit to Assoulin's studio. In fact, Medine introduced the designs to the world long before the designer was ready to.
"She put a bunch of stuff on her wrists and took a picture. It was a pretty bad picture, and I asked her not to post it for a few days, until I had a website up," Assoulin said. Then added, "She posted it that night." 
The designer scrambled to get her website live and just a week later, her entire inventory of rainbow bracelets was sold out. Assoulin has since added to her eponymous repertoire, with bright rainbow choker necklaces, juicy Swarovski clip earrings and geometric pearl bracelets. All the items are stamped with the designer's signature whimsy and not-too-precious touch; it's the type of jewelry that could easily be worn with jeans and a t-shirt or a ball gown, depending on your sartorial preference. Assoulin's creations can now be purchased at Moda Operandi and will launch on Net-A-Porter this summer, which means that they've really arrived as the accessory of the moment.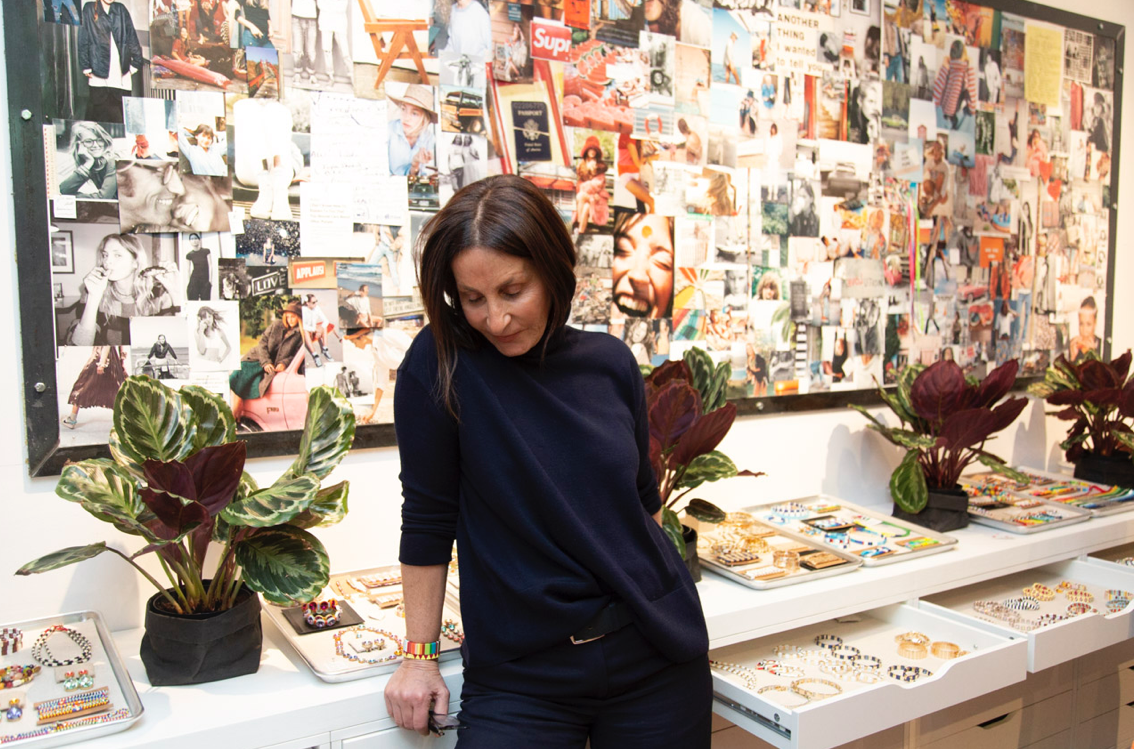 Assoulin is no stranger to the jewelry business; she's actually been designing these accessories since 1976. Back in the day, she worked for Fiorucci and Marc Jacobs, in addition to Oscar de la Renta and Bill Blass. About ten years ago, she got into private label design, when she began whipping up playful jewels for J. Crew, Madewell and Urban Outfitters.
But, as Assoulin likes to put it, her newest business was launched on Instagram—and two years after its founding, the brand remains pretty dependent on the app.
"I do all my own Instagram and all my own responses," Assoulin said of the @Roxanneassoulin handle. "I read everything that comes in, to get a read on what people are liking and doing."
Instagram is where Assoulin debuts new styles, posts photos of her unexpected inspiration (like a sparkling ocean and an ornate library) and shares details on her upcoming Play RA nights.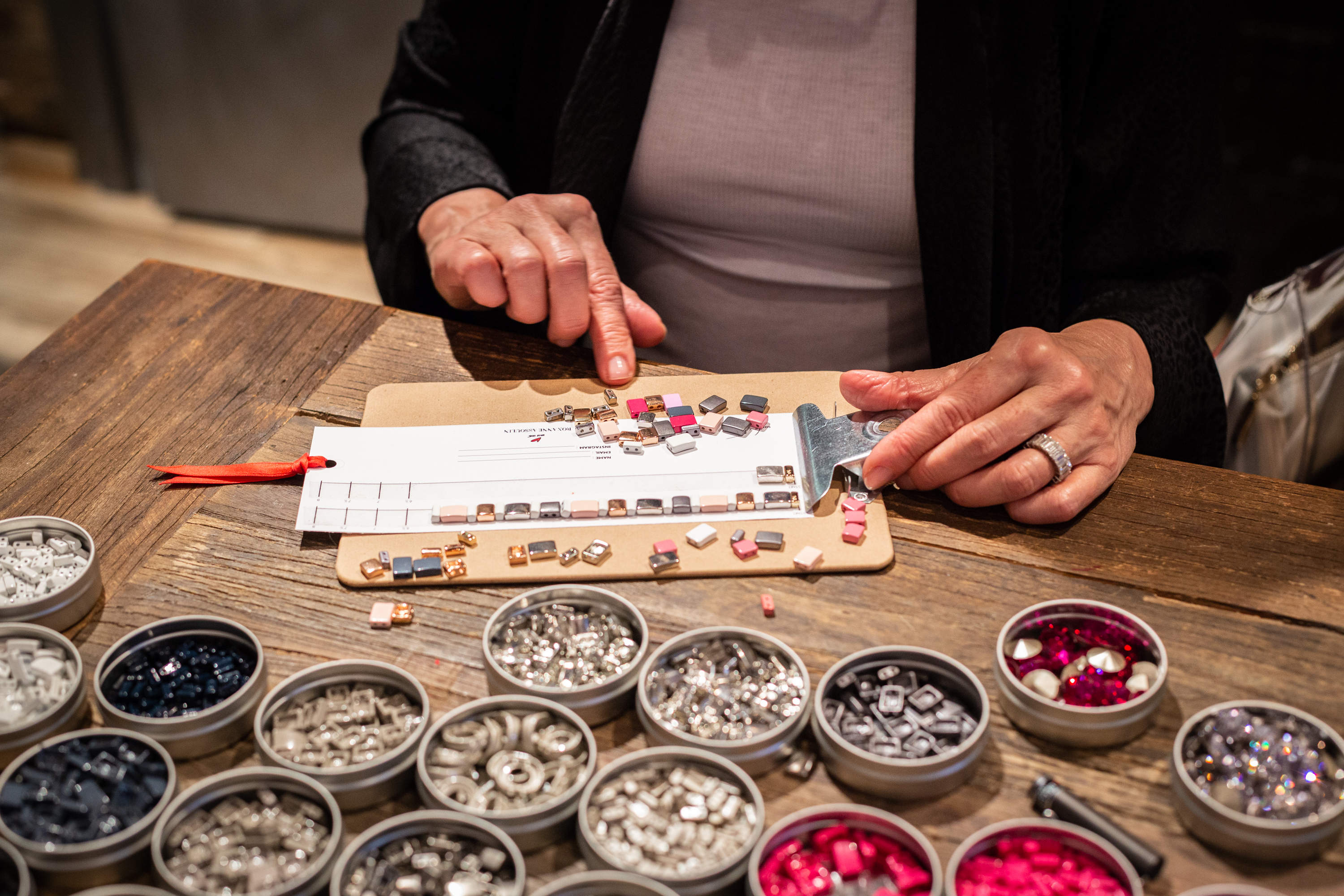 At these events, which happen every few weeks, customers are invited into Assoulin's studio to become a jewelry designer for exactly 60 minutes. For the price of $190, fans of Assoulin can string together two bracelets of their own design, all while sipping on a glass of prosecco and nibbling on popcorn.
I would liken Play RA to one of those paint and sip parties, but that would almost cheapen the extremely personable and highly Instagram-friendly experience. In fact, Assoulin creates each of the vibrant floral arrangements that punctuate three design rooms and basically every other surface of her spacious and chicly rustic Flatiron offices.
At Play RA, each guest gets a piece of paper with two sticky strips; after measuring for wrist size and somehow figuring out a design, they lay out the tiles in the exact order they'd like, and then hand it over to the Assoulin team to be threaded. This is actually a peek at Assoulin's creative process; it's exactly how she realizes each of her sought-after designs.
After creating a pastel pink and lavender bracelet of my own, I came to understand that there's a duality to this activity: it's at once very therapeutic and highly stressful.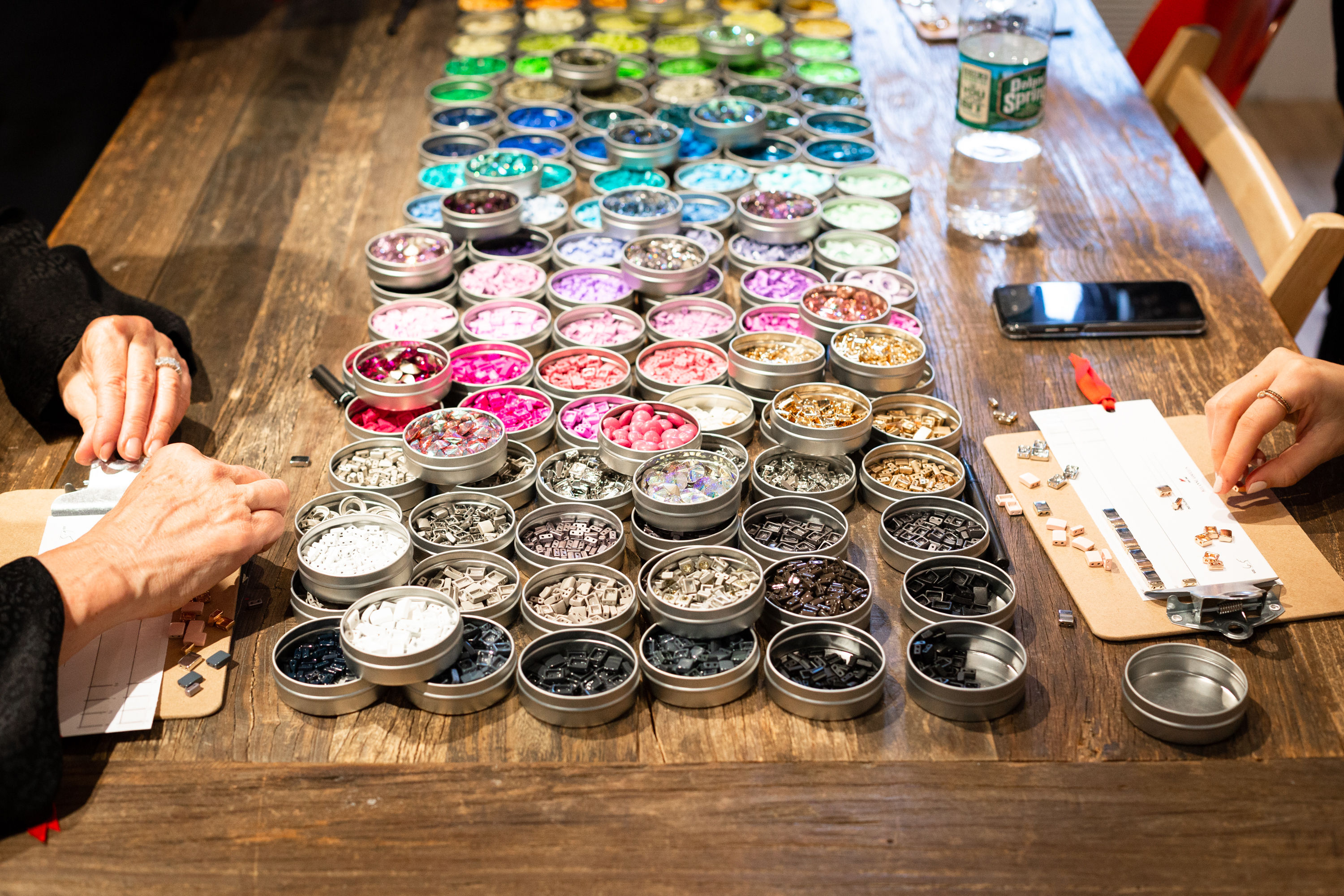 For one, there are about 120 little circular containers with skinny beads, metallic beads, matte beads, wide beads and oversized Swarovski crystals (that can be turned into beads) to choose from. They're offered in every color from shiny gold and matte grey to banana yellow and at least five shades of pink. To ease the pressure of building the perfect bracelet, small containers of M&Ms that match the beads are scattered throughout. Stress eating is very much encouraged.
Play RA tends to foster a friendship among tablemates; you're all in it together, even though you might be making an all-white bracelet while your neighbor is stringing together a rainbow of extra large crystals. It feels natural to ask the table for an opinion on your chosen color scheme, or to discuss the inspiration behind your creation.
"It's fun for people because you're in a creative zone," Assoulin pointed out. "You're getting to meet new people. Plus, each night is different from the one before." 
Indeed, the crowd is a varied one—and each person has their own reasons for being at Play RA.
"It was my birthday recently and I have little kids at home, so it was kind of like, 'okay, I'm just going to do this,'" said Jennifer Relis, 36-year-old who works in marketing.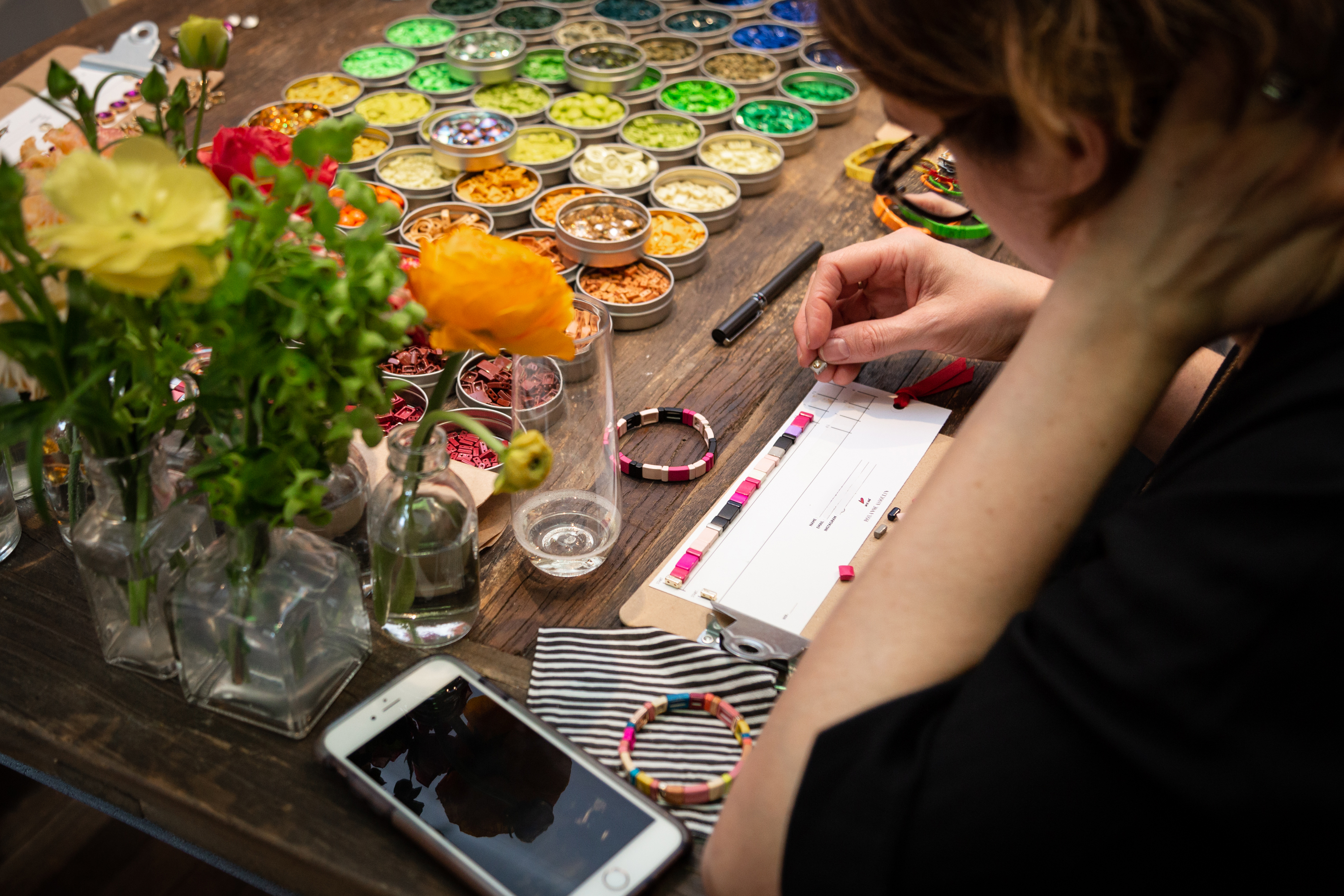 Michie Miller, a 40-something exec at American Express shared the same sentiment: "I have two kids. I have a four-year-old and a 6-month-old, so I sometimes just need to do things by myself. Plus, I also want to not feel any pressure when I design things," she said.
But this isn't just a solo activity; there were many mother-daughter duos, lifelong BFFs and co-workers. Not to mention, many attendees were return customers. Assoulin also noted that her office hosts private Play RA nights for bridal showers, company events and birthdays.
These bracelet parties have caught the attention of celebs, too; on the night Observer went to Play RA, we ran into Antoni Porowski and Tan France from Queer Eye. Later on, Gigi Hadid would join the boys, in celebration of France's birthday.
If these bracelet parties are fun enough for TV's hottest stars and the world's top supermodel, surely they'll entertain you and a group of girlfriends, too.