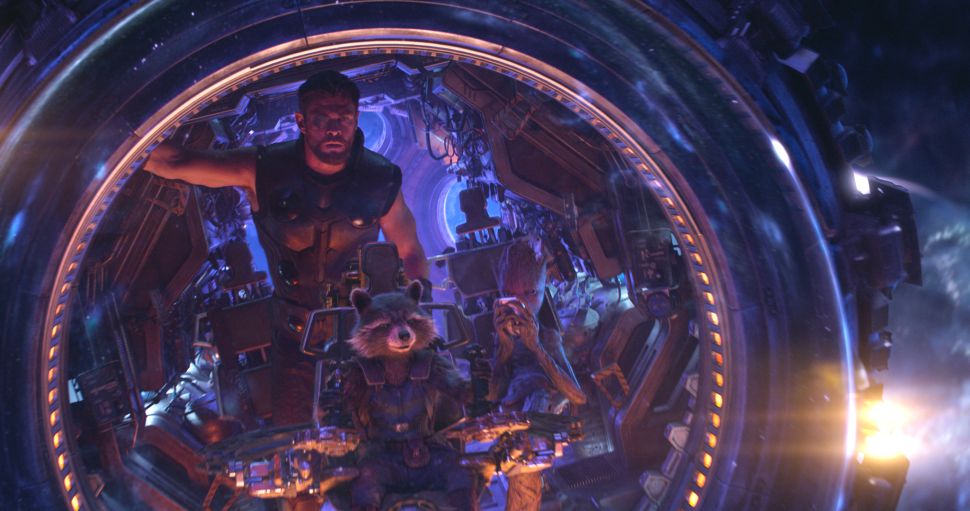 After growing restless waiting on the United States government to print more money, Disney said screw it and started relying on Pixar, Star Wars and Marvel to make its own bank. Now, the studio's box office revenue routinely looks like that of a small country.
Considering the astronomical cost of Avengers: Infinity War, that's a good thing as they needed to pull in massive totals to turn a profit. But one weekend into the decade-in-the-making superhero team-up and Infinity War has already shattered several box office records (and outperformed our own early predictions).
Let's run through them.
Biggest Domestic Opening
With between $255 million and $260 million (estimates suggest around $258 million), Avengers: Infinity War has stolen the crown from Star Wars: The Force Awakens ($248 million) as the biggest film opening in North American history. Thanos must be proud.
"Avengers: Infinity War demonstrated yet another Marvel superhero power," Paul Dergarabedian, senior media analyst at comScore, told Reuters. "The ability to reverse a downtrending box office year with a single knockout punch and literally change the box office fortunes of Hollywood almost overnight."
Infinity War has unsurprisingly boosted the domestic box office considerably.
Prior to this weekend, the year to date box office was down 2.8 percent. After this weekend, the 2018 box office is up 3.2 percent compared to 2017, according to comScore.
Disney now has nine of the 10 biggest box-office domestic openings of all time. Wow.
Biggest Worldwide Debut
Fate of the Furious last year opened to a staggering $542 million, which Disney just laughed at like a big sibling challenging their little brother to a game of basketball. The MCU culmination took in $640 million worldwide, a particularly impressive feat when you remember that the film hasn't even opened in China yet.
Given the rising importance of the Chinese box office to Hollywood's bottom line, this is downright incredible.
For comparison, Warner Bros.' Justice League earned $659 million worldwide in its entire theatrical run.
Ouch.
Biggest 'Pure Friday' Gross
Jurassic World earned $63.4 million on its first pure Friday (not counting Thursday night previews). Infinity War took in $66.967 million as audiences fled school and work by the hordes to cram into their nearest theater.
Biggest Saturday Gross
Dinosaurs got nothing on superheroes. Jurassic World scared up $69 million on its first Saturday, while Infinity War crushed that with a jaw-dropping $83 million.
Three AMC locations played the film for 24 straight hours and dozens of theaters across the country added rare 2 a.m. showtimes to meet audience demand.
Biggest Sunday Gross
A $69 million Sunday was more than enough to top the likes of Black Panther and The Force Awakens with their "puny" $60 million days.
Other Avengers: Infinity War Box Office Factoids
Per Forbes, the movie posted the "biggest debut for any of its cast and crew, any superhero movie, any April release, any pre-summer release, any non-summer release, any MCU flick, any Marvel adaptation, any Walt Disney movie, any film helmed by a directing duo (sorry, Wachowski sisters, and your move, Frozen 2!), any PG-13 flick, any IMAX/3D/D-Box/etc. movie, any part 19 in an ongoing saga."
The film now also boasts the fourth-highest Thursday preview gross ($39 million), second biggest opening day/Friday gross ($105.967 million) and the second-lowest Saturday-to-Sunday dip (17 percent).
Long story short: it made a shit ton of money.
How exactly did it achieve historic heights? The ongoing success of the Marvel Cinematic Universe virtually guaranteed that Infinity War would be a massive hit, but February's Black Panther may have helped to goose the numbers to an extra level.
"To call Black Panther the best lead-in ever would be the understatement of the year with that film essentially supercharging the enthusiasm for Infinity War that added countless dollars to the bottom line," Dergarabedian said.
"Case in point: Moviegoers created their own Black Panther–Infinity War double feature over the weekend," he added. "While most films got pushed to the side by Infinity War, Black Panther moved back up the chart in its 11th weekend from No. 8 to No. 5, something Disney didn't even anticipate."
Combined all 19 MCU films have made more than $15 billion overall.
So what's next?
The untitled Avengers 4 will arrive in May of 2019 and bring with it some finality to this iteration of the MCU with major cast members exiting the series. However, newly introduced heroes and yet-to-be-seen characters will carry on the torch and, who knows, someone like Robert Downey Jr.'s Iron Man could eventually be re-cast in some manner in the distant future.