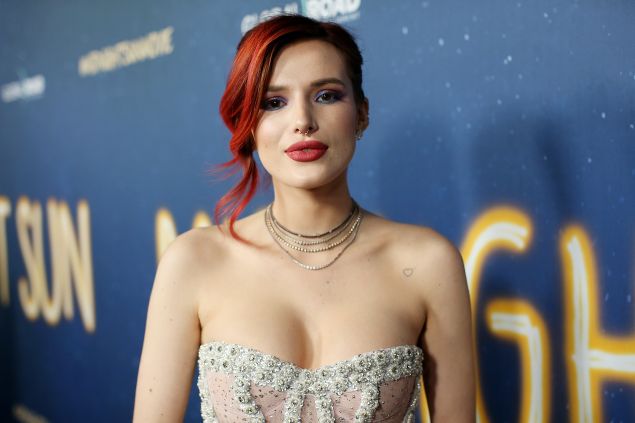 Pocketing an insane amount of cash for sponsored content is nothing new for celebrities. Selena Gomez reportedly nets $550,000 for a single photo on Instagram, and you've definitely seen SugarBearHair or #FitTea posts from every member of the Kardashian family.
Certain stars get better #spon than others—some score a #JetLuxeLife private plane ride (ahem, Scott Disick), while others simply get a few pairs of Diff sunglasses. And while most stars tend to shy away from discussing the money they make from these ads, Bella Thorne is very here for it.
The actress recently let the world know that she was able to buy a $2 million house largely due to the money she makes from Instagram. In a new 17-minute mini-documentary from Vogue and Broadly, the former Disney Channel star disclosed that she can rake in $65,000 for a single "grid" post, while an Instagram Story or a Snapchat gets her $10,000 to $20,000.
The house in question is a 4,500-square-foot pad in Sherman Oaks, that she shares with her sister, Dani, and a lot of cats.
"Instagram is 100 percent a job to me. I started out at 18 with literally $200 in my bank account," the Midnight Sun actress explains, adding she then bought this house a year and a half later. "It's all from social media," she brags.
After scooping up the five-bedroom, 5.5-bathroom house in September 2016, Thorne promptly painted it a hue that could only be described as Barney purple. But, according to the mini-doc, she put a colorful mark on more than just the exterior of the home.
When the 20-year-old actress bought the abode, it was definitely more traditional—it had a formal living room and dining room and a Baja pool. There are floor-to-ceiling glass doors that lead to the outside, where there's a covered lounging space, an outdoor fireplace and a full kitchen.
The rooms of the house have since been painted a rainbow of colors—akin to the many different shades Thorne has dyed her hair. The master suite has its own walk-in closet and a fireplace, but Thorne seems more at home in a room she's furnished with a paint-covered teepee. "I always liked the idea of being able to sleep on the floor," she explains, adding she gets "all cozy up in this bitch." She demonstrates that by cuddling with her dog, Tampon, beneath the dreamcatchers.
The entryway of the home is now adorned with hanging glittery white and blue ornaments, and there's a life-size Babadook statue holding court—the Thornes previously kept him in the bathroom to scare guests, but now Bella keeps her "main man" out in the open and has adorned him with red sunglasses. There's also Derik the Dinosaur, which is perched behind her couch.
Hopefully, Thorne spends some of the money she makes from her next Instagram post on tidying up. She's posted photos of her bedroom before and it looks like a hurricane came through, followed by a tornado—to put it mildly.