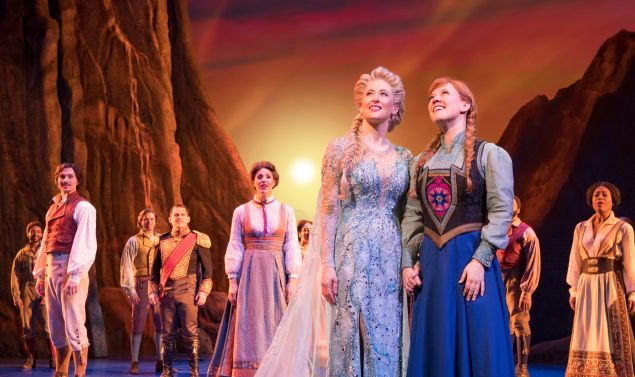 There's no prerequisite insisting that to get cast in Frozen you must first do time in Wicked—but evidence suggests it definitely doesn't hurt to have the extra exposure.
Two Wicked alums—Caissie Levy, who played the evil, emerald-hued Elphaba, The Wicked Witch of the West, and Patti Murin, who played the pure, pristine Glinda the Good Witch (but never in the same company and never on the same coast)—are doing their first in-sync sister act in Frozen. Levy is the frosty-touchy Elsa, and Murin is her younger sibling, Anna.
Wicked, an alternate telling of The Wizard of Oz that centers on the story's sibling relationship is now some 6,050 performances deep into almost 15 years at the Gershwin Theater. It's the show that invented "teenage girl power" at the Broadway box office, spawning numerous other musicals to cash in on that potent market.
The maliciously amusing, Tina Fey-scripted Mean Girls at the August Wilson caught the antenna of this group and has also been a sellout since it opened April 8. There's even a smattering of girls-behaving-badly-to-other-girls (circa the early 20th century) toward the end of the Imperial's Carousel.
Frozen, the seventh and latest stage musical fashioned from one of Walt Disney's animated features, is the most conspicuous of the shows playing to these converted young. But despite its precursors, this tale of sisterly love is something of an anomaly on Broadway, as audiences have clearly realized. It laid siege to the St. James Theater last month, setting and then constantly resetting the house record with more than $2 million every week since it opened.
Thomas Schumacher was the first person to spot the potential gold mine in Frozen. (Not for nothing is he president of Disney Theatrical Group, the stage production arm of The Walt Disney Company.) It was plain as day to Schumacher when he first caught a rough cut of the cartoon feature that Robert Lopez and Kristen Anderson-Lopez musicalized and Jennifer Lee adapted from the Hans Christian Andersen story, The Snow Queen.
That was back in the summer of 2013, long before it became the most successful animated movie of all time (worldwide gross to date: $1,332.7 billion) and a double Oscar-winner (for Best Animated Feature Film of 2013 and for the hard-driving power-ballad that Idina Menzel belted to blue blazes, "Let It Go").
Schumacher made a beeline to California and asked, "When do we start? How can we turn this into a Broadway show?" Without regard to whether the film would be successful or not, he thought it Broadway-worthy. "That's because of the dynamic of these two women—sisters—who come together. And [because] it had an absolutely proper Broadway score by Bobby and Kristen, who're genuine masters of the form."
The Lopezes wrote 20 songs and two reprises for the Broadway edition—but, by their own count, only seven and a half songs for the film. (They'll pass on full credit for "Reindeers Are Better Than People" since half their inspiration came from Amazon.)
"The only reason to expand this piece into a full-length Broadway musical," said Kristin Anderson-Lopez, "was to dive deeper into the idea of a family that can get frozen in dysfunction because of fear and change. In every single song we approached, we'd ask, 'Are there things we left unsaid?' That was always our intention, and every choice we made has been driven by [our desire] to open doors between people."
The first song they wrote for the stage version was an interior monologue for Elsa, who, while being crowned queen, tries to conceal her lifelong curse of turning things into ice with her touch. In the film, this mental conflict was conveyed with close-ups.
"All the character's angst comes through her eyes and face," said the lyricist, "but you really can't do that on the stage. We had to write a song that musicalized those close-ups, and 'Dangerous To Dream' does just that, I think. Elsa is in the middle of a coronation, and she's had to put on a very public face. The movie shows her inner turmoil through that face, but we had to stop time and go into her head."
To bring this animated feature to Broadway, Schumacher picked the former head of England's Donmar Warehouse, Michael Grandage, who helmed a Tony-winning Red and an Olivier-winning Merrily We Roll Along and is deeply steeped in Shakespeare.
"When Tom offered me this opportunity," Grandage said, "I was very aware indeed that it was something I understood in terms of shape and structure, having directed those sweet pastoral comedies of Shakespeare like Twelfth Night and As You Like It.
"But the real reason I was interested in Shakespeare as a parallel is that he was the great populist writer. He is, and remains, a person who was able to get through to mass audiences with mass appeal, and that's what I knew this piece had to do.
"From a director's point of view, I have to tell you I always knew that we needed people who could sing extraordinarily well and people who could dance, but I also knew that, to really explore the kind of stuff that's been written here, we really needed actors, too, and we've certainly got those in a big way with Caissie and Patti."
Patti Murin laughed at the notion that only the Wickedly seasoned were asked to audition for Frozen. "You would think so, right?" she quipped back in complete agreement.
But there's a big difference in these two sets of sisters, and she's quick to point out what sets Frozen apart: "Wicked definitely paved the way for this market—that strong, female, two-lead situation—but the great thing about Frozen is that it starts from their deep love. Wicked starts from them hating each other. There's something about sisterly love that's so much different from friendship. I think where the similarity stops is there are two strong female lead characters, but both go on their own amazing journeys."
The actress can break into a rhapsody about her role. "Anna is so relatable. She's been through a lot in her young life, losing her parents and, essentially, her sister, but somehow she keeps an eternal optimism, holding on to her love of life and her excitement for what's to come. That's really admirable. It's so easy to let things like that affect you—affect you for the rest of your life—and still she's this positive, energetic, determined woman. Elsa's mantra is 'Conceal—don't feel.' Hers, basically, is 'Feel—don't conceal.' She wears her heart on her sleeve, on her feet, in her eyes. She is what she is. There's no way for her to hide her feelings, and that's fun to play."
Levy likewise is content with her lot. "What's not to like?" she shrugged. "It's a dream role, an amazing show and a love story centered around my sister and not a man. That's certainly refreshing to play. I've played sexy roles and edgy roles, so this is a nice departure for me because I think people love—and connect to—Elsa so much. To have this opportunity to give them a bit more information about her is an honor."
In addition to closing act one with "Let It Go" (punched up visually by some Disney magic), Levy has been allotted a monster number in the second act that's actually called "Monster." She said, "It's gritty and awesome, and it has a darkness I think the show needed. It's a great turning point for Elsa to realize, 'No, I will not be defined by what people think of me. I am not a bad person. I will go back and fight for my sister.' It's empowering, and it launches us into the finale in a really great way."
The Lopezes are said to be working on a Frozen 2. If so, Levy made it clear she wants in: "I'll be with them as long as they'll have me. They're geniuses, and they've been nothing but encouraging and gracious to us in creating the roles for the stage. It's been dreamy."