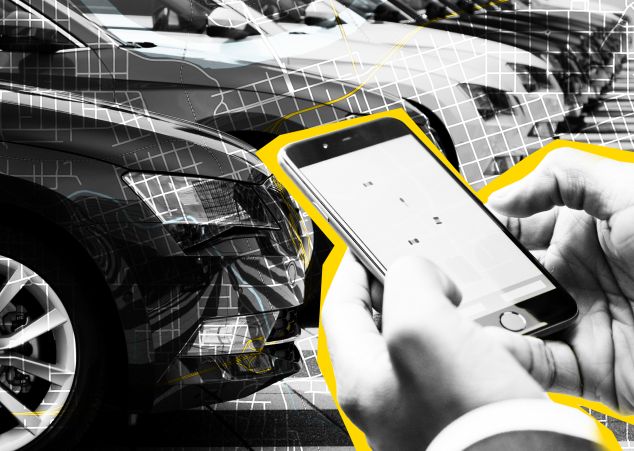 Does anyone, outside of maybe Jerry Seinfeld and Jay Leno, actually enjoy owning cars? From the moment you get conned by a dealership until the moment you post it on Craigslist, your car, no matter how awesome it might seem at first, is a rapidly-depreciating financial albatross, a mildewy dump for discarded food wrappers. Nothing saps our income, and therefore our morale, quite like cars.
Because of that, I have a vision of the future of American transportation, which I'm going to keep repeating until it comes true or until I die, whichever comes first (my death, most likely): No one will have to own a car unless that's their choice. That vision doesn't come from nowhere. Global carmakers are preparing for changes in the automotive world unseen since private cars first appeared. Within 20 years, the majority of cars will be electric and self-driving. But that's not even the biggest shift. The ownership model is rapidly changing, too.
Eventually, if you want access to a private car, you'll just summon one via an app. The car, driverless, electric, charged by solar panels or inductive road tiles, will appear at your house and take you wherever you want to go. The payment will be deducted automatically, like you pay for your phone service, or internet, or razor blades from Dollar Shave Club.
That very different model of car culture exists at a completely protean stage, but it's got wheels. The automakers are starting to realize that, while people do continue to buy their product—because, at the moment, they have little choice—most of them aren't doing so happily. So how much would you pay to not own a car? For automotive journalists, who get awesome free brand-new cars dropped off at the office or their doorstep at least twice a month, the answer is: Nothing. For actual consumers, the answer is still pretty unclear, and the results are hardly conclusive.
In 2016, Ford launched a pilot program in Austin, Texas, called Ford Credit Link. The idea was that up to six people could "share" a lease on certain Ford models. In January of last year, they shut down the program, which had, during its run, received exactly zero subscribers. "We absolutely learned a lot from this pilot," said a Ford representative. Yes, they learned that no one wants to share a lease on a Focus. Other experiments are underway.
Last month, I attended the launch of the Volvo XC-40, a new Compact Sports Utility Vehicle, because soon every car will be a CUV whether we want it to be or not. In addition to buying and leasing the vehicle, Volvo will allow drivers to have a "subscription." This will cost, they say, between $600-$700 a month, including all repairs and insurance. For that price, you get 15,000 miles a year. When the subscription term ends, you can turn in the car or renew your subscription, or get a subscription to another car.
This sounds suspiciously like a traditional lease, except for the insurance inclusion. But Volvo will only allow subscribers to get insurance through Liberty Mutual, and then only if they fit a number of different criteria. The journalists at the event asked pertinent questions, like, "what if you already have insurance with another company? Will you have to double-pay? What if your spouse has a car and has a different insurance? Will the subscription insurance cover that?" The answer was generally no. I wrote in my notebook: "IDEA: You don't have to own a car." Despite obvious handicaps, this program was clearly an evolutionary step.
Meanwhile, in New York (and Dallas and Los Angeles), BOOK by Cadillac allows customers access to a fleet of "curated vehicles" for the low low price of $1800 a month plus a $500 installation fee. Porsche is trying a program in Atlanta that gives subscribers nearly unlimited access to its fleet for $2000 a month. The Texas-based startup FlexDrive says that subscribing to a 2017 Nissan Altima in Atlanta costs $219 a week with unlimited mileage, plus local vehicle taxes of two dollars a day, and a 2015 Smart Car costs $99 a week in Austin, plus various fees. Then, of course, there's Car2Go, which is a "carsharing" service, not a subscription, but it recently became a lot more appealing when it added Mercedes C-Class models to its lineup in addition to Smart cars. ReachNow, by BMW, offers essentially the same service.
Then there's Fair, an app that "offers a forward-thinking alternative to traditional car ownership with an app that lets you shop, get approved and pay for your next car—all on your phone," they claim. You can choose from 30 different brands of pre-owned cars, trucks, and SUVs, pay a start payment (per car) and monthly fee, and keep them as long as you want. Routine maintenance is included. And, if you prefer, you can keep your own insurance.
None of this really matches up to my ideal future: Press a button, and a self-driving electric car shows up at my door, possibly containing an order of chicken wings. It feels like the industry is shuffling pieces around the board without actually reaching checkmate. But these options still beat the current reality of getting conned by sleazy car salesmen and their nicotine-tipped fingers. Someday, the future might arrive in my driveway. I just hope I don't die in a car crash before that happens.