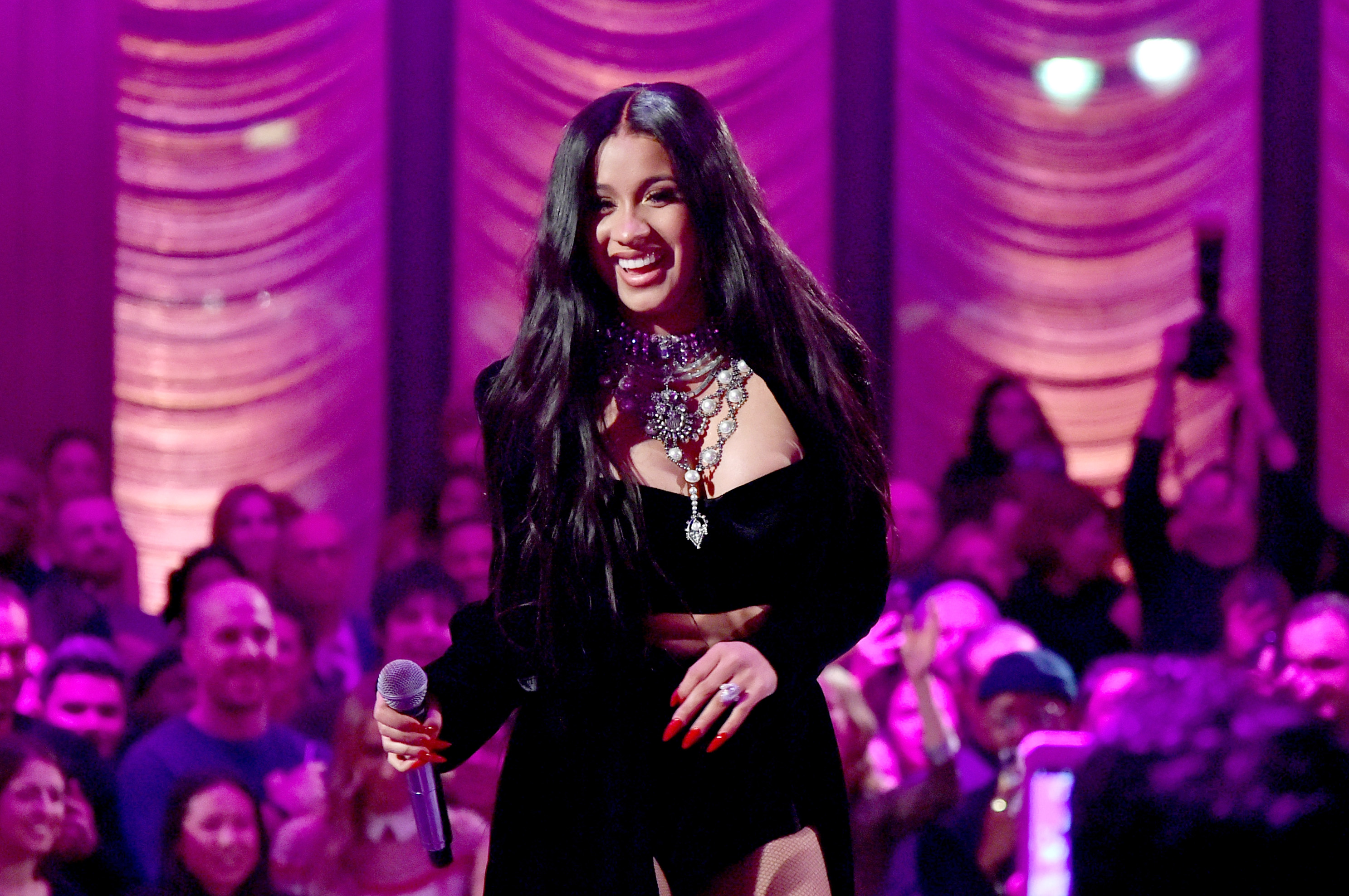 "My little 15 minutes lasted long as hell," Cardi B drawls on "I Do," the last track of her certified Gold debut album, Invasion Of Privacy, which dropped earlier this week. 
By now, the "Bronx Cinderella" fairy tale featuring the stripper turned reality star turned rapper is a familiar one. After becoming Instagram-famous for her catchphrases—"a ho never gets cold" and "a girl have beef with me, she's gonna have beef with me forever"—Cardi started rapping, and quickly ascended to number one on the Billboard charts. Not long after, she was sitting front row at fashion week and accruing a casual 21.5 million followers on the 'gram.
Her rise to fame was candid and calculated; pre-fame, she watched pop culture icons closely. Now, she's following their lead while making money moves on her own terms.
On the supremely confident "I Do," Cardi exposes her vulnerability, all while shaming the haters who thought her career would be long over by now. It's a topic she has revisited often while promoting her album this week, especially since she reads (and responds to) the comments on her tracks, videos and Instagrams.
https://www.youtube.com/watch?v=o7f2YSz-y_8
To promote her week-old album she's been working harder than ever. In interviews, she's discussed her career, her past and her pregnancy, which she announced in a suitably dramatic way. Cardi's candor and work ethic prove that her 15 minutes of fame are definitely not up yet.
1. She used Saturday Night Live to pull a Beyoncé. 
During last week's SNL performance, Cardi premiered "Be Careful," while dressed in a tight white gown from Christian Siriano. The single is about a cheating significant other, but Cardi maintains that it's not about her fiancé, Offset, who was caught with another woman in January. Despite the gown's matrimonial vibes, she performed without her enormous engagement ring—though she was spotted wearing it later in the evening. Mid-performance, the camera panned out to reveal that she really is expecting.
Cardi is a pop culture connoisseur. On her new album, she references Rihanna and Chrissy Teigen (and the threesome she'd like to have with them), having a marriage like Steph and Ayesha Curry's and taking pictures with Beyoncé. There's no doubt that Cardi's admiration of Queen B influenced how she debuted her baby bump—everyone remembers the iconic moment when Bey brushed aside her jacket during the 2011 VMAs to reveal the existence of the unborn Blue Ivy.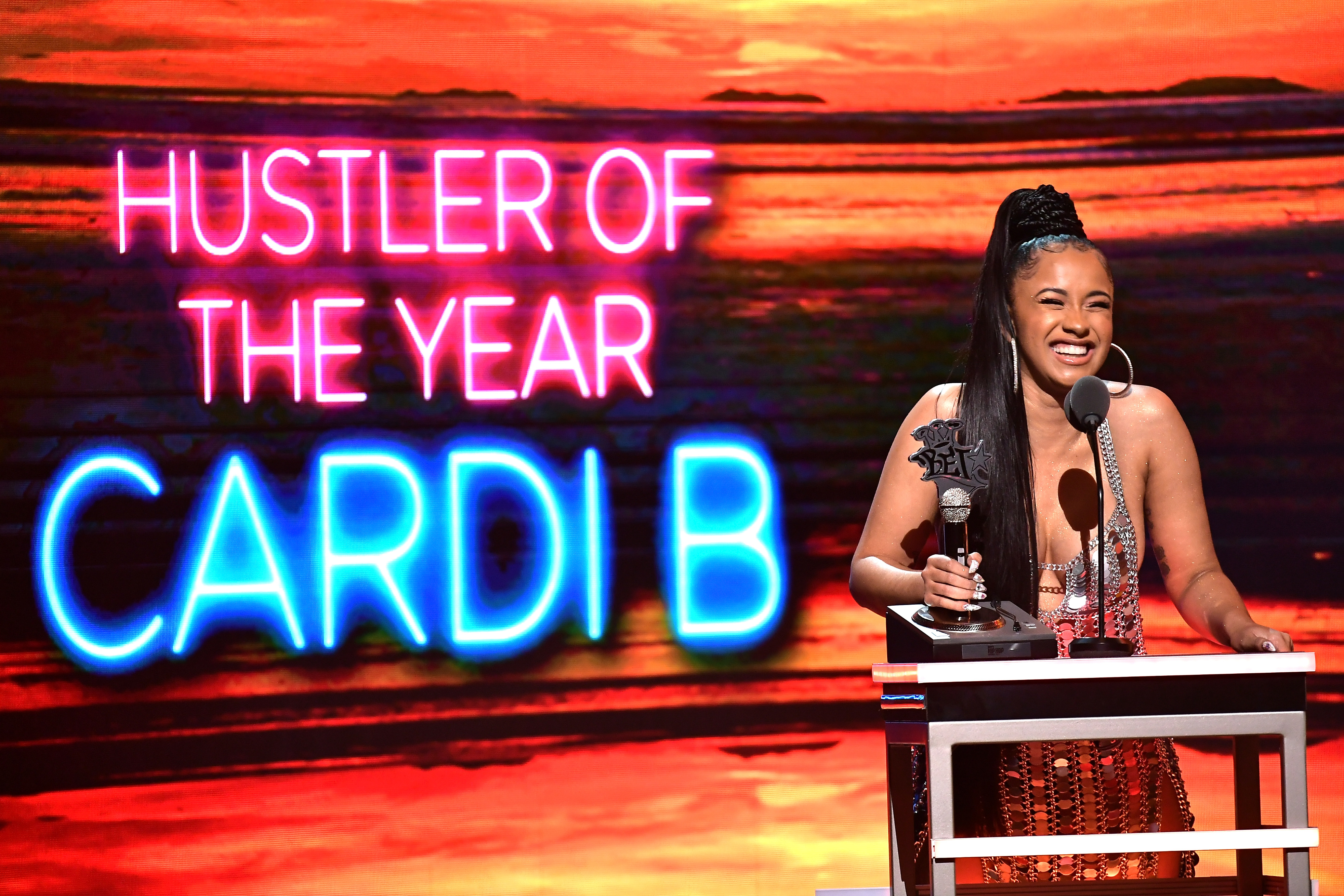 2. She stayed humble. 
"I'm gonna say this in the most humblest way, I'm a millionaire. I'm established," she told Hot 97 on Monday, in response to people insulting her pregnancy. In the same interview, she said, "I don't like the feeling that people are making me feel like a blessing is a mistake." She also asked: "Why can't I have both? Why do I have to choose, a family or [a] career?" She offered assurance that young women really can have it all: career, family, fame and money. Plus, Cardi's fame is increasing by the day.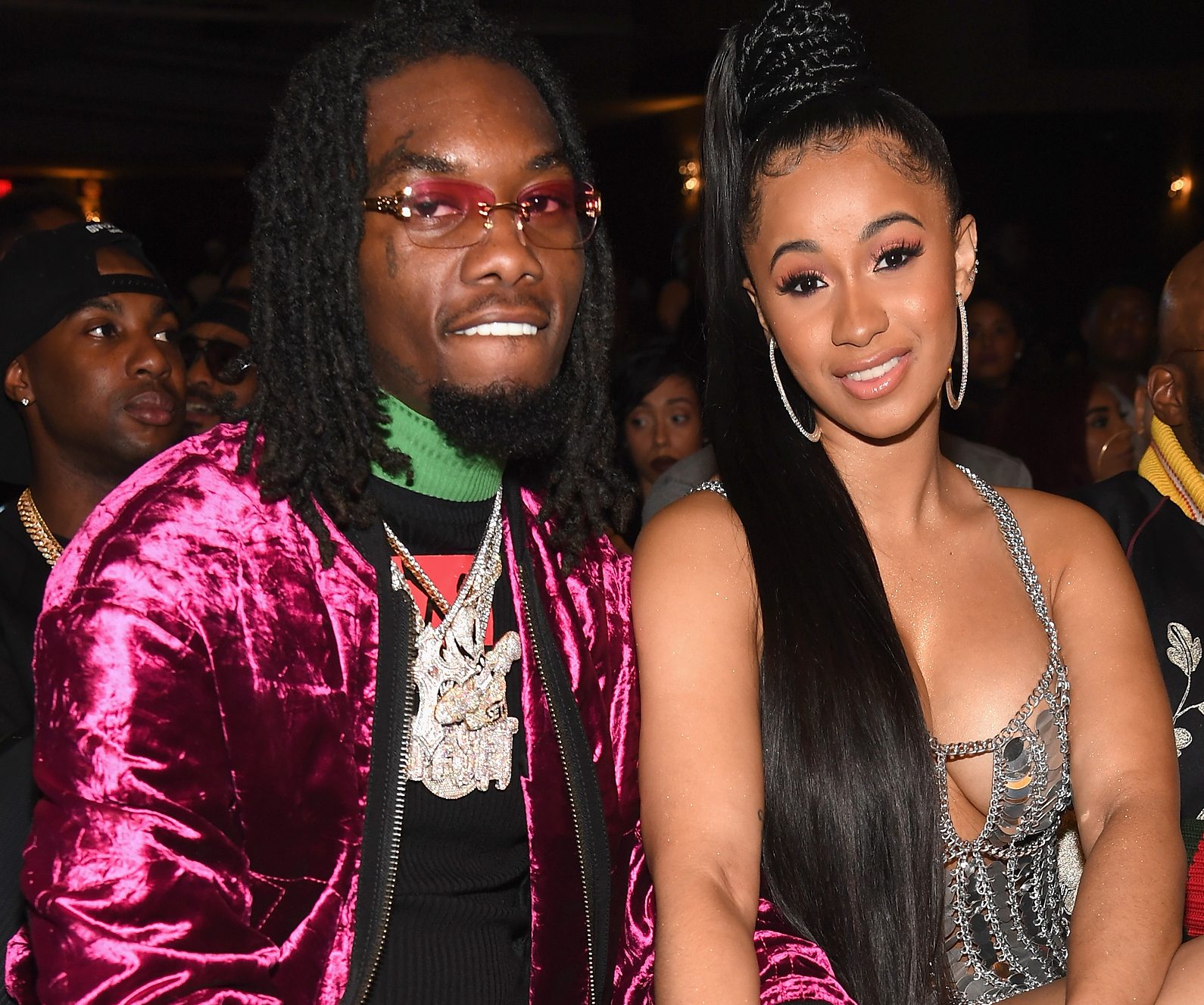 3. Her GQ interview went there, like Degrassi. 
In Caity Weaver's last celebrity profile for GQ before heading to The New York Times, the Jezebel alum convinced Cardi to discuss whether she was in a gang once and for all (she was involved in a Bloods subset but does not recommend that, because "it's a waste of your money"), receiving illegal butt injections (someone later died on that exact doctor's table) and her knowledge on presidential history. Most pop stars are so media trained that their soundbites seem to be regurgitated, but Cardi's answers were refreshingly candid; she's able to control her image without producing a boring narrative.
4. She's funnier than Jimmy Fallon. 
Cardi cohosted The Tonight Show Starring Jimmy Fallon where she explained her many catchphrases, beat Fallon at his own game (this time it was "Box of Lies") and compared prom stories with John Mulaney. She even discussed her baby bump reveal, admitting that she wanted to hide her pregnancy until the baby was born, which would've been a total Kardashian move. Cardi's charisma is far more riveting than Fallon's celebrity worship and we already know she's a pop culture scholar. Give the girl her own late night show!
5. "I Like It" is the first early contender for song of summer. 
The Diddy-approved tune featuring reggaeton stars Bad Bunny and J Balvin is already the most streamed track from her new album. Forget about the Justin Bieber "Despacito" remix, which led Nielsen Music's 2017 mid-year album charts, because you'll be bopping to "I Like It" all summer long. I've already heard "I Like It" blaring from a straphanger's headphones and it's only April, which basically guarantees the song's chart takeover this May.