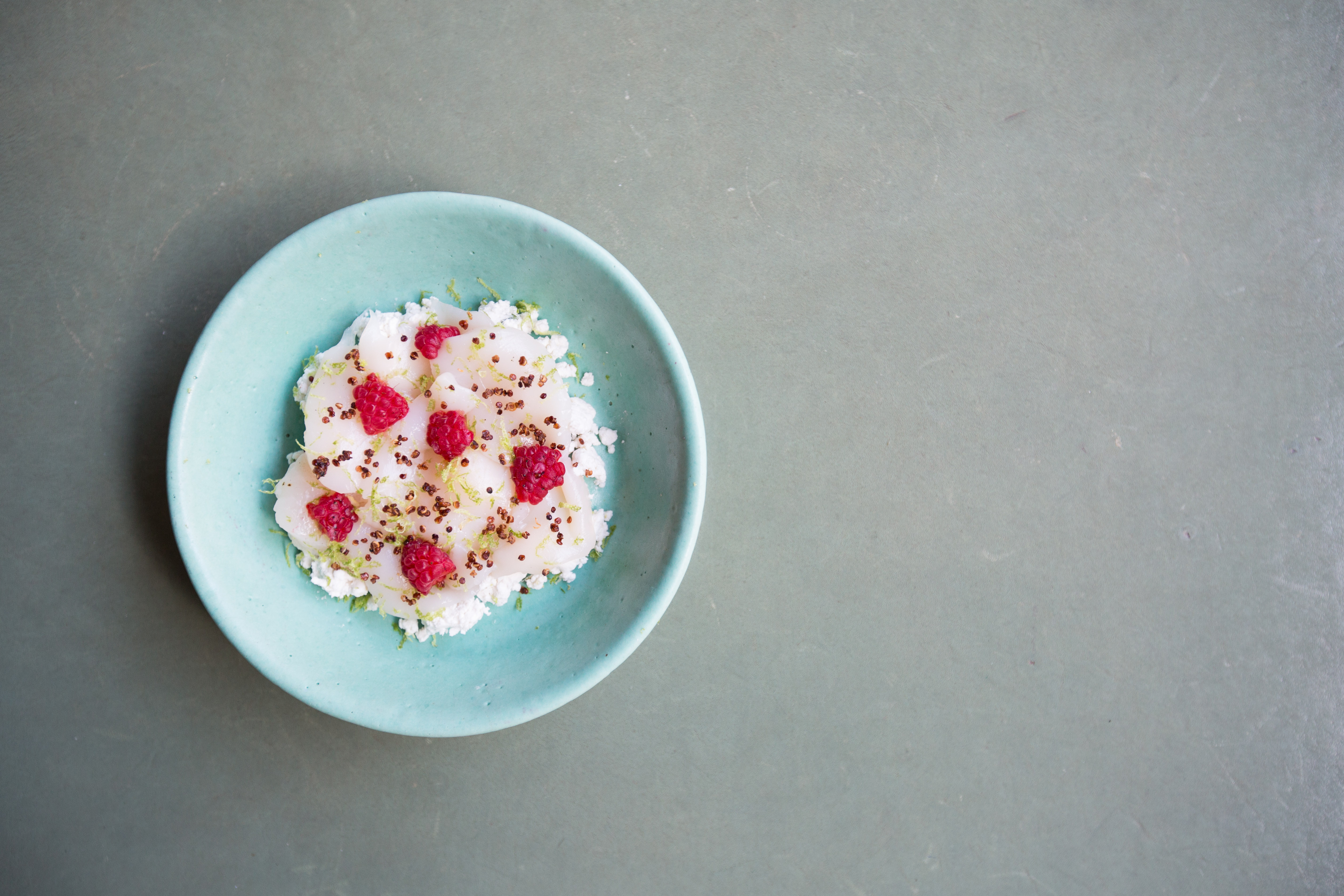 Shortly after opening its doors in early 2017, De Maria was designated as Nolita's new must-have lunch reservation for the fashion crowd, those often clad in this season's Opening Ceremony dresses and No. 6 clogs. The style-driven diners were clearly drawn to the art studio interiors of the Kenmare Street restaurant, including the neon Virgin Mary painting in the bathroom, the caramel leather banquettes and the blond wood wall paneling. It helped that the health-conscious grain bowls arrived on pastel ceramic dishes from Beau Rush and matcha lattes were sipped from geometric mugs by Workaday, two Brooklyn-based brands.
De Maria's launch took place under the careful watch of creative director Grace Lee, designers Amy Morris and Anna Polonsky, and executive chef (and Top Chef alumna) Camille Becerra. They brought an undeniably feminist spirit to the project, that stoked its popularity and cemented its designation as an official downtown hotspot.
Becerra, rose to indie darling fame as she hopped from one hip eatery to the next. She left Soho's Navy to take over at the Lower East Side's art-world favorite Café Henrie and went on to open The Castle, a beachside pop-up serving ceviche and toastadas in the Rockaways. At De Maria, she centered an all-day menu around healthy and visually-vibrant dishes built from seasonal ingredients and globally-influenced flavors. Her signature item became the Dragon Bowl, a dish that she first concocted in the kitchen at the erstwhile Café Henrie. Built on a fluffy base of coconut grains, the bowl was loaded with seasonal vegetables, heirloom beans, a sunny turmeric-poached egg and a drizzle of tarragon tahini. It wasn't, by any means, a dish deserving of any culinary accolades, but it was surely Instagram friendly.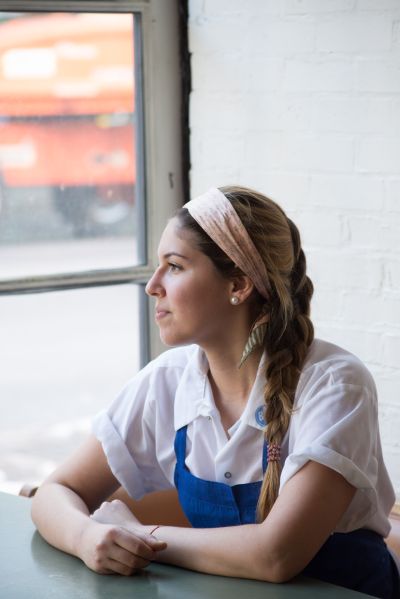 When Chef Camille cut ties with De Maria in early 2018 (she departed "to pursue other projects," per The New York Times), creative director Lee sought a new executive chef, one with a strong culinary pedigree. Chef Adriana Urbina, a former apprentice at three Michelin-starred Spanish destination, Restaurante Martín Berasategui, enthusiastically accepted the challenge and took over the De Maria kitchen last month. Known for seasonal dishes influenced by her Venezuelan upbringing, this alum of Atera and Rouge Tomate, earned a champion title on Chopped in 2017 and achieved success with a series of pop-up dinners hosted by her own company, Tepuy Dining.
"It was very scary at the beginning!" she tells Observer of her first few days at De Maria. However, she quickly realized the benefits of bringing her experience to a restaurant that's been going strong for a year.
While De Maria struggled with some kitchen-related technical difficulties during its initial opening last year, Urbina had the luxury of stepping into a well-calibrated machine, which enabled her to roll out a new dinner menu in just a few short weeks. But the fashion has no need to worry; De Maria's reputation for nutritious, vegetable-forward fare—including a few holdover dishes from Becerra's era—will remain in-tact.
While De Maria initially burst onto the scene as an all-day cafe without clearly-defined lunch and dinner menus, Urbina chose to nudge the restaurant further in the direction of distinct meal periods.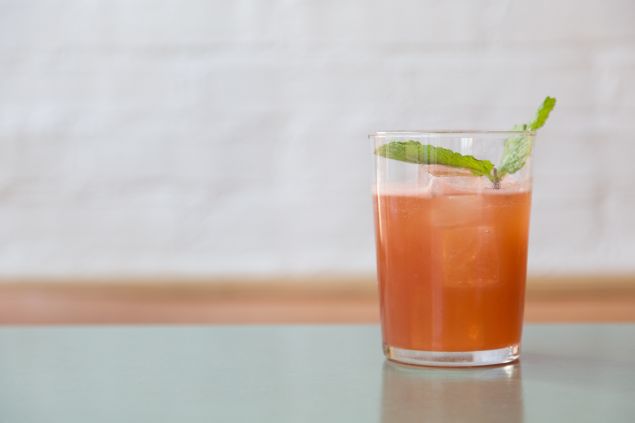 "I wanted to keep the structure of the menu in place," Urbina says of the change, "But I also wanted to add more hearty dishes."
One of those additions was the turmeric potato gratin, with slices of potatoes layered between bland but gooey portions of cashew cheese and the faintest sprinkle of bleu cheese—all of which was covered with crispy curls of the starch. It's the kind of dish that a health nut would regret wasting calories on. A safer choice for that set would be the chicory and seaweed salad, accented with nearly an entire avocado and a dusting of hazelnuts, a longtime favorite from Becerra's original menu.
The loyal De Maria crowd will appreciate Urbina's deft hand with the more delicate dishes, like the fresh scallop crudo topped with fresh raspberries and a light sprinkling of crispy quinoa and served on a pillow of decadent coconut cream. They'll also coo over the pretty snapper ceviche, soaked in the classic leche de tigre marinade that appears to be the culinary equivalent of a flower crown, encircled with pansies, and the pink and yellow meat of citrus fruit.
But it's clear that De Maria's new dining experience is far elevated from the one that Beceara first created; on a recent Tuesday night, even the crowd seemed a bit more serious, with diners bedecked in business casual slacks and smart knit sweaters—that may or may not have been designer. The slight details in each dish further emphasized that more serious tone, like the zesty hearts of palm risotto that's paired with the herbed chimichurri trout (it's also dusted with a proprietary mystery ingredient known simply as "dream powder") and the nasturtium leaves that add a peppery kick to the already spicy baby octopus.
Because De Maria's menu relies on seasonality, Urbina intends to switch items out on a regular basis. "We'll always have a menu special that will change on a weekly basis. But the entire menu will probably change every two months, with the exception of a few popular, standard items," she explains.
She will also keep the snap-happy crowd in mind, as she conceptualizes new menus. She notes: "Because I'm cooking for this clientele, I do pay a lot of attention to the presentation of my dishes as well as the flavors, so everything looks as good as it tastes."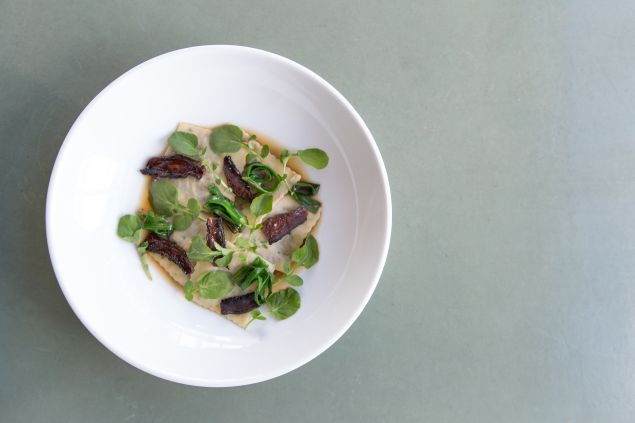 Urbina takes particular pride in De Maria's new desserts and rightly so. Like many chefs, she didn't focus on pastries during her training, but she views the sweet treats at De Maria as an opportunity to experiment with bold and bright flavors. As Urbina notes, they're all "very fresh and tropical and not-too-sweet."
It's true; the South American-inspired yuca cake comes served in a bowl that's been coated in a thick layer of salted dulce de leche and sunflower-seed whipped cream. Be warned, you'll want to lick the bowl clean. A more adventurous finish to a De Maria meal is the mango gazpacho, that offers a sweet-tart balance between mango jelly and creamy vanilla labneh.
A vision in bright yellow—the color of the season—this mango dessert is just as Instagrammable as the rest of the De Maria experience.