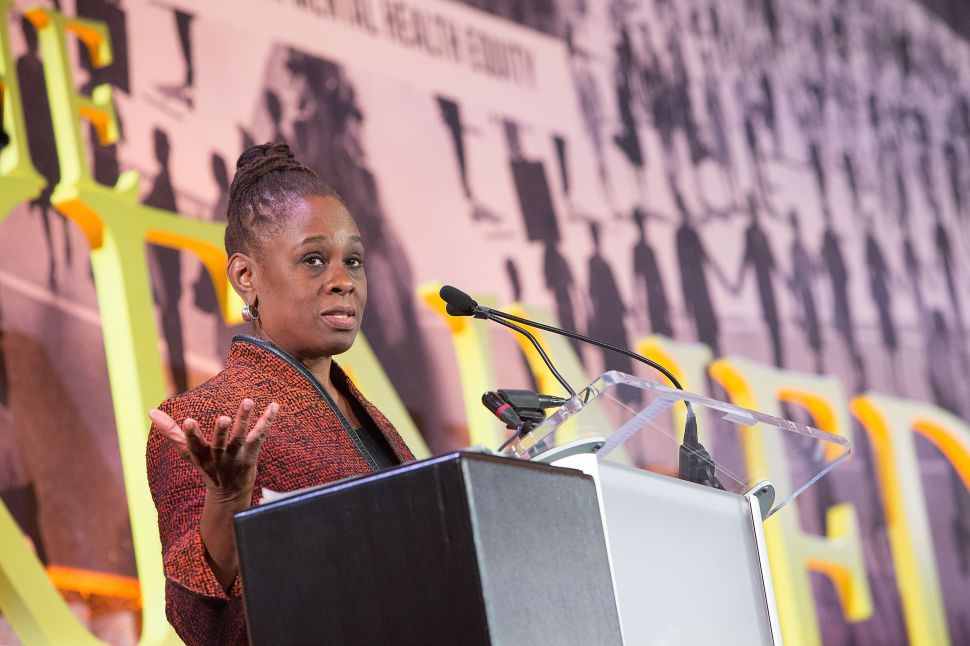 First Lady Chirlane McCray said the fatal shootings of two emotionally disturbed people (EDP) by police officers—66-year-old Deborah Danner of the Bronx in October 2016 and 34-year-old Saheed Vassell in Brooklyn earlier this month—"did not have to be," attributing it to the lack of a comprehensive mental health system without which people "fall through the cracks."
At the annual convention of Rev. Al Sharpton's National Action Network (NAN) on Wednesday afternoon, McCray—who spearheads the $850 million ThriveNYC mental health initiative launched in 2015—told a crowd of 100 people that the United States has never had a mental health system in the same way that there are gyms and fitness centers. And she seemed to suggest that that has prevented some individuals from getting the help they need.
McCray recently said the city is forming a new task force to look at how to ameliorate the city's interactions with individuals with mental health issues.
"There's never been a system, a real coordinated system, so a lot of people fall between the cracks and the recent tragedies in our city have underscored the necessity and urgency of changing that reality," she said. "The loss of both Deborah Danner and Saheed Vassell underscore that tragedy, that heartbreaking tragedy for our communities, for our families, for all of us because they did not have to be, neither one of those tragedies had to be."
Indeed, she maintained ThriveNYC was established with the goal of reaching people with mental health issues who were not receiving the attention they needed.
"Two years ago, we launched Thrive NYC because too many people—people like Deborah Danner, people like Saheed Vassell—were not getting the services they need," McCray continued. "We set out to make sure that people could get connected to treatment and the places they live, learn, worship and work and help city staffers, community and faith leaders, social service providers and family members learn to become mental health first responders."
Vassell was shot by officers who mistook a metal shower head he was holding for a gun. His family is calling on the NYPD to release unedited video of what happened before and during the shooting. In the aftermath of his death, McCray said losing Vassell "this way is deeply troubling" and called on the NYPD to probe the incident fully.
Earlier this month, New York Attorney General Eric Schneiderman said he would investigate the shooting. In 2015, Gov. Andrew Cuomo signed an executive order making Schneiderman the special prosecutor in cases in which law enforcement kills a civilian under suspicious conditions. On Monday, Cuomo signed the conforming order in Vassell's death.
Mayor Bill de Blasio called Vassell's death a "tragedy" and acknowledged his mental health issue but said Vassell was "doing something that people perceived to be a threat to the safety of others." And he said he would look into whether he had any interactions with Thrive NYC and whether de-escalation training was implemented.
Recently, de Blasio said he would not release the names of the cops involved and referred to the 50-second video with transcript excerpts the NYPD released, which does not have the actual recordings.
In February, after NYPD Sergeant Hugh Barry was acquitted in the fatal shooting of Danner, elected officials and advocates called for reforms to put an end to interactions between cops and EDPs.
Community Access, a nonprofit that helps people with mental illness, previously told Observer that since June 2015, there have been nine deaths in EDP police encounters, with the last five beginning in July 2017. The group found that the Crisis Intervention Team (CIT) training is not sufficient given that trained officers don't go to the scenes of the calls and that the bulk of the escalation occurs within the first four minutes of an EDP call.
Mental health advocates and Brooklyn residents have also said ThriveNYC concentrates more on the "worried well" than those who are seriously mentally ill and wondered why neighborhood coordination officers were not called in Vassell's case.
McCray said the city now has a help line and some form of mental health support in schools. And she added that NYPD officers safely respond to more than 400 mental health crisis calls every day.
"Thrive NYC has ramped up crisis intervention training and we will continue until every patrol officer is trained to de-escalate any situation before it becomes a crisis," she said. "And we will partner more of our officers with clinicians so people can get the care they need right away."
In December 2017, McCray unveiled "Sisters Thrive," a women-led volunteer effort to encourage mental health literacy in black communities. Next week, the city will be launching "Brothers Thrive," which will be geared toward men.