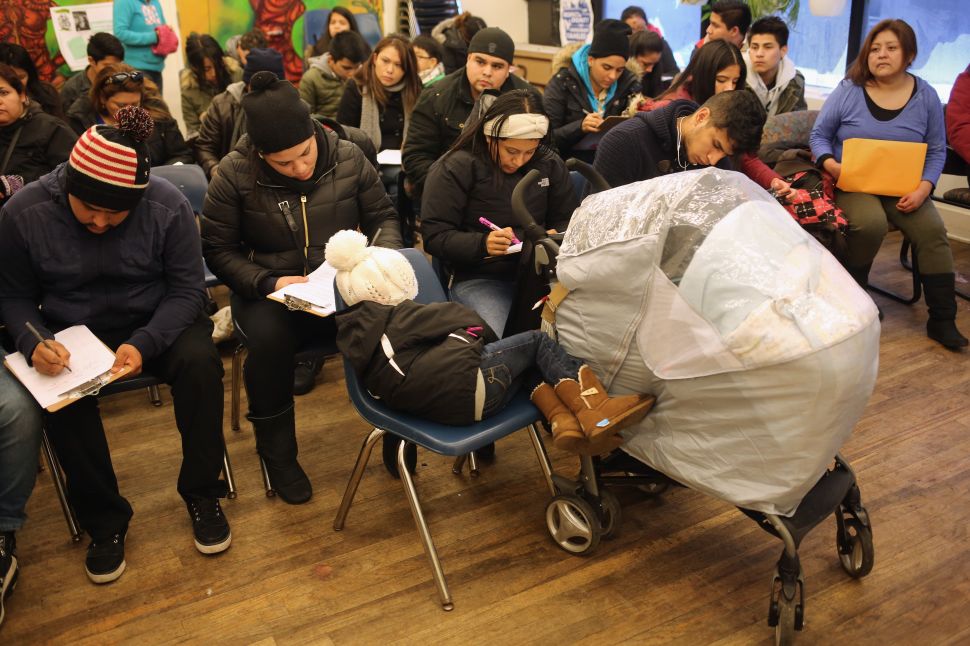 Community organizations that support actress and education activist Cynthia Nixon, who is challenging Gov. Andrew Cuomo, took to the streets on Thursday afternoon to defend their work in response to Cuomo's alleged threats against unions that fund them and the Working Families Party (WFP).
This past Saturday, WFP endorsed Nixon. A day before the vote, 32BJ SEIU and CWA District 1—two key unions that are Cuomo allies—left WFP. On Friday evening, Cuomo dropped his bid for the WFP line.
Bill Lipton, WFP's New York State director, claims Cuomo menaced unions or people who have financed WFP and affiliated groups such as New York Communities for Change (NYCC) and Citizen Action which endorsed Nixon.
"Today, we say we're not afraid of the bullying and the deception," Lipton said at a rally in Foley Square on Thursday afternoon.
And he maintained that he is supportive of unions.
"We fight for unions and criminal justice reform," Lipton continued. "We fight for unions and the reforms that reduce the power of big money over our elections. Sisters and brothers, now is the time: Let's fight for a vision that leaves no one behind."
Jonathan Westin, NYCC's executive director, said that in 2008, he was working for Association of Community Organizations for Reform Now (ACORN,) a now-defunct left-wing national organization and that the group endorsed former President Barack Obama for president. After Obama won, Westin explained, the "right wing came after us" because the group registered more than 1 million people to vote and knew the power of community organizations.
"Now, 10 years later, we endorsed Cynthia Nixon for governor and the response has been exactly the same—except this time, the people coming after us are Democrats, specifically one in the governor's mansion: Andrew Cuomo," he contended. "He has taken a page out of the right-wing playbook… He is trying to defund community organizations for the poor—organizations that support immigrants, the homeless, people being evicted."
NYCC, Citizen Action, Make the Road Action (the political arm of Make the Road New York) and Community Voices Heard Power set up a Community Defense Fund to support their work.
Queens State Senator James Sanders, the first individual to be elected by WFP (via endorsement) and a member of ACORN for 20 years, argued people should be able to make up their own minds.
"It is right that the people decide who they want to back and who they don't want to back," Sanders asserted. "And if the people decide not to go a certain way, you have to respect that. There have been times where I have differed with my friends and they went a different way. That doesn't mean you're not a friend."
He accused Cuomo of creating division within the Democratic Party.
"If we're truly concerned about Trump, if we're truly concerned about the madness of Washington, then why are we fighting each other?" Sanders continued. "Mr. Governor, it is time that you lead the Democratic Party and not fight any part of the Democratic Party."
Members of the City Council's Progressive Caucus—Brooklyn Councilman Carlos Menchaca, chairman of the Council's Committee on Immigration; Queens Councilman Jimmy Van Bramer; Brooklyn Councilman Brad Lander; and Manhattan Councilman Ben Kallos, who endorsed Cuomo—were also in attendance.
"As elected officials representing diverse communities across New York, we stand in deep solidarity with these community organizations who are on the front lines of the fight for respect and dignity for all New Yorkers," Menchaca said.
Bertha Lewis—head of the Black Institute, co-founder of WFP, and CEO of ACORN until it was dissolved—called Cuomo a "gangster" and accused him of not giving community groups credit for their role in achievements, like the $15 minimum wage. She also called him "as phony as a $3 bill" and a "demon."
"We are the people that register folks to vote, we are the people that turn out people to vote, and most of the vote for governor comes from where? New York City," Lewis said. "And we'll be coming for you."
When Observer asked Lewis about WFP backing challengers to members of the Independent Democratic Conference (IDC)—a group of breakaway Democrats Lewis supports—and Nixon's opposition to IDC, she brushed it off. The IDC was recently dissolved as part of a deal brokered by Cuomo.
"I don't care," she said. "I support people. I'm not some monolithic thing where I just go down the line. I can disagree with my colleagues, you know. Do we have that maturity?"
She noted the amount of time it took to raise the age of criminal responsibility to 18 years old and lack of progress on helping minority- and women-owned businesses get contracts. And she said she fought to put Democrats in the majority for 15 years "and they fucked it up twice."
She still supports the IDC, noting she has a relationship with three IDC members who are people of color, whom she says argued "the Dems ain't done nothing for us." Her problem, she insisted, is Cuomo.
"But I don't support this fucking governor," Lewis added. "That's the point, OK?"
Cuomo recently caught flack for attending an IDC fundraiser, but the Cuomo campaign said it was a fundraiser for "Democratic unity" also attended by mainline Democrats.
The governor said he would not punish groups who backed Nixon and denied threatening the unions, insisting the fight is between the WFP and the unions, whom he has decided to support.
"I'm not gonna punish—it has nothing to do with me," Cuomo said on Thursday, according to the New York Daily News. "You know, punishment is for God."
In a statement, Abbey Fashouer, a campaign spokeswoman for Cuomo, pointed to his record.
"The governor has an unmatched progressive record delivering for New Yorkers–from a $15 minimum wage, marriage equality, the strongest gun safety laws in the nation, free college tuition, paid family leave, banning fracking, and a record $27 billion in funding for education," Fashouer said. "After nearly a decade of discord, we have a united Democratic Party and the governor is focused on maintaining that unity to win the State Senate, take back the House and fight Trump in Washington."
Correction: September, 25, 2018.
An earlier version of this article incorrectly stated that Make the Road New York had endorsed Cynthia Nixon. Make the Road New York never endorses political candidates.