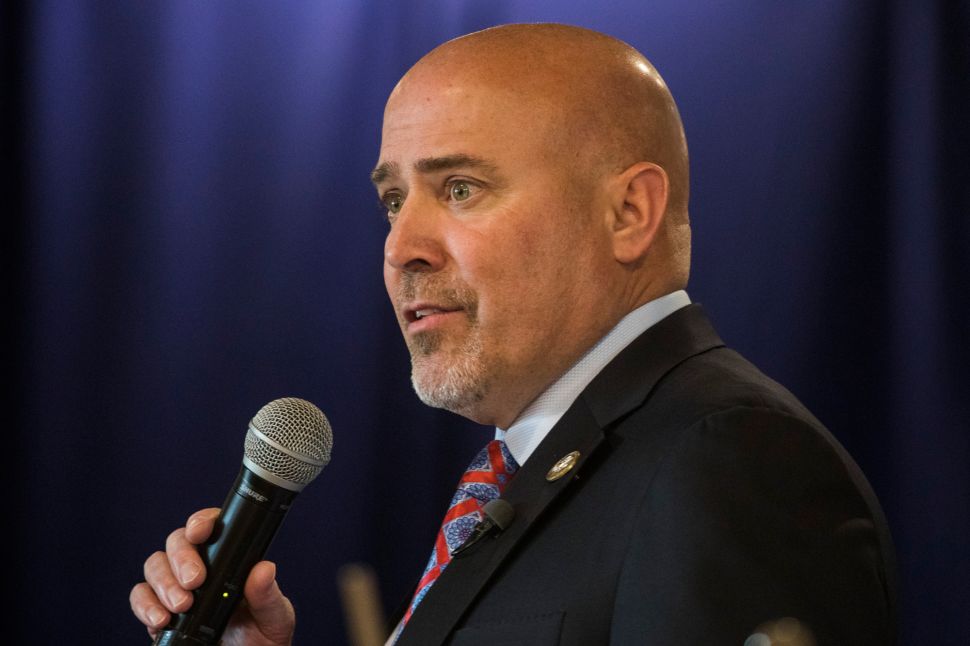 The Cook Political Report has shifted Rep. Tom MacArthur's district to the left, signaling the South Jersey race could be competitive despite being in one of the state's most heavily Republican pockets.
Cook modified its predictions for New Jersey's 3rd district on Friday, moving it from "likely Republican" to "lean Republican." The ratings change comes as the race between MacArthur (R-3) and his likely Democratic opponent, Andy Kim, intensified this week, with MacArthur's campaign accusing Kim of lying about where he lives.
In shifting the district slightly to the left, Cook cited MacArthur's ties to President Trump, who remains deeply unpopular in blue New Jersey. MacArthur was an architect of a failed Republican-effort to scrap the Affordable Care Act and was the only New Jersey member of Congress to vote for the Republican rewrite of the federal tax code that could raise taxes on more than 10 percent of state taxpayers.
It's the second time Cook, a Washington-based publication that tracks congressional races, has moved the district to the left ahead of the November midterm election.
"In the past, this district has been highly competitive," wrote David Wasserman, Cook's House editor. "Kim is likely to carry his Burlington County home, but Ocean County is full of retirees who voted for Trump and could be tough for Kim to break into. Private Democratic polling shows MacArthur vulnerable, but this is still Democrats' fourth-best takeover target in the state."
Kim, a former national security adviser to President Barack Obama, has raised $1.1 million so far, his campaign announced this week. But MacArthur, a wealthy ex-insurance executive, "has a virtually unlimited personal checkbook" to spend on the race, Cook noted.
Cook also pointed out that while Kim grew up in the district, he only recently moved back home to run for Congress. MacArthur's campaign has seized on that location change in launching a new attack against Kim.
MacArthur's campaign sent out a press release on Thursday, noting Kim took a property tax break on his Washington, D.C. condo that is intended for full-time residents, even though he is registered to vote and running for Congress in New Jersey. The campaign added that Kim does not own property in the Garden State.
"Did Andy Kim lie to get a substantial property tax break on his nearly $1 million condo in Washington, D.C. or did he lie about where he lived so he could register to vote in South Jersey and run for Congress here—which is it?" MacArthur consultant Chris Russell said in a statement.
Kim's campaign said the D.C. homestead deduction was automatic, and Kim cancelled it in March as soon as he noticed it, adding that Kim has paid back the tax break and is renting a place in New Jersey, which is why he is not listed as owning the property. The campaign then accused MacArthur of being the carpetbagger for having moved from North Jersey four years ago to run in the district.
"Unlike multi-millionaire Tom MacArthur, who owns multiple expensive homes outside the district and moved here from North Jersey just to run for Congress, Andy grew up in this district and is raising his family in this community," Kim campaign manager Zack Carroll said in a statement.
The 3rd district, which covers parts of Burlington and Ocean counties, has nearly 12,000 more registered Democrats than Republicans, according to the Division of Elections. It was twice carried by Obama, but Trump won the district by six points in 2016.
The Cook Political Report shifted ratings favorably for Democrats in 13 districts nationwide on Friday and said it views Democrats as the slight favorites for House control.