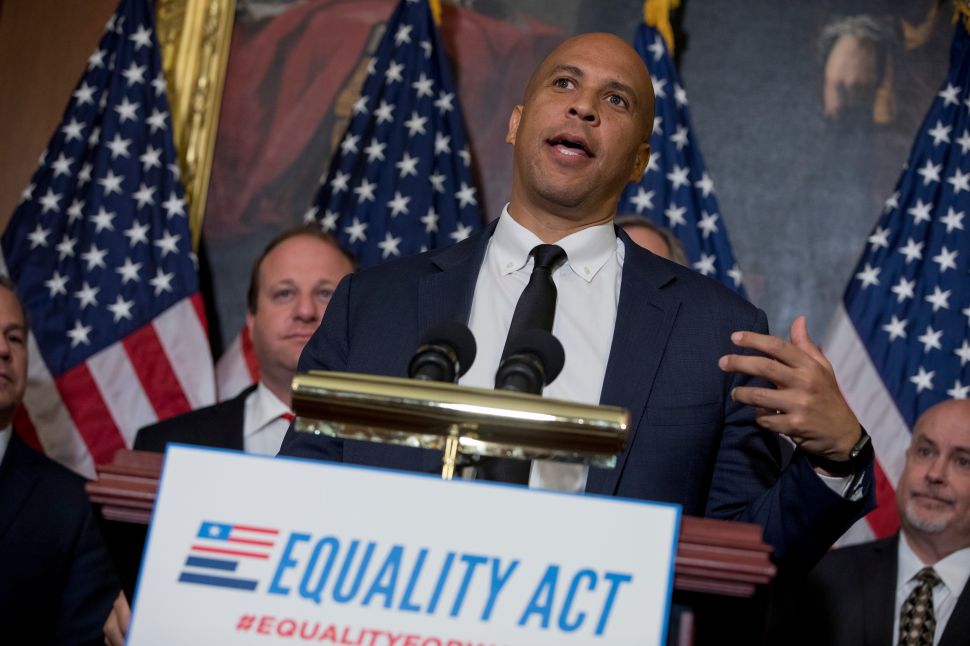 U.S. senator and potential presidential candidate Cory Booker wants to give everyone who wants one a job in 15 local areas across the country.
Booker (D-N.J.) announced a new bill on Friday to establish a three-year pilot program that would guarantee jobs for all residents in up to 15 high-unemployment communities and regions. The Department of Labor would award grants to the selected areas so adults living there would be guaranteed jobs paying at least $15 an hour with health coverage and paid family and sick leave.
"There is great dignity in work—and in America, if you want to provide for your family, you should be able to find a full-time job that pays a fair wage," Booker said in a statement. "Both Martin Luther King, Jr., and President Franklin Roosevelt believed that every American had the right to a job, and that right has only become more important in this age of increasing income inequality, labor market concentration and continued employment discrimination."
Booker's legislation—the Federal Jobs Guarantee Development Act—is unlikely to go anywhere in the Republican-controlled Congress. But the bill sets up a framework for a model federal jobs guarantee program that Democrats could implement if they regain control of Congress and the White House. The bill could also help Booker burnish his liberal credentials for Democratic primary voters ahead of a possible run for president in 2020.
"Senator Booker's bill represents a powerful step forward for the idea of a federal jobs guarantee, which would provide economic security and mobility for all Americans," Darrick Hamilton, a professor of Economics and Urban Policy at the New School, said in a statement released by Booker's office.
Under the bill, the Department of Labor would provide grants to rural and urban areas with unemployment rates at least 150 percent of the national unemployment rate. The sites would be selected based on the jobs to be filled, local need and local funding for the program, among other factors. Jobs related to child care, care for seniors and the disabled and infrastructure would be prioritized.
Local governments awarded the federal grants would have to create a website listing available jobs. Nearly all the jobs would come from the local governments, as well as federal agencies, according to Booker's office. The program would be available to all residents 18 and older, though workers could be suspended or kicked out of the program if found to be "negligent, or generally disruptive to the work place involved," according to the bill.
The program's effectiveness would be evaluated on several factors, including employment rates, private sector wages, safety net spending and incarceration rates.
"The federal jobs guarantee is an idea that demands to be taken seriously," Booker said. "My bill will seek to create a model federal jobs guarantee program by piloting it in up to 15 high-unemployment communities across the country. Not only would this have a positive impact on the lives of potentially hundreds of thousands of Americans right away, but the valuable data gathered would help us learn lessons, assess its effectiveness and perfect the idea."
A report from the Center on Budget and Policy Priorities, a liberal think tank, estimated that a nationwide federal jobs guarantee program would cost $543 billion per year and employ 10.7 million workers.
New Jersey Republican State Chairman Doug Steinhardt denounced Booker's proposal, saying it would "perpetuate the misconception that bigger government is a solution."
"If Cory Booker was really interested in creating jobs for his constituents, he would work on a plan to make New Jersey more attractive to job creators," Steinhardt said in a statement. "Instead of spending millions more in government subsidies to increase government's payroll, we need to be using our already scarce, economic resources to spur private sector investment and create private sector jobs."